BTN.com LiveBIG Staff,

January 18, 2016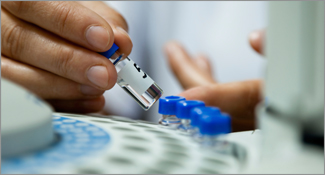 January is National Cervical Cancer Awareness Month. According to the National Cancer Institute, last year this terrible disease caused more than 4,000 deaths in the U.S., and nearly 13,000 new cases emerged.
Fortunately, the institutions of the Big Ten Cancer Research Consortium invest time, energy and resources into fighting this avoidable and treatable malady in this country and around the world. Here?s a look at some of the important work happening at Big Ten universities.
Wisconsin
Because of advanced detection and surgical techniques, cervical cancer is often treatable in the U.S. But developing countries like Bangladesh, it?s commonly among the top-three causes of cancer-related deaths among women. Research that started at the UW Carbone Cancer Center and McArdle Laboratory for Cancer Research decades ago produced to a promising clinical trial for women in Bangladesh, which could lead to more effective treatment all over the world.
?In Bangladesh, there is only one site in the entire country, in Dhaka, that has treatment facilities for patients with advanced cervical cancer,? said Lisa Barroilhet, assistant professor of gynecologic oncology at the Carbone Cancer Center. ?For most women, simply getting there for treatment is not practical for so many financial and cultural reasons.?
Barroilhet first discovered the problem when she worked in a maternal medicine clinic in Bangladesh as a medical student. She recently teamed up with Richard Love, a professor emeritus of medicine at the Cancer Center who is currently working with a breast cancer clinic in the rural region of Khulna, and Paul Lambert, professor of oncology and director of McArdle Lab, whose research team spent decades studying the development of cervical cancer in mice.
The three are co-investigators on a clinical trial in Bangladesh using those anti-estrogens already prescribed to breast cancer patients to target a stage of the disease known as ?locally advanced.? Barroilhet said that women with this intermediate stage often are cured in developed countries, but that 5-8 weeks of daily radiation treatment is neither affordable nor tenable for women in rural regions of Bangladesh.
The trial is under review and they expect it to be open by the end of the year. If successful, both Barroilhet and Lambert envision anti-estrogens as a potential treatment to reduce the recurrence of cervical cancer or to hinder tumor growth in advanced cases, which could reduce the pain and complications created by the disease.
Nebraska
The exact molecular mechanisms underlying HPV-driven cervical cancer initiation and progression are largely unknown. But at the University of Nebraska?s Fred & Pamela Buffett Cancer Center, the OB/GYN research team recently discovered a signaling pathway that?s driving the proliferation and migration of cervical cancer cells.
?The research results in this project unveil a novel molecular mechanism of cervical cancer development and progression and ? may provide a new therapeutic strategy for prevention and treatment of cervical cancer,? said Cheng Wang, assistant professor at the University of Nebraska Medical Center (UNMC).
As part of ongoing efforts to impact cancer within specific populations, students at UNMC?s College of Public Health conducted research through the Cancer Epidemiology Education in Special Populations (CEESP), which funds field work among minority populations and foreign countries. Recent projects included:
Reproductive and clinical demographics of patients undergoing visual inspection of the cervix in rural Tanzania.
Cervical cancer screening among HIV-positive women in rural Tanzania.
Cost-benefit of screening vs. treatment for cervical cancer in Tanzania.
Epidemiologic profiles of cervical cancer screening and treatment patients in Burkina Faso.
Minnesota
The ?Minnesota HPV? (MNhpv) initiative began in 2015. It brings together University of Minnesota students and faculty from medicine, nursing, dentistry and pharmacy to meet one objective: increase HPV vaccination rates across the state.
MNhpv released this draft consensus state at the end of last year that provides the rationale for the program:
[btn-post-package]?The Human Papilloma Virus (HPV) infects about 79 million each year in the United States, and over 27,000 women and men are affected by a cancer caused by HPV - that?s a new case every 20 minutes. Yet, the most life-threatening HPVs are preventable with the availability of the safe and effective vaccine. HPV vaccination prevents several deadly cancers and is life-saving.?
One of the many initiatives of MNhpv is a statewide HPV vaccine summit in April. The Gynecologic Oncology Translational Working Group (Gyn Onc TWG) through the Masonic Cancer Center will bring together cancer experts and healthcare leaders to maximize the success of research for the prevention and treatment of all gynecologic cancers.