Shelley Till, BTN women's basketball analyst,

January 12, 2016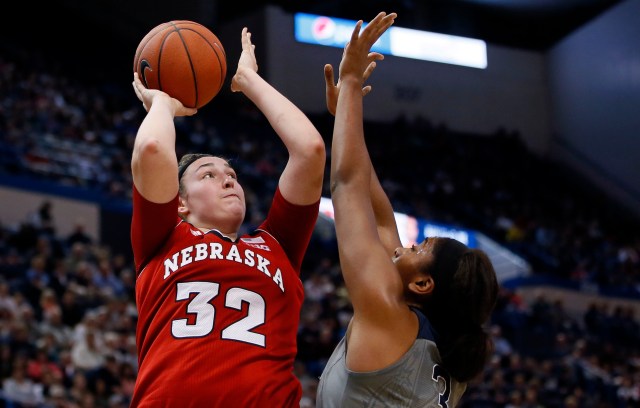 Some refer to her as inexperienced, underrated, wet behind the ears, or the new kid on the block. One would expect that the rookie would need extra time to adjust to the high level of the Big Ten. She would need to gain experience before she makes her mark vs. the usual suspects. Well, not so for these young ladies!
Here is a look at the current top rookies who are already making a name for themselves in the Big Ten.
Jessica Shepard, Nebraska. This 6-4 center is at the top of her freshman class. She?s averaging a double-double, scoring 18.8 points and grabbing 12.3 rebounds, all while shooting 45 percent in the first four conference games. That?s good enough for the top spot in both categories in her class. The expectations were great for this Husker as she came in as the highest-ranked recruit in Nebraska history. She has answered the call. She scored 200 career points faster than any Nebraska player. She?s already earned six Big Ten Freshman of the Week awards. All of this as she is still coming back from an ACL injury last season. How has she done it? She has strength and agility not often seen in a freshmen. She has tremendous hands, not only in the block, but in the open court as well. Shepard has great court vision and the knack to find open players when she is doubled and tripled. She has stepped in to fill a huge hole left by the absence of four-year starters Emily Cady and Hallie Sample. The fact that she had little pre-season prep due to recovering from her ACL injury should have Husker fans anticipating the future. Imagine how a fully healthy and conditioned Shepard will impact the game!
.@HuskersWBB Jessica Shepard earns her sixth #B1GWBBall Freshman of the Week honor this week pic.twitter.com/I0DMgGUkUf

— Big Ten Women's Hoops (@B1Gwbball) January 11, 2016
Teniya Page, Penn State. The lone guard in this early group of elite, Page has made an impact in every facet of the game for the Lady Lions. She is currently leading the team in scoring (16.3 ppg in conference play), assists (2.25), minutes played, steals, and free throws attempted and made. Page may be the answer the Lady Lions have been looking for since the loss of Maggie Lucas. She can hit the 3-pointer and has great elevation, which converts into a pretty pull-up. She has notable athletic ability combined with a high skill set. She has established herself as the floor general, and that?s a feat not easily accomplished for a rookie. Perhaps the greatest accolade is the proclaimed trust to lead that she has received from coach Coquese Washington.
Hallie Thome, Michigan. Thome is the third-leading scorer (10.8 ppg) among Big Ten freshmen, and the second post player making an immediate impact. At 6-5, she is an impressive physical presence for the Wolverines. She is a player who is obviously most comfortable near the basket and is quite efficient in her comfort zone, shooting 56 percent in conference games. Thome also averages five boards per contest. When she realizes her own strength and rises to the level of front court physicality commonly seen in the Big Ten, I believe the sky is the limit. Couple that with an increase in her range away from the basket, and she has the makings of a multi-season all-conference player.
Megan Gustafson, Iowa. Rounding out the list is the 6-3 shot blocker who also scores double digits. The lone reserve on this list, Gustafson is averaging 10 points and 5.3 boards to go along with her freshman- and team-best 2.25 blocks per game in Big Ten play. Currently averaging 21 minutes per game, the lefty has been critical for Iowa inside. In its recent loss to Maryland, Gustafson occasionally played inside with starting center Chase Coley, who was moved to the four spot to battle with Maryland?s bigs. If Iowa continues with that gameplan going forward, look for Gustafson?s numbers to continue to rise. She runs the floor well for her size and has a pretty touch. Her length causes problems for opposing guards who are enticed when they see the light of day in the paint. She has adjusted well to the physical play of the Big Ten, which is evidenced by her 14 points and nine boards vs Maryland.