Brent Yarina, BTN.com Senior Editor,

January 10, 2016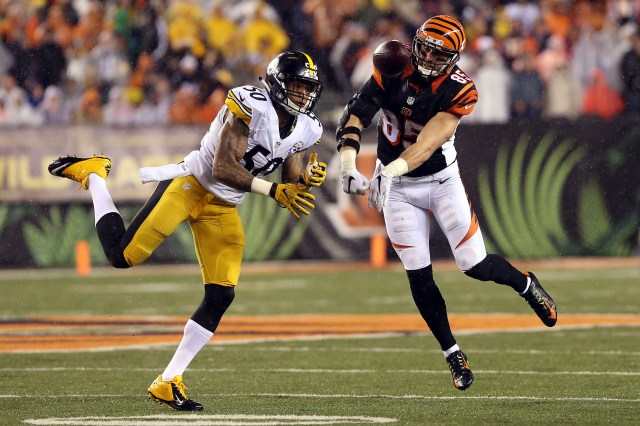 With the NFL Wild Card weekend complete, it's time to take a look at how Big Ten names fared in Saturday and Sunday's playoff games.
Former Ohio State linebacker Ryan Shazier highlighted the participants, registering 13 tackles and two forced fumbles, including the one that led to Pittsburgh's dramatic game-winning drive in the final seconds.
Other notable performances: Whitney Mercilus (Illinois) recorded eight tackles and three sacks in Houston's loss to Kansas City, Fitz Toussaint (Michigan) totaled 118 yards in Pittsburgh's aforementioned victory, Cliff Avril (Purdue) notched five tackles and three sacks in Seattle's comeback win at Minnesota, and Trae Waynes nabbed his first career interception in a loss vs. Seattle.
See how all of the Big Ten players did Saturday and Sunday below.
ILLINOIS
Jeff Allen, OL, Kansas City Chiefs – No stats
Whitney Mercilus, DE, Houston Texans – 8 tackles, 3 sacks
Pierre Thomas, RB, Washington Redskins – 4 car., 7 yards
IOWA
Bryan Bulaga, T, Green Bay Packers – No stats
Mike Daniels, DT, Green Bay Packers – 3 tackles, 0.5 sacks
C.J. Fiedorowicz, TE, Houston Texans – 1 rec., 1 yard
Chad Greenway, LB, Minnesota Vikings – 4 tackles
Micah Hyde, DB, Green Bay Packers – 8 tackles, 1 PD
Brandon Scherff, OL, Washington Redskins – No stats
MARYLAND
Stefon Diggs, WR, Minnesota Vikings – 4 rec., 26 yards; 1 car., 6 yards
MICHIGAN
Jason Avant, WR, Kansas City Chiefs – No stats
Frank Clark, DE, Seattle Seahawks – 1 tackle, 1 PD
Leon Hall, CB, Cincinnati Bengals – 2 tackles, 1 PD
Jake Ryan, LB, Green Bay Packers – 5 tackles, 1 TFL
Fitz Toussaint, RB, Pittsburgh Steelers – 17 car., 58 yards; 4 rec., 60 yards
MICHIGAN STATE
Max Bullough, LB, Houston Texans – No stats
Kirk Cousins, QB, Washington Redskins – 29-46, 329 yards, 1 TD; 2 car., 2 yards, 1 TD
Kurtis Drummond, S, Houston Texans – 1 tackle
Brian Hoyer, QB, Houston Texans – 15-34, 136 yards, 0 TD, 4 INT
Keith Mumphery, WR, Houston Texans – No stats
Domata Peko, DT, Cincinnati Bengals – No stats
Trae Waynes, CB, Minnesota Vikings – 3 tackles, 2 PD, 1 INT
MINNESOTA
Marcus Sherels, CB, Minnesota Vikings – 2 PR, 7 yards
Matt Spaeth, TE, Pittsbugh Steelers – No stats
NEBRASKA
Rex Burkhead, RB, Cincinnati Bengals – 1 car., 4 yards; 1 rec., 5 yards
Will Compton, LB, Washington Redskins – 13 tackles
Jared Crick, DE, Houston Texans – 5 tackles
Spencer Long, G, Washington Redskins – No stats
Jeremiah Sirles, OL, Minnesota Vikings – No stats
NORTHWESTERN
Brian Peters, LB, Houston Texans – 1 tackle
OHIO STATE
Will Allen, S, Pittsburgh Steelers – 3 tackles, 1 TFL
Doran Grant, CB, Pittsburgh Steelers – No stats
A.J. Hawk, LB, Cincinnati Bengals – 1 tackle
Cameron Heyward, DE, Pittsburgh Steelers – 1 tackle, 1 sack
Corey Linsley, C, Green Bay Packers – No stats
Mike Nugent, K, Cincinnati Bengals – 1-1 FG; 1-1 XP
Ryan Shazier, LB, Pittsburgh Steelers – 13 tackles, 2 TFL, 2 FF, 1 FR
John Simon, LB, Houston Texans – 8 tackles, 1 TFL
PENN STATE
Garry Gilliam, OL, Seattle Seahawks – No stats
Tamba Hali, LB, Kansas City Chiefs – 2 tackles
Jordan Hill, DT, Seattle Seahawks – 3 tackles
Jesse James, TE, Pittsburgh Steelers – No stats
Andrew Quarless, TE, Green Bay Packers –
PURDUE
Cliff Avril, DE, Seattle Seahawks – 5 tackles, 3 sacks
Akeem Hunt, RB, Houston Texans – 1 car., 0 yards
Ryan Kerrigan, LB, Washington Redskins – 2 tackles, 1 PD
Mike Neal, LB, Green Bay Packers – 3 tackles, 2 sacks, 1 FF
RUTGERS
Tyler Kroft, TE, Cincinnati Bengals – No stats
WISCONSIN
Jared Abbrederis, WR, Green Bay Packers – 2 rec., 14 yards
Garrett Graham, TE, Houston Texans – No stats
Scott Tolzien, QB, Green Bay Packers – No stats
J.J. Watt, DE, Houston Texans – 1 tackle; 1 car., minus-1 yard
Russell Wilson, QB, Seattle Seahawks – 13-26, 142 yards, 1 TD, 1 INT; 5 car., 21 yards
Kevin Zeitler, G, Cincinnati Bengals – No stats