Tom Dienhart, BTN.com Senior Writer,

January 8, 2016

Here comes Rod Woodson, heading toward the Purdue practice field. I was going to interview him. It was a golden opportunity for me as a 20-year-old student looking to build a career in sports journalism.

It was early September of 1985. Woodson and his teammates were just taking the lid off a season of promise. And I was just getting some traction in my writing career, having worked for the student paper, The Exponent, before moving on to the school?s athletic depertment's public relations office. I would be writing feature stories for the game programs.

I was fired up.

As far as BMOC?s at Purdue go, none were bigger than No. 26 when I was in school at the same time as Woodson. It was from 1983 to 1986, and interestingly, Texas A&M coach Kevin Sumlin was on those teams, too. Yes, Jim Everett was a deity whose good looks and TD heaves made the sorority girls swoon. Basketball players Troy Lewis and Todd Mitchell were pretty big deals, too. But Woodson was the headliner even though he played on losing teams in three of his four years on campus.

Woodson arrived in West Lafayette as one of the school?s most decorated recruits ever. No one said then-Boilermaker head coach Leon Burtnett couldn?t recruit. And, Woodson was Burtnett?s biggest prize yet as he entered his second season as Purdue head coach. Truth be told, Woodson probably could have gone straight to the NFL from high school, he was so physically gifted.

Woodson started from Day One, manning the free safety spot in the opener against. Notre Dame, a 52-6 loss. Woodson got beat a few times, but it didn?t matter. You could tell he had something special even on that hot September day in 1983. Later in his career, Woodson moved to cornerback-and he always doubled as a deadly return man. No matter where he lined up, Woodson made Purdue football fun during a down time for the program.

The talk in the Memorial Union Sweet Shop on Mondays began like this: "Did you see what Woodson did on Saturday?"

Fans still buzz about the 1984 game vs. Ohio State in Ross-Ade Stadium, when Woodson ran back an interception 55 yards for a TD and had 20 tackles to help the Boilermakers knock off No. 2 Ohio State and Keith Byars. It was Woodson?s signature game – that is, until his finale in 1986 against Indiana.

Woodson turned that Saturday, Nov. 22, into one of the most special days in Ross-Ade Stadium history. The Boilermakers were going nowhere-again-with a 2-8 record. But Burtnett let Woodson turn the field into his own personal playground.

When the offense came out for its first possession, Woodson was lined up behind quarterback Jeff George as the starting tailback for the first time since his high school days at Snider High in Ft. Wayne. Woodson proceeded to rush for a team season-high 93 yards on 15 carries while catching three passes for 67 yards. Woodson also manned his cornerback spot, notching 10 tackles, one pass breakup and one forced fumble. He also returned three punts for 30 yards and two kickoffs for 46 yards. In all, Woodson appeared in 137 plays, approximately 90 percent of the game. Oh, and Purdue beat Indiana, 17-15, to retain the Old Oaken Bucket.

On another occasion, I had the chance to interview Woodson, the track athlete. He was an accomplished hurdler who had world-class speed. In fact, the possibility of making the Olympic team as a hurdler was very real.

How good was Woodson in track? He twice earned All-America honors, finishing second at the 1985 NCAA championships in the 55-meter hurdles, and third at the 1987 NCAA championships in the 55-meter hurdles. And he did this largely on natural ability, as he devoted minimal time to track training. He went on to earn five Big Ten championships while at Purdue and in 1984, he qualified for the Olympic Trials in the 110-meter hurdles.

I?ll never forget talking to him on the periphery of ancient Lambert Fieldhouse one winter day in 1986. Woodson stretched quietly in a corner next to Cris Dishman, another Boilermaker track blazer who played in the same secondary as Woodson before going on to his own lengthy NFL career. What struck me talking to Woodson that day were his thighs. Woodson was always in tremendous shape, and his hurdler's thighs were enormous. I had never seen anything like it. Later, I saw Woodson put those legs to work when he blew away the competition in a meet in Lambert despite knocking down every hurdle.

But football was Woodson?s calling. He went on to be a first-round pick of the Pittsburgh Steelers (10th overall) in 1987 and enjoyed a distinguished 17-year career that landed him the Pro Football Hall of Fame.

Now, Woodson is going into the College Football Hall of Fame, the last big accomplishment in a career that goes down with the crown of "Purdue?s greatest athlete ever" resting on his head. I am glad I had the chance to watch some his great Purdue moments.

***

Here's the story I wrote that day.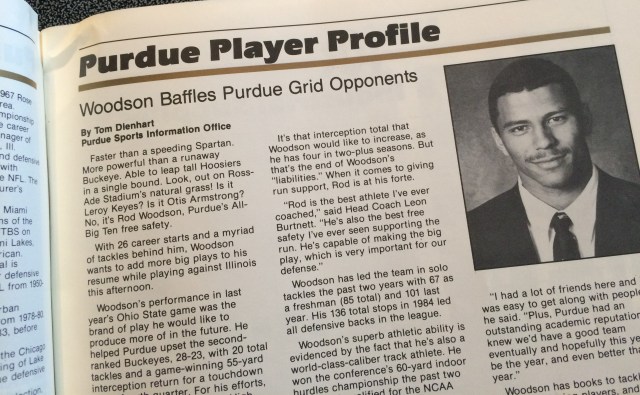 Here's a poster from that era.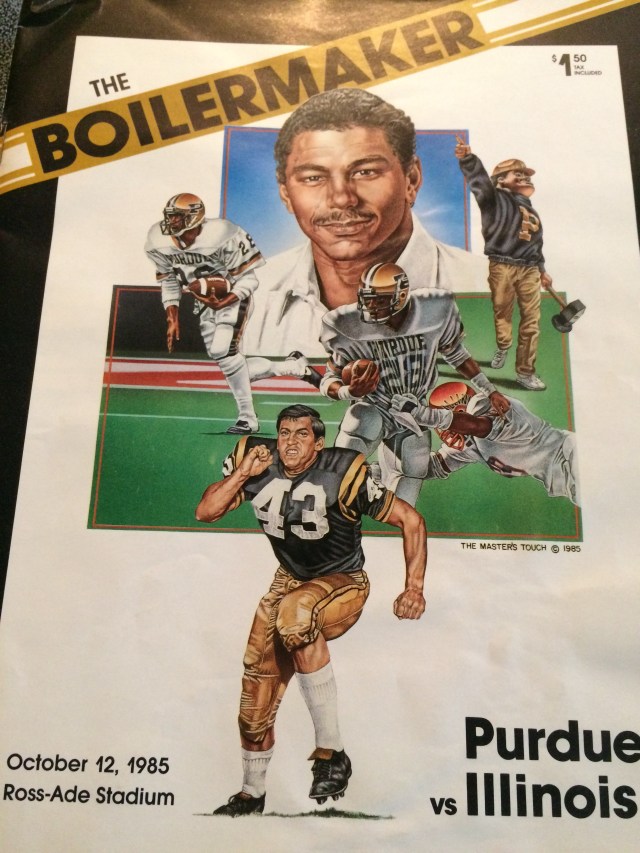 Here's the media guide I've kept all of these years.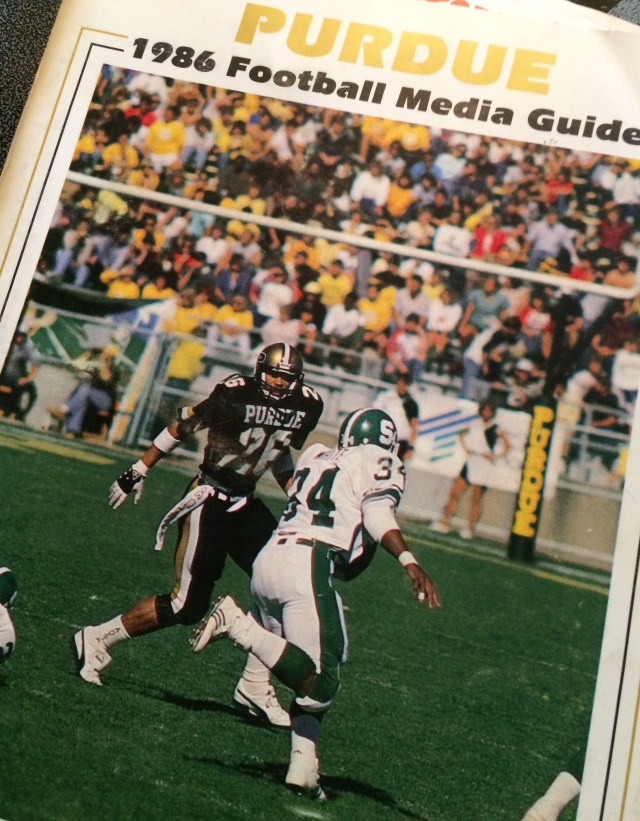 ***
Email Tom Dienhart using the form below.
And if you want to leave a comment on this post, use the box below. All comments need to be approved by a moderator.