BTN.com staff,

January 6, 2016

With the return of BTN's Super Wednesday weekly men's basketball doubleheader, we're rolling out Court Pass on BTN2Go once again. This is where we turn the BTN TV cameras on at each Big Ten basketball venue 30 minutes before each Wednesday game on BTN and live stream the video via BTN2Go.com and the BTN2Go app.

There are a few nifty parts to Court Pass on BTN2Go, including the fact that you can see both teams warm up, catch the atmosphere at the arena as fans get ready, and often hear the bands play before the games tip off.

Also, every Court Pass link on BTN2Go is the same link you can use to watch that BTN men's basketball game live on BTN2Go. So tune in a little early and get ready for the games.

Here are tonight's Court Pass links:

If you?re at home, dial up Court Pass via BTN2Go.com. If you?re away from your computer or even at the game, use the free BTN2Go app. You can access the free BTN2Go app for iOs and Android. BTN2Go is also available on Roku and Google Chromecast.

Also, make sure to follow our relevant school Twitter accounts, too. Tonight that would be @MarylandOnBTN, @RutgersOnBTN, @OhioStateOnBTN, and @NUonBTN. For all BTN basketball games, we often tweet out interesting video from the pregame Court Pass sessions as well and during the games.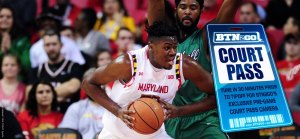 [ MORE: Power Rankings | Player Rankings | Best of week that was | Win trip for two to the Big Ten tourney | Polls | Standings | Stats | Scores ]
Similar to Court pass, here's a look at a YouTube playlist with few of the football Field Pass live videos we offered on BTN2Go this past fall.