BTN.com staff,

January 1, 2016

During football and basketball games, BTN LiveBIG will spotlight notable examples of research, innovation and community service from around the conference. In-Game stories will provide more background on these features, and the opportunity to view the videos again.
Here?s a fun question: Can you name your favorite birthday? If so, does it compare to a birthday that had:
1. A full-blown press conference at The Ohio State University.
2. Signing a letter of intent to become an official member of the 29-time national-champion Buckeye synchronized swimming team.
3. Getting a personal locker loaded with Ohio State gear, including a team backpack, swimsuit, swim cap, goggles and a 2014 National Championship towel - one of only 30 that were ever made.
4. Jumping into a pool with 27 new sisters.
5. Working on synchro moves and swimming in the pool with members of the OSU team, then sharing cake with them after they sang you ?Happy Birthday.?
Just so you know, the events above aren?t from five different days. All of that took place on Verena Caudell?s 8th birthday. You?re probably thinking two things: first, that your favorite birthday wasn?t that good, and second, wondering how all of this is possible for an 8-year-old.
The answer to that lies in the desire of Ohio State?s synchronized swimming team wanting to make a difference outside of the pool. In their quest to give back to their community, they were introduced to Team IMPACT, an organization that gives children facing life-threatening and chronic illnesses strength and hope through the power of team.
[btn-post-package]Verena suffers from ?Ehlers-Danlos Syndrome,? which means her joints dislocate, her tissue is more fragile, and her organs can rupture. One advantage of her pairing with the OSU synchronized swimming team is that being in the water is the best therapy for her.
But just as important as the physical benefits are the psychological ones that come from being part of a team. As lead producer on the vignette above, I got to interact with Verena and her teammates on the day of the shoot. You couldn?t wipe the smile off her face that day.
Since her Greatest Birthday Ever, Verena continues to get emotional support from her teammates at practices, meets and other events. She?s an integral part of the team, not for a single day or even just this year. She is a Buckeye for life.
So now, whenever anyone asks me about my favorite birthday memory, I?ll say, ?Well, that?s a no-brainer. It?s not even my birthday. It was being with this little girl Verena on her 8th birthday and documenting her story.? Perhaps the most moving moment for me was when she told me, ?Besides getting out of the hospital, this is the best day of my life.?
I?ll close with this. I?ve been producing sports and entertainment stories for more than 15 years, covering ?A-Listers? from Justin Timberlake to Steph Curry. But only once have I ever taken a selfie with my subject…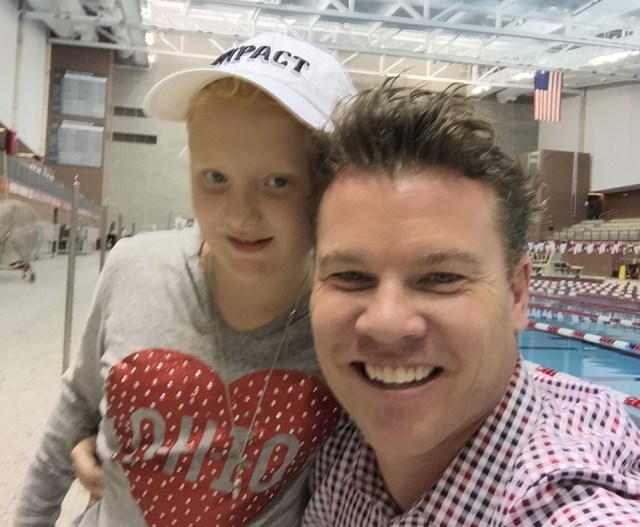 By Chris Weber