BTN.com staff,

December 27, 2015

This season, the highly ranked Maryland Terrapins men?s and women?s basketball teams are generating a lot of excitement in College Park and beyond. But there?s another basketball program out of Maryland that?s making a big impact, even though it isn?t ranked and doesn?t have thousands of spectators.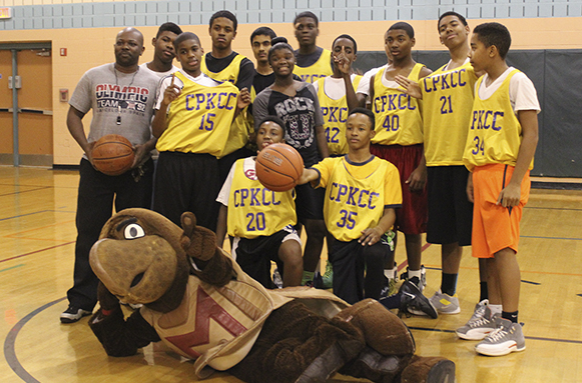 That would be the College Park Dream Team. Now in its fourth year, the program pairs area youth with law enforcement officers from three local departments for a series of basketball games to foster positive relationships and encourage dialogue between them.
The College Park Dream Team is the result of Gloria Aparicio Blackwell, director of community engagement at the University of Maryland, trying to foster that connection. She came up with the idea while considering ways in which local police officers could get involved with youth in the community, specifically in College Park?s Lakeland neighborhood.
The ?light bulb? moment for Blackwell came when University Police Chief David Mitchell suggested starting sporting events with the kids.
?I met with the chief, and we talked about needing to build stronger relationships,? she said. ?He suggested youth games, and I told him ?It will be more work for you.? He gets all the credit [for the idea] because I knew he would pick up the phone to his friends and the police, and it would be successful. He is well known and well-respected.?
Held quarterly on Friday nights at the College Park Community Center, the games have drawn about 20-30 police officers and between 15-20 youth and teens each time. The officers are from the University of Maryland Department of Public Safety (UMPD), Prince George?s County Police Department (PGPD) and Maryland-National Capital Park Police.
Beyond the actual games, the events include other activities such as guest speakers. Sonia Chase, UMD alumna and former WNBA player, gave a talk at the last get-together on Dec. 11. Today, Chase is CEO of Chase Your Dreams Inc., an organization that helps young players develop basketball skills, prepares them for next-level educational and career opportunities, and guides them toward a healthier life. So her mission is a natural fit for the College Park Dream Team, and she?s gradually gotten more involved with the program.
?She comes and tries to motivate, tells a story,? Blackwell said. ?She wants to do even more with the kids in the future.?
As the College Park Dream Team has grown, it?s brought more people together. Most of the participants to date have been adolescent and adult men, but some of the games have included female officers and elementary school-aged children.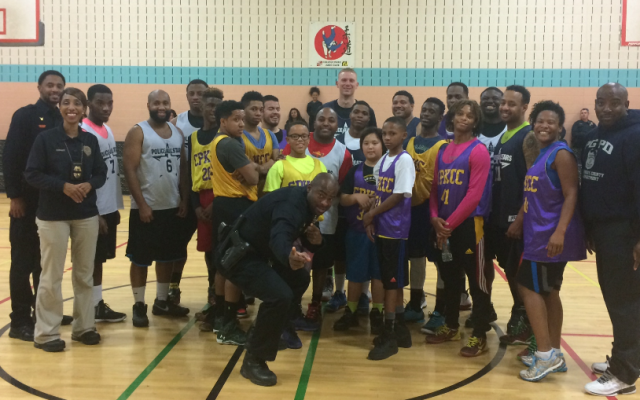 ?We used to have the kids play against the police, but then we realized we were trying to build community,? Blackwell said. ?So now we put them on teams together. The officers are having a ball, and I have seen the amount of respect and a willingness [on behalf of the kids] to be close to the officers increase. They adore Officer Jaron Black (PGPD).?
Black, Lt. August Kenner (UMPD) and Cpl. Randy Green (Maryland-National Capital Park Police) are key individuals involved the program, she added. They help recruit their fellow officers to join the games and the mission.
Building a bridge between law enforcement and youth is especially important at this point in time given recent negative headlines, Blackwell explained.
?We get so much bad news about police, that they are doing ugly things,? she said. ?The reality is that we have so many great police officers in this community.?
And the College Park Dream Team provides benefits that go beyond improving the relationship between the police and youth, Blackwell pointed out.
?The beauty of it is, we are also combating the obesity epidemic and contributing to their overall health,? she said, but added that the kids are allowed a few treats after working hard on the court.
[btn-post-package]?When they finish the game, we order pizza because they earned the extra calories!? she said with a laugh. ?Then they are sitting together and talking. I?ve seen the kids asking them about [being a police officer]. They are sharing their experiences.?
Another important advantage of the College Park Dream Team is that it positively affects quality of life at the university.
?If we don?t have a great community, how can we have a great university?? Blackwell said. ?If the community is falling apart, then what? It is important as a public service.
?We really enjoy doing it,? she added. ?The community has accepted us with open arms.?
By Meg Sullivan