BTN.com staff,

December 26, 2015

Name one living American poet. Take a few seconds to think about it - we?ll wait.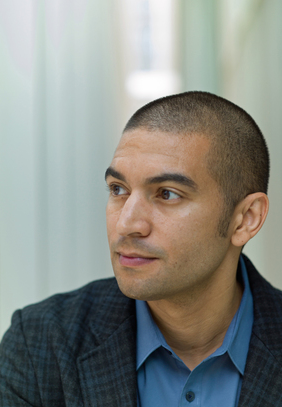 If you didn?t come up with more than one or two - or any at all - it wouldn?t surprise Adrian Matejka. The Indiana University Ruth Lilly Professor and poet-in-residence isn?t unaware of the declining popularity of the art form compared to previous centuries, particularly in the United States.
?We?re talking about poetry, something hardly anybody pays attention to in the United States,? he said. ?People will know of ?50 Shades of Grey? even if they don?t read - but if you ask them to name a poet, they?ll say Shakespeare or somebody who?s probably not even alive."
He?s not discouraged by that fact, however. And his creative, passionate writing makes a great case for reversing that trend.
Matejka?s writing skill recently led to him being named a 2015 United States Artists (USA) Simon Fellow in Literature. Created by the Ford, Rockefeller, Rasmuson and Prudential Foundations, USA awards $50,000 fellowships to individuals viewed as the most accomplished and innovative artists in their field.
Approximately 400 artists were nominated and invited to apply, and of those, just 37 were awarded fellowships. In fact, when Matejka received a call from USA, at first he thought they were going to tell him he didn?t complete the application correctly.
?I couldn?t process that they were calling to tell me I won,? he said. ?It?s so humbling.?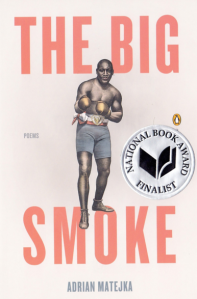 Throughout his career, Matejka has contributed to and authored several books of poetry - most notably ?The Big Smoke,? his heavily awarded, critically acclaimed collection poems that tell the story of African-American heavyweight champion boxer Jack Johnson. Matejka is still pleasantly surprised at how well received it was.
?One of the great joys of the attention that book got was that it took Jack Johnson?s story, which is incredibly interesting and a very American story, and got it into the consciousness of people who don?t normally read poems,? he said.
Johnson?s story was impossible to fit into one book of poetry, so Matejka will continue telling it in a graphic novel that will depict Johnson writing his memoir. He?s collaborating with illustrator Sean Qualls for the book, and hopes to see it published in 2017.
?I want to show respect for Jack Johnson?s story, and I wanted to do it in a way that might be surprising,? he explained. ?It clicked that a graphic novel would be a perfect way to continue the story. It solves the problem that I had with space and geography in the poems.?
In addition to that project, Matejka is working on a graphic novel about rap music in the 1980s.
?Rap in the ?80s was dismissed as an art form, and there was talk about whether it would even last until the end of the decade - and then to think about where it is now!?
He also teaches a course on hip hop at IU.
?That?s a lot of fun,? he said. ?The material is so vibrant. I don?t know what I would have done to have a class like that in undergrad.
?I listen to a lot of terrible rap to decide on what to bring to the class,? he added with a laugh. ?But this is a class about language, which is different than a class about beats.?
Being able to expand his creative horizons and push projects forward are major benefits of the USA fellowship, Matejka said.
?There?s the honor of somebody recognizing your work, and there?s the company that all of a sudden I?m keeping - these really terrific architects and dancers and playwrights who also are winners of the fellowship,? he explained. ?And on a practical level, that money allows me to explore some creative opportunities that I was not financially in a position to do before.?
The most pressing project on Matejka?s plate is finishing up his most recent book of poems, ?Collectible Blacks,? which will be published in April 2017. It?s a very personal work, one that talks about growing up with dreams of becoming the second black astronaut to go to space, but feeling constrained by poverty.
Working at IU, Matejka feels like he has the time and freedom to pursue creative projects like this.
[btn-post-package]?I never would have written these poems if I hadn?t come back here, with complete certainty,? he said. ?It helps me tell the story about going to church and then playing basketball in the same shoes I wore to church because that?s the only pair I had. I could dwell on the fact that we were incredibly poor, or I could be thankful for the fact that I?m not anymore. Going back into that space poetically has been complicated.?
Matejka definitely feels fortunate that he can both teach and write about the things that inspire him.
?I try to have these two things operating in tandem in a way that I can spend my days thinking about something I care about,? he said. ?I?m so lucky.?
By Betsy Piland