BTN.com staff,

December 24, 2015

To inspire his work in providing educational opportunities to young Latinos, Dr. Frederick Luis Aldama doesn't need to look any further than to the memory of his late mother.

"My mother dedicated her life to educating the Latino community in [California's] Central Valley," Aldama said. "So, it's in my blood and spirit."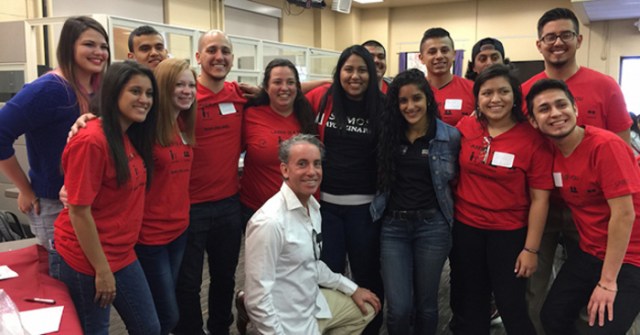 Aldama is the founder and director of The Ohio State University's Latino and Latin American Space for Enrichment and Research, or LASER. Founded in 2009, LASER is a comprehensive program that takes a two-part approach to education both for and about Latinos and Latin culture.
As a first step, Aldama and his staff created a mentoring program that reaches out to Columbus-area Latino high school students. They provide those students with resources and advice through high school and continuing into college.
"It's both a pipeline and a network," Aldama said.
The LASER method of mentoring begins with undergrads taking high schoolers under their wing, preparing them for them for entrance to and the rigors of life at OSU and other universities. At the undergraduate level, students are paired with either a senior-level undergrad or grad student. Graduate students are, in turn, paired with doctoral candidates or people who are already working full-time.
[btn-post-package]The second component of LASER's approach, according to the mission statement on their website, focuses on "promoting state-of-the-art research and exchange in the field of Latino and Latin American Studies at The Ohio State University through programming initiatives - both scholarly and creative - that build bridges within OSU and the community at large."
"We are creating a gravitational center in Columbus," Aldama explained. "We are bringing together cultural knowledge and production. We are bringing together writers, poets, intellectuals, artists and authors."
To that end, LASER has created a number of campus events to promote and foster the discussion surrounding Latino and Latin American culture, education and issues. These include:
Latino Role Models Day, which brings students to the OSU campus to spend a day with various leaders from both the university community and the greater Columbus area. In the past, this event has drawn role models that include the CFO of Nationwide Insurance, School of Law faculty and union organizers.
Sol-Con, which is billed as "The Black/Brown Comics Expo." It's the first major comic-book convention to bring together predominately Latino and African-American artists, writers and editors to share their unique experience in the world of comics. Created by Aldama, along with artist and SUNY-Buffalo professor John Jennings and Latino Comics Expo founder Ricardo Padilla, Sol-Con is a response to the alienation and minimizing of artists of color in the comic-book world and broader artistic community. In 2015, the three-day event brought together 45 authors and artists to exhibit work, lead workshops and speak on panels.
Humanities and Cognitive Studies High School Summer Institute, which is held every August in cooperation with the Center for Cognitive and Brain Sciences. A week-long program, students from the central Ohio area are exposed to college-level courses, take part in hands-on laboratory work and create networking contacts at OSU and beyond.
Ultimately, LASER's goal is to instill within young students a desire to achieve academically and give them a sense that their efforts in this area are supported. Aldama knows well the value of having someone believe in you.
"From my high school, I was the only kid that made it to college," he said. "And it was largely because someone reached out to me."
By John Tolley