BTN.com staff,

December 18, 2015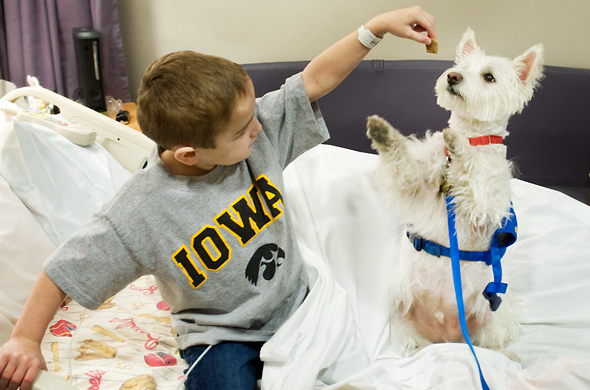 It?s 9 a.m. on a cold winter morning at the University of Iowa Hospitals and Clinics (UIHC) main building. A patient named Darrell is sitting in a chair getting medicine that doesn?t require a co-pay. A rather large Labradoodle named Yuki is on his lap, slathering his face in doggie kisses.
In an intensive-care hospital room on a different floor, the prescription is Sophie, a 12-year-old Pomeranian who is used to making ?bed? calls. Sophie?s handler, Jean Reed, picks her up and gently places her next to one of the patients, who bursts into a thousand-megawatt grin.
?We walk in the room, and you see faces light up,? said Reed, who?s also director of volunteer-services at UIHC. ?This is the moment that many patients and their families have been waiting for because it?s a little escape from the situation.?
These visits come courtesy of the hospital?s Furry Friends program, which helps patients on their quest to better health by providing canine companionship. Research shows that interacting with animals can lower blood pressure, reduce stress, decrease loneliness and boost overall feelings of well-being.
The program, which has been in place since August 2003, requires all dogs to be vetted before they visit their first patient.
?UIHC requires dogs and handlers[to] register on Pet Partners, where they?re vetted for temperament and suitability,? Reed said. ?The dog must be welcoming and not too excitable.?
Nurses also ask patients and families if they want a visit before letting the dogs out. More often than not, they do.
?It really does make people happy,? Reed said. ?So many times, patients are away from a beloved pet at home, and they?re missing that interaction and love. It?s a great way to take your mind off things and enjoy a little interchange with a friendly animal.?
What is it about dogs that makes them such a valuable resource for patient recovery?
[btn-post-package]?If someone is feeling not themselves, the dog still wants to be friends,? Reed explained. ?Maybe someone is sensitive about his or her appearance. The dog passes no judgment. The dog is happy to see you and happy to have the affection. This is a great comfort.?
Because Furry Friends is such a popular program, there?s a need for more, well, furry friends.
?We never have enough dog/handler teams,? Reed said. ?We encourage people to apply because it?s just as gratifying for the handlers and pets.?
That?s why Reed got her own dog involved. Sophie?s experience has revealed something to her owner: She has remarkable bedside manner.
?She never wants to be held at home, but she does like to be the center of attention,? she said. ?We joke that she has her home persona and her hospital persona.?
Today, Sophie is placed in bed next to a patient who can?t stop petting her.
?She lays so still,? Reed said. ?She never bothers a tube or any of the equipment.?
Meanwhile, Yuki the Labradoodle is about to make her next stop to visit a sick child.
?It?s about seeing this huge, gentle, docile dog walk in the room,? Reed said. ?For a moment, it?s not about being sick or in the hospital. It just makes everyone happy.?
By Cindy Pearlman