BTN.com staff,

December 16, 2015
It's been a great game so far for @MonmouthBBall, which means an AMAZING night for @MonmouthBench! https://t.co/Uw7CqC7uGa

— FS1 (@FS1) December 16, 2015
The Rutgers men's basketball team takes on Monmouth (N.J.) at 1 p.m. ET Sunday on BTN (watch on BTN2Go). Yes, THAT Monmouth, the one with the high-energy collection of bench players who have become the buzz of college basketball this season.
Known on Twitter as @MonmouthBench, the Monmouth Hawks reserve players are anything but reserved. Thanks to a handful of quality wins, combined with the power of social media, their reactions to great plays and choreographed celebrations fly around the Internet as soon as they happen.
But while the tweets and the Vines and videos have cast the spotlight on the bench, don't overlook the Hawks play on the court. The Hawks are 7-3, fresh off an impressive 83-68 win over Georgetown. Here is their season schedule – they've also beaten UCLA, topped USC, and edged Notre Dame. All four of those Monmouth opponents are in the top 40 of the KenPom rankings.
Monmouth, a New Jersey school with an undergraduate enrollment below 5,000, has yet to crack either Top 25 poll, but the Hawks do rank 11th in the latest RPI. They play in the Metro Atlantic Athletic Conference, which includes school such as Iona, Manhattan and Marist. We also have the Hawks roster and season stats.
Rutgers is currently 4-6 and most recently lost to George Washington, 83-49.
USA Today recently interviewed the bench players and chronicled the player preparations and moments nicely. It's worth a read. Here's a roundup of poses from Monmouth's win over Georgetown on FS1 Tuesday night.
Specifically, this "Sistine Chapel" celebration has drawn lots of attention.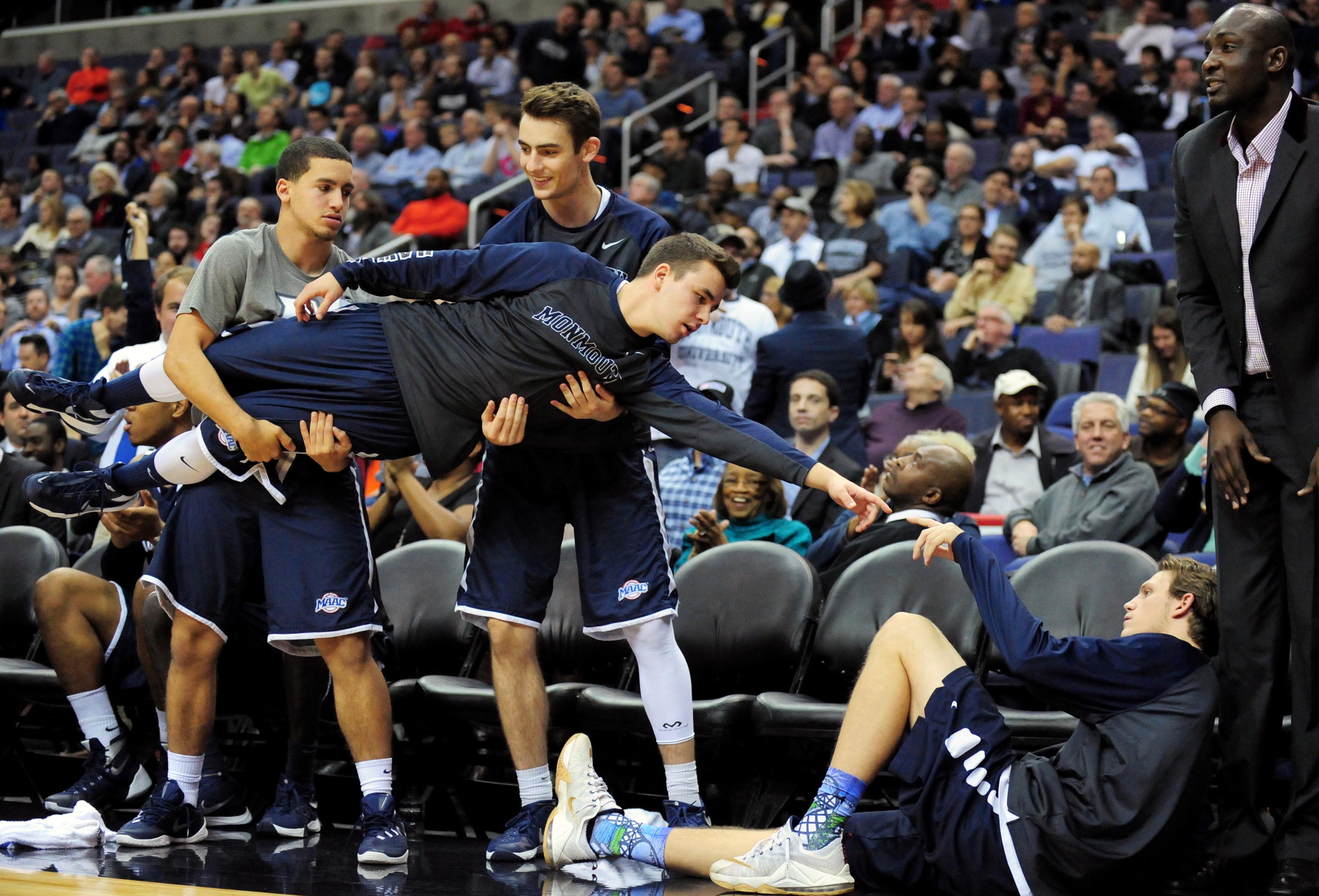 Hit a three? Get a bench celebration!@MonmouthBench doing the Sistine Chapel! https://t.co/4oZVPAWwx8

— FS1 (@FS1) December 16, 2015
Monmouth's bench actually bust onto the scene last month as reported in this post The Dagger blog on Yahoo! Sports headlined "No team in college basketball is having more fun than Monmouth."
As with all live programming on BTN TV, this men's basketball game will also be on BTN2Go, which is available to subscribers of participating TV providers. We also offer hundreds of non-televised events via BTN Plus on BTN2Go. Go to the BTN2Go.com schedule page for more sport-specific schedules. BTN2Go is available here via Google Play, On Roku, and the Apple App Store.