BTN.com staff,

December 12, 2015

At the University of Wisconsin, everybody plays.

That?s the philosophy of the Division of Recreational Sports, which works with the kinesiology department to integrate athletic opportunities for students of all abilities.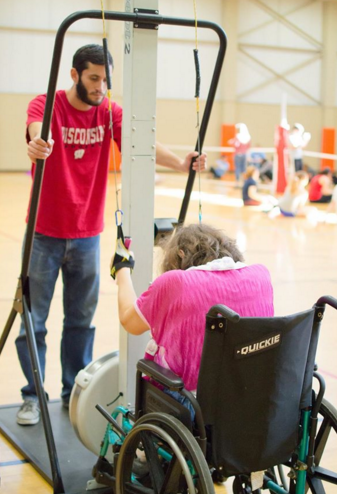 They created Badgers ADAPT, a program that provides adaptive and Paralympic sports, events and activities. Their most recent event earlier this month drew hundreds of students, volunteers, caregivers and other community members.
?It?s a big collaboration between us and kinesiology, and the community,? said Tori Landron, coordinator of Competitive Sports for the Division of Recreational Sports. ?Their outreach is something that?s very important to us. The target is the assisted population, people with these disabilities who wouldn?t normally come in our rec centers. It?s good to have events for them to come in and participate.?
The highlight of this year?s event was a sitting volleyball tournament, Landron said. Participants also got to learn how to play power soccer, got a sit-ski demonstration and heard from several guest speakers. They also saw demonstrations from wheelchair basketball players and the Central Cross Country Ski Association (CXC).
?We ? want people with disabilities to know a life that?s the same as others, and we want to be able to work with them to do this,? said Tim Gattenby, a professor of kinesiology at Wisconsin.
Gattenby has been at Madison for 30 years, and he helped start the Badgers ADAPT program three years ago. He works with a number of kids of all ability levels, teaching them skills such as bike riding. He has a refreshing point of view about what is possible for those with disabilities.
?Quite frankly, in the future, people with disabilities are going to be celebrities,?Gattenby said. ?Because not only are we recognizing them, we can celebrate them. A normal person takes over two hours to run a marathon. A person in a wheelchair can do a marathon in an hour and a half. They?re not disabled. They?re superhuman. My drive is to help with that awareness and help people understand that.?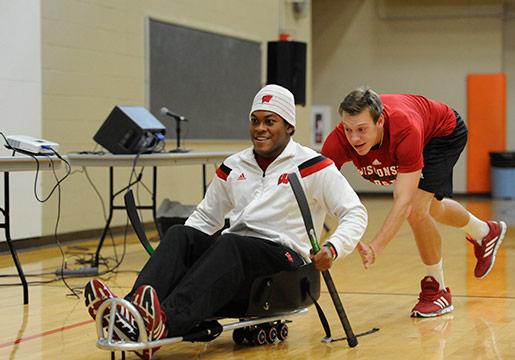 Gattenby gets assistance from upwards of 200 student volunteers at any given semester. Part of that is for required intro classes, but he says it?s quite common to see them sticking with the program past any kind of mandate.
?Up to half of those students are required to help the first time, but they just keep on coming back,? he said. ?They just can?t quit, because they enjoy it so much and want to help. When I put out my announcement [for volunteers], it fills up in days. You can?t get any better feedback than that.?
One of those volunteers, junior Makenzie Pennau, was at the most recent Badgers ADAPT event. She even decided to major in rehab psychology after her stint as a volunteer.
?I know a lot of people who have done multiple semesters just because they like it,? she said. ?They hear about it through the intro to psych course, but they really want to keep going. It?s a good eye-opener for starting to get involved with people with disabilities. I?ve learned so much from this.?
She said it?s a great eye-opener for those who haven?t had much interaction with the disabled community before.
?Personally I?ve never really thought of it as they can?t do those things,? Pennau said, ?but for people who don?t know, they see people in a wheelchair and all the things they can do, and I really think it changes their perception.?
As for the future of the program, Gattenby and Landron have discussed expanding it as much as possible.
?I?m so overwhelmingly excited that she wants to do more than just token expos,? Gattenby said. ?That really validates the work I?ve done for 30 years. It makes me extremely happy.?
He said they are considering options to couple the Badgers ADAPT event with other popular happenings on campus. The kinesiology program also offers an open house in the spring.
?We?ve got great student leaders that want to be involved,? he said. ?We just have to decide how we want to make it grow.?
[btn-post-package]That coincides with a $236 million renovation plan for the recreation facilities and natatorium. Landron said it will make them much more accessible to everyone in the community.
?We want to continue to grow and to educate our students, and provide a service for underprovided students,? she said. ?Diversity and inclusion is always something on the forefront of our minds. We want to make it the best we can. When you walk into a rec center, especially for the first time, we want it to be very rewarding.?
Those are welcoming words. To athletes of all abilities.
By Matthew Wood