BTN LiveBIG: Rutgers grad grows a 'food community' in the Garden State
Growing up in suburban New Jersey, Alec Gioseffi always had a passion for both food and the outdoors. He started working in restaurants at 15, but also traveled as a competitive snowboarder when he was young and continued to globetrot while enrolled at Rutgers University.
Now, he's found a way to bring his passion home, starting Cooperative 518, a farming co-op and community-sponsored agriculture (CSA) outfit just 15 minutes away from his undergrad haunts.
"Food was always a big part of my life," he said. "When I was traveling a lot, I was always paying attention to the different cultures and the different countries and a part of culture is the food. When I was in eastern parts of Europe where people live a much more agrarian lifestyle, where everyone is growing their own food … I just felt really inspired by all that, and I didn't feel like that existed in central New Jersey where I grew up."
Gioseffi now serves as 518's president and head farmer alongside his fiancée Lauren Nagy, the co-op's manager. Six people live on the land, which is also home to chickens, pigs, sheep and a variety of fresh vegetables.
Gioseffi studied history and ecology at Rutgers, and wound up working as a line cook at an eco-minded Italian restaurant in New Jersey right after graduating. It was there that he eventually had his first experience working on a farm, and while it took some adjustment, he grew to love it.
"There's definitely a rough transition, but if you're willing to be outside and do physical labor for seven days a week for a few months in the middle of the season, then it's all worth it," he explained.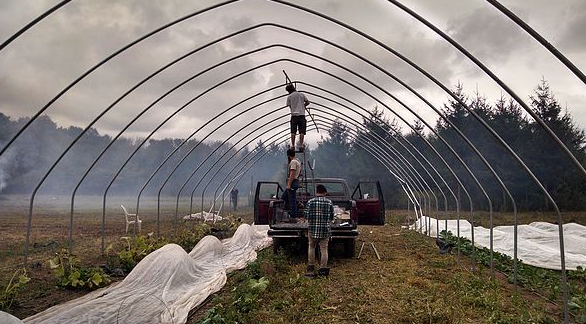 It took some time for Gioseffi and Nagy to surround themselves with the right people, who truly shared their vision for local, community-grown food. They cycled through a dozen in the first two years they had the farm.
"Only in the past 50 years have we become so detached from where our food is coming from," he explained. "You have a lot of say if you're changing the way that you're eating by being involved in how you're growing it. So if you're actively being outside and in nature and working with the land, it's a whole lifestyle paradigm shift."
Cooperative 518 is working to make that change happen by feeding 65 families in the nearby area, as well as some local restaurants. They are currently taking applications to join in 2016 as well, offering a variety of packages for people who want to enjoy their fresh, eco-friendly produce.
Next year, they plan to have five people regularly working the farm, including two interns and Nagy. They've also agreed to a deal with nearby neighbors to work seven acres of their land — which, according to Gioseffi, could potentially triple their production.
They also want to expose people to 518 and its benefits by creating more opportunities for community activities on the land.
"We want to be able to have more educational opportunities on the farm," he said. "We're thinking about getting a yurt [a hut-like tent constructed in the Mongolian style] … something that could be a community space where people that are facilitating something, whether its yoga or a cooking class or a guitarist that wants to play could have a venue on the farm where people can come together."
Gioseffi admits that doing everything needed to keep 518 running smoothly is tough, but he adds the results are well worth the hard labor.
"It's exhausting, but it's very rewarding. You get to see — no pun intended — the fruits of your labor very quickly."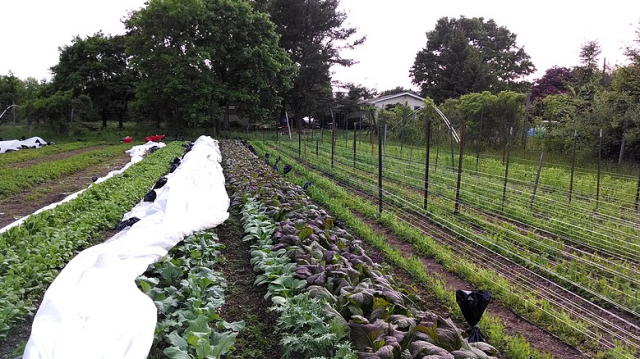 By Grant Rindner