BTN.com staff,

December 5, 2015

Space: The Final Frontier.

That iconic phrase opened every episode of the original Star Trek series, which featured a team of intrepid space explorers that included the colorful, quotable Dr. Leonard "Bones" McCoy.

Today, another McCoy is exploring new parts of outer space, even if he's not actually going there. That would be Jake McCoy, an astrophysics graduate student at the University of Iowa who was recently selected for a three-year NASA Space Technology Research Fellowship.

It's hard for even the brightest scientific minds to break into NASA's orbit, but McCoy managed it on his first attempt.

"It was the first thing like that I've ever applied for," he said. "I understood that it was competitive, so I applied to another fellowship as well; I certainly wasn't expecting to get it."

A native of New Hampshire, McCoy earned his bachelor's of science degree from the University of Massachusetts with a double major in astronomy and physics. He continued to hone those interests in Iowa City.

"While I was at UMass I did some observational astronomy research, but it was at the University of Iowa [where, instead of] analyzing data, I started thinking about what goes into building the instruments that take the measurements," he said.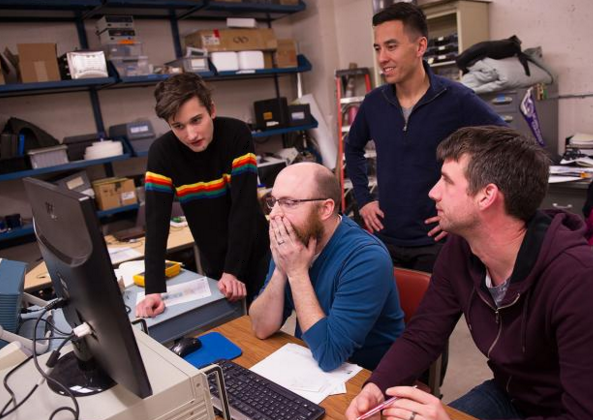 How did McCoy get NASA's attention? Part of it was advice and support from his academic advisor, Randall McEntaffer, a physics and astronomy professor at Iowa. McEntaffer suggested that McCoy apply for the NASA fellowship, but also knew he'd need an impressive proposal to even have a chance.
Working together last fall, they developed a plan to make "high-resolution X-ray diffraction gratings using new techniques in electron-beam lithography," and McCoy found out in April that his submission had been accepted.
If you just read the sentence above a couple of times and still have no idea what it means, you're not alone. The scientific particulars of McCoy's project are difficult for most people to comprehend, but the important thing is what he ultimately hopes to achieve - that is, finding the "missing" matter in the universe.
What McCoy's trying to do is find unaccounted-for subatomic particles, called baryons, that are present in nearly all of the universe's mass.
"According to theories of cosmology, and observations of the universe, there should be more normal so-called baryonic matter than what we can see it in - stars and galaxies - directly," he explained. "So the hypothesis is that a lot more of this matter is actually just in between galaxies, an intergalactic medium, and a lot of it is very diffused and hot, so it actually has an X-ray signature to it."
The missing-baryon problem has a major impact on scientists' understanding of dark matter, but in order to be solved, it needs highly advanced technology - like what McCoy is trying to develop through his NASA fellowship. However, he noted that what he's working on is just one part of a larger picture. Success will ultimately come from collaboration with other scientists.
Now in the fourth year of a six-year program at Iowa, McCoy anticipates he'll earn his Ph.D. in physics in Spring 2018.
"It still seems so far away, but ? I'm keeping my options open," he said. "I'd be interested in working at the National Lab as part of NASA, or even a European space agency. I would love to keep ? working on instruments for future observatories."
For now, he's content to boldly take our knowledge of space where it's never been before.
[btn-post-package]"To me, it's all about figuring out our place in the universe, even though that sounds a little bit trite, I suppose," he said. "For example, we used to not know that there were other galaxies. We thought that our galaxy was the whole universe - and then we discovered other galaxies.
"This isn't quite as crazy as that, but discovering that our galaxy is actually in this giant cloud of hot gas as massive as the galaxy itself is interesting. It's just one piece of the puzzle when it comes to issues with cosmology."
By Betsy Piland