BTN.com staff,

December 4, 2015

With water shortages in California and other western states threatening the viability of wineries there, it was probably just a matter of time before an enterprising team devised a system to better manage grape-growing operations amid those changing conditions.

And indeed, a group recently established VinSense LLC to do exactly that. But what?s surprising is where it?s based - on the campus of Purdue University, right in the middle of corn country.

Why Purdue? The answer begins with David Ebert, Silicon Valley Professor of Electrical and Computer Engineering at the university and co-founder and chief technology officer at VinSense. An expert in integrated, interactive data visualization and analysis, Ebert?s work applies to many fields, including medical applications, public safety, weather and emergency response.

But wine was always a personal interest of his, and after a colleague contacted him about using sensor technology for corn and soybean production, he knew he could apply that same technology to vineyards. Luckily, he?d formed relationships with a number of producers in California already.

?I approached them about their interest in tools to give them more information for planning and crop management, as well as resource management,? he explained.

In March, Ebert partnered with his wife Sue, as well as Purdue enology professor and fellow wine enthusiast Christian Butzke, to figure out how to start the company. They also reached out to another Boilermaker for assistance in mapping vineyards.

?Since moisture throughout the deep-root zone of grape vines and trees directly affects the crop and health of the vine/tree, we contacted Phillip Owens, [a] Purdue soil scientist who has amazing, high-resolution soil-mapping technology, so we could measure and model this information,? he said.

The company developed a product consisting of two integrated software components - precision soil maps and visual analytics tools - to transform massive amounts of data into simple information that can drive crop-management decisions.

?We incorporate this deep-soil data from the models and from soil sensors with microclimate information, plant models and predictive analysis into intuitive, interactive, visual exploration and analytics tools,? Ebert explained. ?These tools provide new, easy-to-use information for the growers and winemakers.?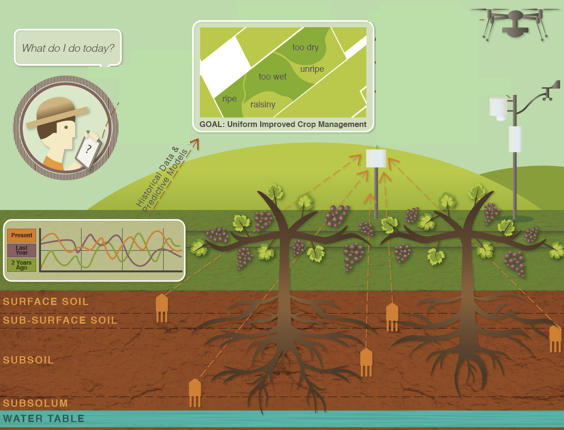 VinSense is currently working with several producers across California, including two partner vineyards in Napa Valley: Robert Biale Vineyards and Tres Sabores. Ebert recently conducted a workshop in Napa that brought together producers and researchers from across the country to explore how technology can help solve problems facing growers.
One of the most interesting things he has seen during his research is the impact that the highly varied soils in Napa have on the flow of water and nutrients.
?Napa has one of the most complex soils of any valley on the planet, and Sonoma County is also extremely complex. This really shows that coarse, acre-level water management is not sufficient to effectively use water in these areas, and affects the uniformity and quality of the crop,? Ebert said.
[btn-post-package]He?s excited about the growth and expansion of VinSense next year. In early 2016, they plan to start working with an Indiana orchard/vineyard and two more growers in California.
And Ebert disclosed other information that may interest his fellow wine enthusiasts.
?My favorite varietal is Zinfandel, followed by Petite Sirah, then Cabernet Franc, Syrah and Cabernet Sauvignon are about equal,? he said.
If VinSense succeeds in saving the California wine industry, he may never have to buy another bottle again.
By Meg Sullivan