Tom Dienhart, BTN.com Senior Writer,

November 30, 2015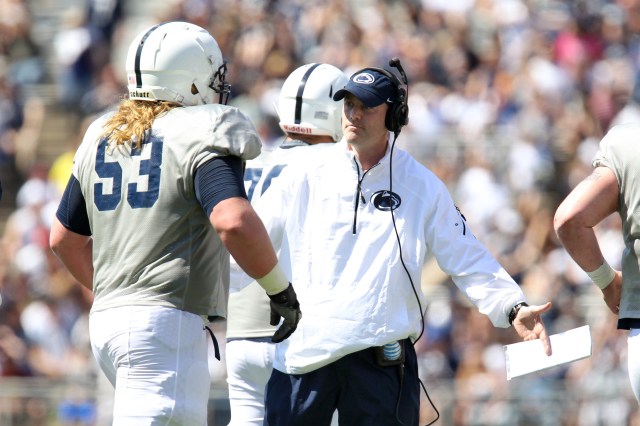 Some call it ?Bloody Sunday,? the day after the end of the regular season. It?s the day many coaches lose their jobs. A sad day.
[ MORE: Best of Week 13 | Week 13 scores | Big Ten stats | Big Ten standings | Latest polls | Power Rankings | Bowl Projections | Dienhart: Fun Big Ten title matchup | What Tom Dienhart learned | Week 13 picks revisited | Gerry DiNardo tweets | Week 13 award winners | Michigan honors late Chad Carr, 5 | YouTube highlights ]

The head coaching changes grab the headlines. In the Big Ten, Rutgers fired Kyle Flood. But several other big moves were made on Big Ten staffs.
Here is a look at changes in the Big Ten.
Minnesota. In what I think was a surprise move, freshly minted coach Tracy Claeys fired offensive coordinator/offensive line coach Matt Limegrover and quarterbacks coach Jim Zebrowski. The Gopher offense has struggled to take flight since this staff landed in the Twin Cities in 2011. And the quarterback play has been flat, too. Still, staff loyalty and continuity had been staples under Jerry Kill. But, obviously, Kill no longer is in charge. This is Claeys? team. And he wants to make his mark and try to spark this program coming off a disappointing 5-7 season on the heels of consecutive 8-5 marks. He has just a three-year deal and is working for an interim A.D., so Claeys needs to impress quickly. In 2015, Minnesota was 13th in scoring (22.7 ppg) and 12th overall (364.5 ypg). The offense was sixth in scoring (28.4 ppg) and ninth overall (357.3 ypg) in 2014. The new coordinator will have QBs Mitch Leidner and Demry Croft back, along with some nice skill talent in RBs Shannon Brooks and Rodney Smith and some promising wideouts. And a banged-up line should be better, too.
Penn State. The struggles of the offense were well-documented. In fact, the Nittany Lions finished last in the Big Ten in scoring (21.8 ppg) and last overall (328.5 ypg) in 2015. No doubt, a shoddy line played a huge role in Penn State?s offensive struggles. Regardless, coordinator John Donovan got whacked. The next coordinator will inherit some sweet skill-position talent (RB Saquon Barkley and WR Chris Godwin, among others), but will QB Christian Hackenberg be back? The maligned line also should keep improving. Bottom line: This attack has potential. James Franklin needs to win some big games in 2016 as he chases heavyweights Michigan State, Ohio State and Michigan. And that won?t happen if this offense continues to slumber.
Purdue. No team made a bolder move than the Boilermakers. And, a bold move was needed by Darrell Hazell, who has just six wins in three years-with three of the victories coming vs. FCS teams. Both coordinators were told to clean out their offices along with d-line coach Rubin Carter. The pressure will be high on Hazell in 2016. So, he needs to hit two home runs with his coordinator hires. Neophytes need not apply. Hazell needs to find sage coaches-like the Bill Cubit hire at OC in 2013 at Illinois. Purdue is a mess on both sides of the ball. An issue: The school typically doesn't give multi-year contracts to assistants. That could greatly impact the quality of applicants. John Shoop?s offense had no rhyme or reason. What exactly was he trying to be? Purdue never had an identity. The goal for the new coordinator: develop a QB. David Blough is back, but Elijah Sindelar may be the man for an attack that for too long has had middling quarterback play. Sindelar is a strong-armed stud who redshirted last year. DC Greg Hudson was overmatched as a Big Ten coordinator. The Swiss cheese rushing defense was abysmal, ranking last in the league (214.9 ypg). A 3-4 defense? A 4-3 defense? It won?t matter what the new DC plays unless this unit tackles better and plays smarter.
***
And if you want to leave a comment on this post, use the box below. All comments need to be approved by a moderator.