BTN.com staff,

November 12, 2015

In every business, major decisions are often determined by a deciding vote cast by an individual or group with a large stake. That?s a little trickier with the Lozano sisters, both seniors at the University of Michigan?s Stamps School of Art & Design.

?I?m the oldest one by two minutes,? said twin Beatriz Lozano. ?That doesn?t mean I have the final word.?

?It doesn?t give her much power,? added twin sister Virginia with a laugh.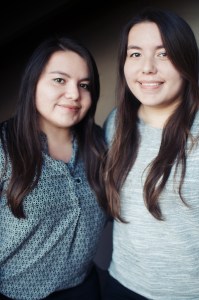 Fortunately, the sisters have a great relationship. Together, they created Leesta to tell stories that desperately need telling.
Leesta, a play on the Spanish word ?lista? (translation: smart or clever girl), is an online educational platform established to educate elementary school students who might have missed a few historically important names: female ones.
?If you?re lucky, you study women in history briefly,? says Beatriz. ?Maybe you do a few minutes on Harriet Tubman. You read the names without much of a backstory or substance.?
With Leesta, the sisters are making use of interactive storytelling to tell the stories of women who weren?t as famous as Tubman or, say, Susan B. Anthony, but nevertheless influential.
?As Mexican-Americans, we never saw ourselves in our history lessons,? Virginia explained.
?Let?s try to think of one Latina women we did learn about in school,? Beatriz added. ?I can?t even think of many Latino men.?
Born in California and raised in Sterling Heights, Mich., the sisters both ended up studying art at the University of Michigan. That passion for art directly led to the creation of Leesta because, as graphic artists Beatriz said, ?We?re both artists and love to make things. We?re very visual, as are most children. We wanted to create something based on visual learning.?
Once they decided to create Leesta, Virginia and Beatriz brought the concept to optiMize Social Innovation, a challenge presented by University of Michigan students and the College of Literature, Science and Arts. Resources and $100,000 in prizes were available to student teams who could turn an idea into reality. The sisters won.
?Early on, we realized that a basic history site for children was too broad,? Beatriz said. ?We sat down and said, ?What?s the one thing we?re passionate about in life?? We came up with equality, history and women. We refined our idea, and it was a perfect fit incorporating what we love.?
It?s still not easy mixing their senior year classes with starting a business.
?I?m still doing the majority of the programming. My sister does a majority of the illustrating,? Beatriz said. ?But we were lucky to win the challenge because we have mentors and some funding. With that funding, we were able to bring in collaborators.?
The site officially launches in September 2016, but the first interactive profile is available at www.leesta.org. They chose Dolores Huerta, a labor leader and civil rights activist. Future profiles will feature author Zitkala-Sa and photographer Dorothea Lange.
[btn-post-package]Virginia said that these aren?t the typical profiles you might expect to find on the Internet. The sisters are going the extra mile, talking to the foundations, relatives and associates of those in the spotlight. In fact, for an upcoming piece on renowned animal scientist Temple Grandin, they actually reached out to her.
?She got back to us herself,? Virginia said excitedly. ?She wanted the opportunity to do an interview with us, and we?re meeting with her next month.?
To find the women people want to read about, the sisters asked professors from different areas of study for nominations.
?We have a long list of women,? Beatriz said. ?Some of the same names popped up five or 10 times.
?The next step is to contact their foundations and really do the research,? she added. ?We talk to the person?s friends and family. We want interesting and true details that give these stories a personal touch.?
The sisters even ask those in the know for the subject matter?s favorite artist.
?We can create the visuals with the type of art style the subject matter would have preferred,? Beatriz said.
After graduation, Beatriz (majoring in art with a minor in American culture) and Virginia (majoring in photo journalism) plan to work at Leesta full-time and hope to attract additional sponsors to take their site to the next level.
?We?ll still work on our personal projects, but this is our baby,? says Virginia. ?I love that we get to pick our own hours. I can stay up all night and illustrate.?
Do they agree on everything?
?Absolutely not!? cried Virginia with a laugh. ?But I couldn?t ask for a better partner. We know each other too well.?
What does her ?older? sis think? Beatriz laughs.
?We bicker all the time, but we see it as an advantage. We also know each other?s strengths and weaknesses, plus we?re so honest with each other.
?We don?t have to worry about hurting the other?s feelings,? she added. ?We?re sisters.?
By Cindy Pearlman