BTN.com staff,

November 8, 2015

Leonardo da Vinci?s wide-ranging work influenced many scientists and artists who came after him. But Penn State art professor B. Stephen Carpenter II is probably one of a few who was especially inspired by the work the great Italian thinker did on the wrong side of the law.

?Historically, Leonardo da Vinci went to morgues illegally to draw cadavers and use his art to understand anatomy,? he pointed out.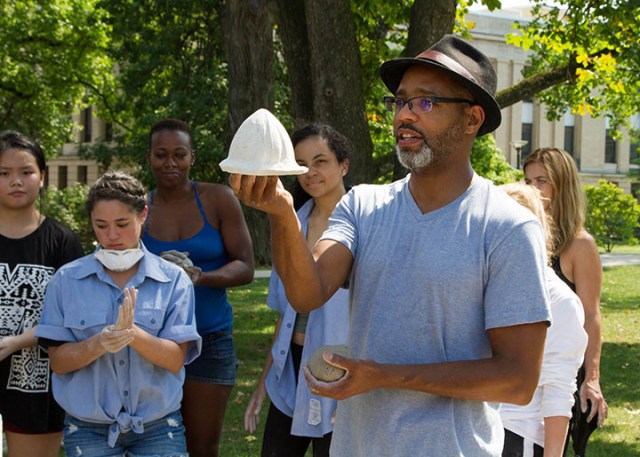 However, Da Vinci ultimately used that access for the good of others. And the way he combined his creative talents and scientific genius in this and other work helped shape Carpenter?s unconventional approach to solving problems.
?I bring an art background to science, and that provides me a way to look at things,? he explained. ?It?s about being a good humanitarian.?
Carpenter?s muse is the global water crisis, a cause that has sparked his own humanitarian effort on the University Park campus. As part of a curriculum research project, Carpenter teaches high school students how to make point-of-use ceramic water filters that could help in areas of the world lacking adequate filtration systems.
In September, a group of students and teachers from Pittsburgh and Virginia Beach high schools spent two days at Penn State getting a crash course in both art and science as well as civics and world affairs. The classes were part of the African Diaspora Water Crisis Curriculum Project, an initiative funded in part by a grant from Penn State?s Africana Research Center. The students? hands-on training, according to Carpenter, was meant to help them think outside the ceramic pot, so to speak.
?I thought this would be a wonderful way for the kids to learn how to be global citizens,? Carpenter said. ?The water crisis is a global social issue, and it could be a personal issue. There are 5,000 people every day who die or are sick from a lack of sanitation or clean water around the world.?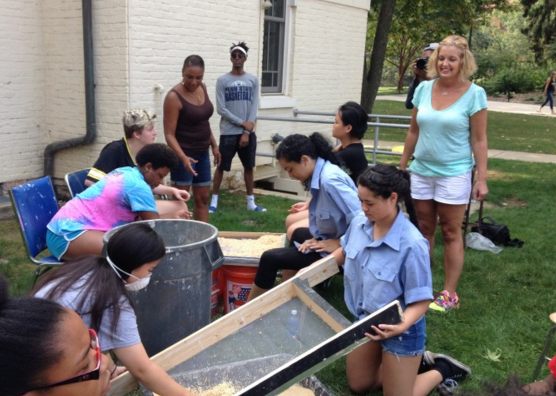 Carpenter said the project has focused on predominately African-American schools to this point, including Green Run Collegiate High in Virginia Beach, Va., and the Barack Obama Academy of International Studies and the Pittsburgh Gifted Center in Pittsburgh. The teachers at these schools are trying to utilize the lesson taught through the curriculum project in their own classrooms.
The jumping-off point comes with understanding the water filters, which are shaped like miniature Liberty Bells with round bottoms. They're made of clay as well as a number of unorthodox materials, including sawdust, coffee grounds and rice husks.
According to Carpenter, the filters are capable of eliminating 95 percent of the pathogens in water, and that figures goes up to 99 percent if the filters are coated with colloidal silver.
?The filter technology is not new,? Carpenter said. ?People have been using pottery to hold grain and filter water for centuries.?
[btn-post-package]Carpenter, who holds master?s and doctorate degrees in art education from Penn State, is the professor in charge of the school?s art education program and director of Reservoir Studio, a collective of artists, educators, students and interested citizens focused on combating the global water crisis through the use of ceramic water filters and the development of curriculum promoting access to potable water. The studio opened in Fall 2011.
Carpenter?s interest in the marriage of art and science doesn?t necessarily end when he goes home. He?s married to Penn State mechanical engineering professor Zoubeida Ounaies.
?Art and science can be literally married,? Carpenter said. ?For us, it?s about inquiry, possibilities, learning, research, and knowing about and being excited about learning. She loves going to the art museum, and I love going to the science museum. We do it together, and we have a daughter who loves going to both places.?
By Tony Moton