BTN.com staff,

October 23, 2015

It?s a moment in life that no one forgets - the moment they?re handed the keys to their first home. And for Nereyda Garza, that moment was extra special.

Garza, a Bloomington resident who had been living in a one-bedroom apartment with her three children, gratefully received the keys to her brand new home on Oct. 3. Her family now owned the roof over their heads and had room to live and breathe, thanks to Garza?s own hard work and the dedication of the IU community.
For the sixth-straight year, Indiana?s Kelley School of Business partnered with Habitat for Humanity and the Whirlpool Corporation to build a home for a deserving family. With Garza?s house and the five before it, the entire construction project took place over the course of 10 days.
According to Christina Zerfas, president of IU?s Habitat chapter, that feverish pace is part of what makes the annual Whirlpool-Kelley build so special.
?There?s nothing like seeing a family who?s worked so hard to own a house through literacy programs and sweat-equity hours actually receive the keys and get to cut the ribbon,? Zerfas said. ?I love that condensed energy and passion for Habitat. Doing it all in 10 days is something that makes me so excited.?
The build involves students, some of whom are affiliated with Kelley, as well as the beneficiary family themselves. Per Habitat rules, a family must pass a series of financial literacy classes and put in 250 hours of work onsite. This year, Garza was on site for every day of the build, often bringing along her kids.
The Whirlpool-Kelley build is a great way for students to get involved in the greater Bloomington community, said former Monroe County Habitat for Humanity intern and current IU sophomore Rachel Hentz.
?It?s kind of hard being in your little college bubble to see everything that?s going on around you,? Hentz explained. ??You can actually see the impact that you?re making rather than donating money somewhere. A lot of college students have not exactly come from backgrounds where they would need a Habitat house, so to be able to help someone who?s in a situation like that resonates with a lot of people, too.?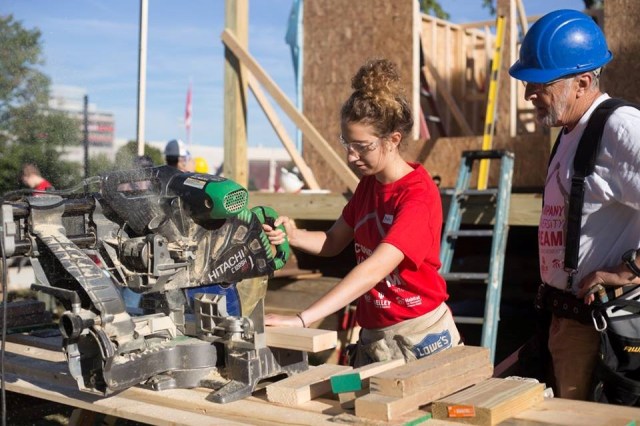 The project also broadens the horizons of those who?ve never picked up a hammer.
?The teamwork and how enthusiastic and willing to help everyone was,? Hentz said when asked what most excites her about the build. ?Even though a lot of people didn?t know how to do any construction before ? everyone was [willing] to learn new things.?
The build began on Sept. 23, and Whirlpool covers the cost of all the necessary materials. They also provide appliances to Habitat houses nationally. Whirlpool President and COO Jeff Fettig is a graduate of Kelley, and he?s maintained close ties between the company and his school since being hired there in 1981.
While people like Zerfas and Fettig have been involved with Habitat for years, the Whirlpool-Kelley build has also encouraged those who were less familiar with the organization to put on their hardhats, including distinguished Kelley faculty. Even the dean came out on one of the build days, Hentz said.
?The very first year, we all said, ?Hmm, that?s interesting, let?s go try it out?,?? said Shanker Krishnan, a professor of marketing in Kelley and one of IU?s four Whirlpool Faculty Fellows. ?I?m not naturally a very hands-on kind of person. Of course I can change light bulbs, but beyond that I need quite a bit of help.
?I?ve enjoyed it so much that now I?ve started doing some Habitat builds that are not tied to the university,? he added.
The build has grown significantly over the last few years. Zerfas said the IU organization is setting its sights on another major goal: helping the children of Habitat beneficiaries get into college.
[btn-post-package]?Some of the children of the Habitat homeowners are getting to the collegiate age,? Zerfas said, ?so we?re working to start an initiative from our education branch at IU Habitat with Monroe County to establish a mentorship program to get students advice. Oftentimes the homeowners don?t have anybody who?s graduated college, so there?d be mentors as they go through the advising process.?
If Habitat is successful, the Whirlpool-Kelley build could produce new homes and new Hoosiers.
By Grant Rindner