BTN.com staff,

October 17, 2015

Most aspiring journalists cut their teeth reporting small-time stories at their high school papers. Typical headlines may include things like ?Exposed! What?s Really in the Cafeteria Meatloaf? or ?New Student Body Prez Wins Campaign on Pledge to Add Parking Spaces to School Lot.?

But a program from Michigan State University and partner Crain Communications Inc. is giving high schoolers in the Detroit area the chance to report real, meaningful stories before they?ve even started college. Crain Communications is headquartered in Detroit, and Michigan State?s East Lansing campus is only 90 miles from the city, so it?s a cause that is figuratively and literally close to home for both institutions.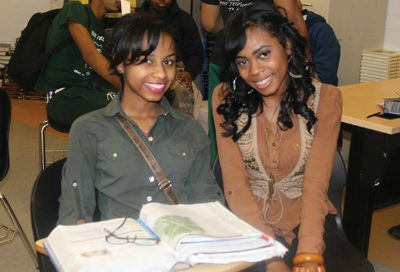 The Crain MSU Detroit High School Journalism Program, a new version of an initiative started by the Detroit Free Press three decades ago, is linking up roughly 300 students and their teachers with professional journalists and Michigan State faculty members.
?There are a lot of great stories in Detroit in general,? said Jeremy Steele, executive director of the Michigan Interscholastic Press Association and a coordinator of the program. ??You?ve got need in some neighborhoods and communities, you?ve got big problems in some places, you?ve got people solving problems in other places. Journalistically speaking, any story you could want to do, you could find in Detroit.?
Students in the program are producing both Web content and a quarterly print paper, covering everything from Detroit celebrities to city events to op-eds about breaking down barriers between their classmates.
?We want to show them that there?s this practical skill set they can obtain by writing for a newspaper, by writing for their student publication,? said Joy Visconti, the program?s director. ?We?re trying to make them not just future journalists ? but [also] great readers and writers and communicators.?
Erika Jones, an English teacher at Detroit's Cass Tech High School (which, incidentally, has the Spartans for a mascot too), has been a part of the program for nearly six years. She said that while it?s sometimes stressful to balance it with her regular teaching schedule, it?s very much worth the effort. She highlighted the myriad opportunities available to her students, and the program?s growth in the past few years.
?It?s just so much bigger than getting published in your little school paper,? said Jones, who won the Free Press?s 2013-14 Adviser of the Year award. ?We do all this for free just for the opportunity and the exposure. You see the payoff through the kids most of the time.?
Jones, who works with 185 students, said she and her students see inspiration for stories all around them.
[btn-post-package]?Yesterday, we were looking out a window and the police were arresting a kid,? Jones said. ?We see that now as a story we can tackle ? I've looked at everything as an opportunity. We wrote a story about a girl who was ? homeless and graduated last year. We took that story to Fox [the local news affiliate], and they covered the graduation."
Opportunities like these have become increasingly crucial for both students and teachers, as many Detroit public schools have faced budget cuts and other crises recently. In September, the school system borrowed more than $120 million through the Michigan Finance Authority, adding to a debt total already in the hundreds of millions.
?From an educational standpoint, what?s happened with Detroit schools is a special case,? Steele explained. ?So it?s nice to ? be able to bring resources so these kids can shine. And they really do. They find their voice through journalism.?
By Grant Rindner