BTN.com staff,

October 16, 2015

At Purdue University, there are all kinds of clubs and organizations for students, ranging from bass fishing to hip-hop dance. But what if you?re interested in, say, building a robot that mines moon rocks?

Now, the university has that covered too. Purdue Lunabotics, a student organization dedicated to the development of robots for space exploration, lifted off in Fall 2014 with a core group of six students and no workspace or resources to speak of.

But a successful funding campaign raised some $20,000 in grants for the group from various Purdue departments, including the Student Organization Grant Allocation Board, Purdue Engineering Student Council, Office of the Provost, and the Purdue Mechanical Engineering Department.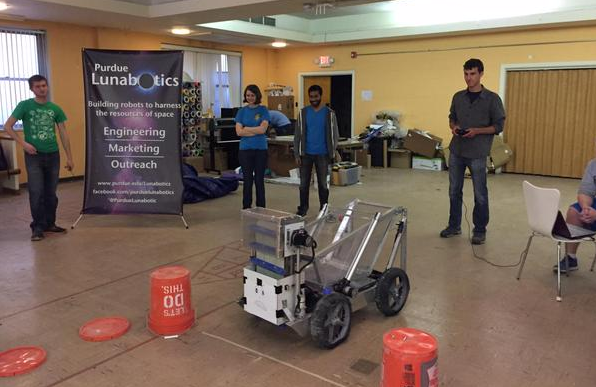 Membership grew rapidly too, ballooning to more than 100 students in short order. The group eventually found a spot to call home within The Anvil, a student and community co-working space that doubles as a startup incubator. It was there that the group built a mining robot, measuring 5 feet in length and 2.5 feet in width and height, designed to extract minerals on the moon.
In its inaugural year, Purdue Lunabotics sent that robot and some of its members to the 2015 NASA Robotic Mining Competition, held in May at the Kennedy Space Center in Cape Canaveral, Fla. The team participated in on-site mining category of the contest.
?The competition?s challenge is to simulate mining resources from the Moon, Mars or a near-Earth asteroid,? said Stephen Fulton, a junior aerospace engineering major and the group?s vice president. ?Basically, (our robot) has a conveyor belt with buckets, called a bucket elevator, that moves vertically up and down. When you lower it into the regolith [loose, dusty soil found on the surface of the Moon, Mars and other planets], it scoops up the regolith and deposits it into a bin.?
Like a space-aged dump truck, Purdue Lunabotics? robot completed its two official 10-minute runs by picking up and depositing some 132 pounds of simulated regolith. Scoring for competition also considered factors such as the mass of the robots, how much regolith dust was kicked up during mining operations, the power the robots consumed and the level of autonomy of the robots.
Purdue team members said its entrant was hampered in the scoring because its machine was not fully autonomous. Still, in a contest that included 46 entries, Purdue Lunabotics finished second, behind only a team from the University of Alabama.
?It?s an incredible accomplishment,? said Bobby Rolley, president of Purdue Lunabotics. ?The team started as a club last year, and to see us work through logistical and technical challenges to get a second-place finish was more than I ever dreamed.?
?It was pretty encouraging to do that well,? Fulton added. ?To come in second as a rookie team says a lot about the quality of the engineers on our team.?
Impressive as that finish was, Purdue Lunabotics is looking to exceed it in next year?s competition.
?For 2016, we plan to have a fully autonomous robot,? Rolley said. ?We are designing a completely new robot to build on the lessons we have learned over the past year to return and take first place.?
A high standard? Sure. But perhaps not surprising at a place that prides itself on being a pioneer in space exploration.
[btn-post-package]?There is great interest in space at this university,? said Branden Elkins, a senior in the School of Mechanical Engineering. ?Purdue is known as the cradle of astronauts. We are continuing the tradition with Purdue Lunabotics.?
By Tony Moton