BTN.com staff,

October 10, 2015

When it comes to innovation, sometimes there?s a breakthrough idea right around the corner. And other times, you find it 6,500 miles away.

The latter was the case for scientists at the University of Michigan who were looking to resolve issues with their solar-panel technology. Specifically, their challenge was to create solar-tracking panel designs that were more efficient and resilient.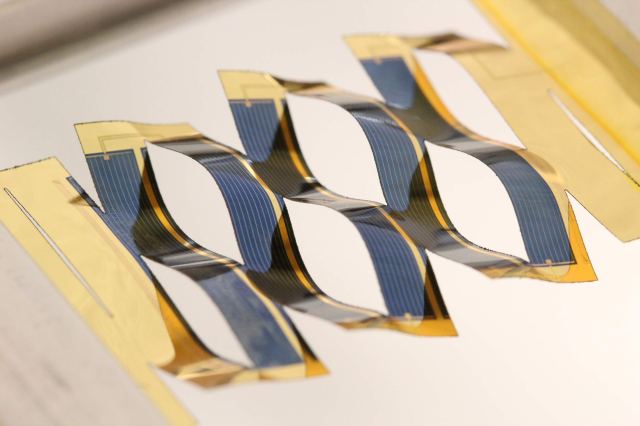 ?The issue with conventional trackers is that they typically use large, heavy panels,? said Aaron Lamoureux, lead author of a study that resulted from their work and a doctoral student in Michigan?s materials science and engineering department. ?To rotate them is expensive, and the complex components used in practice are prone to breakage.?
To get past this problem, Lamoureux and his colleagues turned to the timeless Japanese art forms of origami (folding paper) and kirigami (cutting paper). They borrowed liberally from these styles to create solar-tracker designs, theorizing that they could adapt kirigami to solar cells - and with the proper mechanics, those cells could track the sun?s path without the use of bulky, expensive rooftop equipment.
?Solar cells capable of following the sun are able to soak up more energy than cells that remain stationary,? Lamoureux said. ?We want the trackers to be lightweight, easy to install, and require little to no maintenance over a lifespan of 20-plus years.?
Interestingly, the project didn?t even require particularly advanced folding techniques.
?It?s a super-simple kirigami pattern, consisting of rows of alternating cuts,? Lamoureux explained. ?When you pull on the kirigami samples, it causes the cuts to buckle. This buckling then leads to a change in feature angle that is synchronized across the sample. We are able to use that control over the rotation to track the sun.?
Lamoureux, who earned his master?s degree from Michigan this past spring, started working on the project when he arrived in Ann Arbor in Fall 2012. Max Shtein, Lamoureux?s research advisor and associate professor of materials science and engineering, is credited with developing the initial concept.
Lamoureux said Shtein, who also works in chemical engineering, art and design, and macromolecular science, collaborated with Michigan-based artist and self-professed ?paper engineer? Matt Shlian.
Shlian?s understanding of unique paper forms and different folding techniques were instrumental in taking the cells from the drawing board to reality once funding for the project came through.
Kyusang Lee, a doctoral student in electrical engineering at Michigan, built the custom solar cells out of gallium arsenide. Because that material is thin - like paper - it can be sliced and diced in kirigami fashion.
?Gallium arsenide is a highly-efficient solar-cell material that can be made super-thin,? Lamoureux said. ?This reduces weight and decreases costs. By combining this type of solar cell with kirigami tracking, the goal is to get something that takes less equipment, less hardware and is smaller than conventional solar trackers.?
[btn-post-package]Now the Michigan researchers are developing fully operational tracking panels that employ improved mechanics and their increased durability and cycle-ability, according to Lamoureux. He predicted it would take two to five years to get the kirigami panels fully realized and ready for mass production.
?From a technical standpoint, I don?t think it is that far away,? he added.
By Tony Moton