Tom Dienhart, BTN.com Senior Writer,

September 23, 2015

Iowa is one of five Big Ten unbeatens. And that?s a bit of surprise for a program that many had modest expectations for in 2015. But, Hawkeye running back Jordan Canzeri had no reservations that this could be a big season in Iowa City.

[ MORE: Week 4 scoreboard | Week 4 previews | Polls: Pick Week 4 winners | Q&A: Jordan Canzeri | Power Rankings | Bowl Projections | Player Rankings | Latest polls | Big Ten standings | Big Ten stats ]

Iowa will look to go 4-0 by beating visiting North Texas this Saturday. The last time the program was 3-0 was 2009, when it began 9-0 en route to winning the Orange Bowl. So, maybe this fast start is a portent of things to come.

Canzeri and the rushing attack need to pick up the pace to support emerging QB C.J. Beathard. The Hawkeyes ran for only 105 yards on 29 carries (3.6 yards per carry) last week vs. Pitt. The 5-9, 192-pound senior carried most of the load, gaining 49 yards on 12 carries with two touchdowns. The Troy, New York, native already has four rushing touchdowns this season after having two rushing scores in 207 carries in his first three seasons.

I caught up with Canzeri, who has rushed for 201 yards in 2015, as he prepped for the Mean Green.

Q: How did you celebrate after that last-second game-winning field goal last week vs. Pitt?
A: We all ran around the stadium excited. It was awesome. Our fans were in with us. All of Hawkeye Nation got the win. That?s a game I never will forget and it was awesome to be a part of it.

Q: Are you pleased with how you have been playing?
A: You always tell yourself you can do better. The one thing I am glad for is the way I have been able to help my team win. That?s all that matters. It doesn?t bother me if I don?t rush for 100 yards. I will do whatever I need to in order for my team to win: pass protect, block, doesn?t matter. We just want to have a successful offense.

Q: How do you and RB LeShun Daniels complement each other?
A: We are two guys who can get the job done. We are both aware, football smart and know the offense. When you have two guys like that, it?s good for the offense. He makes great plays, and I?ll come back and make some, too. There isn?t a huge difference between us.

Q: What has made C.J. Beathard so effective so far?
A: Since the offseason, he has shown great leadership, which is what you want from a quarterback. The amount of work he has put in is paying off-watching film, practice. He is capable of making great passes and can run, too. Having a quarterback like that who is great in all of those aspects is very positive for us.

Q: Your line has two new tackles. How have the big fellas up front been performing?
A: They have been doing a good job. It makes you as a running back a lot more confident when you are able to run behind a line like that. That is awesome. When all 11 guys are focusing on their job, it makes your job easier. And it will lead to good drives and success. Our receivers are making great catches and blocking down field. Our line is picking up blitzes and doing a great job with communication. The backs are pass protecting, and C.J. is being a leader who is making great plays. And he is getting us in the right plays with his checks. We all are working well together. And it is showing up on game day, which is good for us.

Q: Are you surprised Iowa is 3-0?
A: No. You should never think about losing. We always expect success. We always are going to fight and never will give up. Doesn?t matter the situation. That is our mentality. We are confident and expect to win every game. We expect to score on every single drive. That is how you should think.

Q: Will Iowa win the West?
A: Coach Ferentz always tells us not to talk about doing things. Talk about how you do things, your actions, not your words. We never say we are going to win the whole thing and get into the playoffs. We just tell everyone exactly what we are going to do, work hard, fight, push in practice and improve.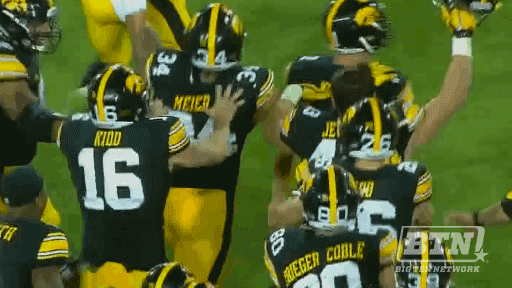 ***
| | |
| --- | --- |
| About Tom Dienhart | BTN.com senior writer Tom Dienhart is a veteran sports journalist who covers Big Ten football and men's basketball for BTN.com and BTN TV. Find him on Twitter and Facebook, read all of his work at btn.com/tomdienhart, and subscribe to his posts via RSS. Also, send questions to his weekly mailbag using the form below and read all of his previous answers in his reader mailbag section. |
And if you want to leave a comment on this post, use the box below. All comments need to be approved by a moderator.