BTN.com staff,

September 20, 2015

Gwen Westerman likes to tell stories. She just doesn?t do it with words.

?I think there is a way of telling stories that doesn?t involve putting them in a book,? said Westerman, an artist who works with visual mediums like fiber and textiles. ?This is a different format to share culture, history and tradition.?

She was recently named as the University of Nebraska?s Great Plains Art Museum?s Artist in Residence, and the first part of her residency lasted for a week at the beginning of this month. She?ll continue the second half in mid-November, using the lobby of the museum as her ?studio? for creating works of art in front of visitors, which will become part of the institution?s permanent collection.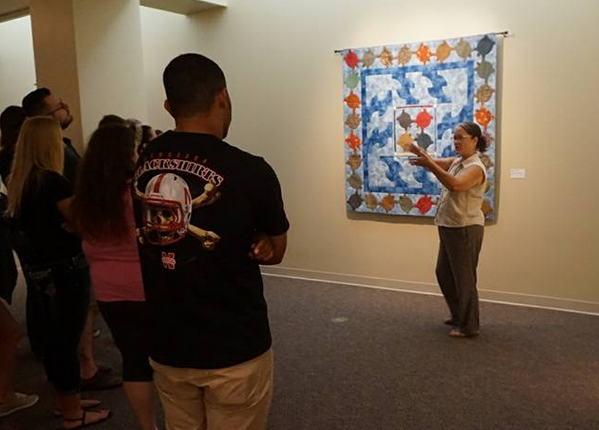 Westerman, who is also a poet and professor at Minnesota State, incorporates the language and history of the Dakota people in her art. An ethnic group within the larger Sioux tribe, the lands of the Dakota once extended from the western corner of Lake Superior down to the border region between Iowa and Nebraska.
For Westerman, the work is more than a matter of her own artistic inspiration - it?s about preserving family traditions. Both of her parents are Native American, and Westerman explained that ?my Dakota comes from my Dad?s side.? She grew up in southern Kansas and northwestern Oklahoma, and she said she was always a student of art.
?I was constantly making things as a kid,? she said. ?I was drawing, painting, cutting things out of paper. I took as many art classes as I could in junior high and high school. I learned how to sew when I was 10 and started making my own clothes.?
However, she did resist one art particular art form.
?My grandmother tried to teach me when I was 10 or 12 to quilt,? she said with a sigh. ?But I wasn?t a very good student. I wasn?t very patient. I started quilting again in 2000 as a way to honor what my grandmother tried to teach me.?
Interestingly, no member of her family would have labeled themselves as ?artists,? Westerman added, ?especially my grandmother who would have said, ?I?m just an old woman who makes quilts.??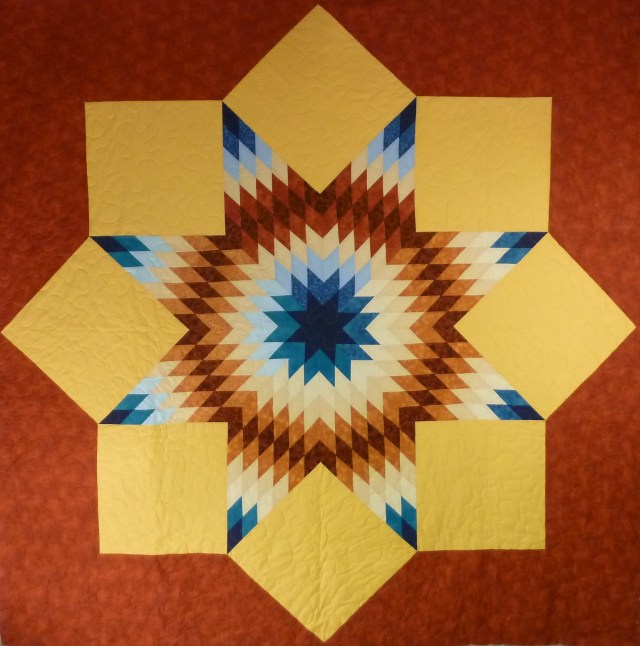 After graduating from Oklahoma State University with an English degree, she got her Ph.D in English from the University of Kansas. She ended up as a professor at Minnesota State after an unexpected retirement on the staff.
Though she spends much of her time teaching and working with students, she?s been able to maintain focus on creating art that gets attention. For example, the Minnesota Historical Society commissioned her to do several pieces five years ago, including some Dakota-influenced quilts.
?A week before the deadline, they said all artwork should be framed and ready to hang,? she said.
How, exactly, do you frame a quilt? That was a question Westerman had to answer with a little creative thinking.
?I used canvas stretcher bars and stapled the quilt to them,? she said. ?It became like a painting, and I really liked the results.?
Her residency at the museum in Lincoln resulted from an exhibit she entered last year that featured new artwork from the Great Plains. Appropriately, she started by going directly to her familial roots.
[btn-post-package]?For this exhibit, I asked for one of my grandma?s quilts from 1978 to be the first piece,? Westerman said. ?She made it for me with little women all over it. Instead of prairie women, my grandmother made it with Indian women with braids.?
While Westerman sees her work as a tribute to her heritage, she?s also inspired by deep personal connections she?s made throughout her life - such as her relationship with her grandmother.
?Most of the time, I?m making quilts for someone specific,? Westerman said. ?It?s hard to make a quilt for nobody - just to sell it. I always have to have somebody in mind.?
By Cindy Pearlman