BTN.com staff,

September 17, 2015

Going to the symphony is generally thought of as a stuffy affair, characterized by formal wear, silences only occasionally interrupted by hushed comments, and mobile devices in ?off? mode. But what if you went to a classical music concert and found many in the audience wearing jeans, openly commenting on wine-and-cheese pairings, and taking selfies?

That?s precisely the experience you could expect to find when attending an event that conductor John Devlin?s had a hand in planning. Devlin, 29, who recently earned his doctorate in musical arts from the University of Maryland, specializes in coming up with ways to connect younger people - many of whom don?t gravitate toward formality and convention - with Western art music ranging from ?Rondeau? to ?Rhapsody in Blue.?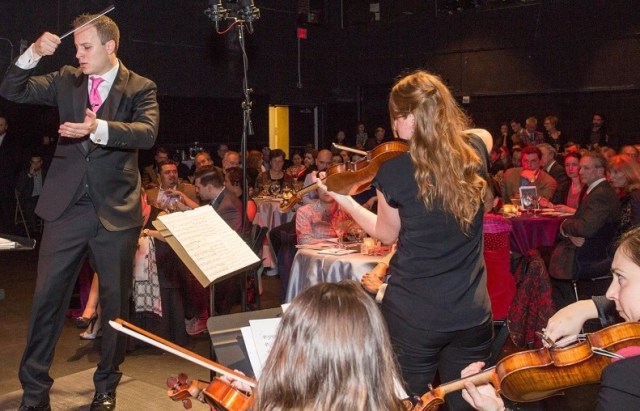 ?I?ve always been interested in new ways of presenting classical music,? he said, adding that a typical symphonic performance tends to seem anti-social and confusing for newcomers. ?Normally at a performance, you?re thinking, When do I clap? How do I get to my seat? I?m not trying to reinvent, I?m giving an alternative.?
One of Devlin?s recent projects is Gourmet Symphony, which creates a unique, multisensory experience for the audience by pairing locally-sourced cuisine and beverages with classical music selections. The organization is the product of another pairing - between Devlin and food and beverage director John Coco, who he connected with in May. Development Director Briana Murray and Communications Director Camille Cintron joined the GS team to help get the business going.
At a GS concert, people sip fine wine and eat carefully selected gourmet cuisines throughout the show, not just before or after.
?You wouldn?t believe it, but people love to eat and drink!? Devlin said. ?They are blown away by the concept.?
Additionally, the audience is seated 360 degrees around the orchestra, and people are encouraged to move around between pieces and even interact with the musicians.
?No other classical experience lets you change seats,? Devlin explained. ?There?s a ?pick your own adventure? element. We seat people in groups of four, six and eight, and by the end of the night, they make new friends.?
This unique format has led to a few surprises along the way. The Gourmet Symphony premiere, which was held on Valentine?s Day, offered a couple of the most memorable for Devlin.
?Seventy percent of the audience had never been to a classical event, and we encouraged them to take selfies and post [them] on Twitter and Facebook,? he laughed. ?A symphony player was counting his beats, and an audience member walked right up and started talking to him. Then, while I was conducting [and turning to face the violins], a guy got so close he hit my arm.?
Part of what makes GS so appealing is the thoughtful way in which it combines food with music. Devlin cited a recent performance, ?Woodworking 101,? as an example. It was held at a restaurant called Beuchert?s Saloon that smokes all its meat on wood.
?We featured three wood-based instruments and found a distillery that specializes in wood,? he said. ?The whiskey distiller, chef and musicians all talked to the audience about how wood was connected to the performance. It was an unexpected connection, and people loved it.?
In addition to expanding on offerings like that, Devlin wants to bring rich cultural experiences to less-fortunate residents of Washington, D.C., through the Taste Your Music program. The program, funded in part by the DC Commission on the Arts and Humanities, brings culinary concert programs to Washington?s food service organizations.
So far, Devlin and GS have worked with three charities in the DC area to put on six concerts throughout the summer. The charities - So Others Might Eat (SOME), Miriam?s Kitchen and Bread for the City - support impoverished residents in all facets of their lives, including housing, education, counseling and medical care.
?These charities have a holistic approach [to caring for underserved residents], and we have an innovative food-and-musical component to add,? Devlin said. ?Many of these people had classical music in their backgrounds before they fell on hard times. It takes them back to that place, and so many guests could be happily engaged.?
One of the concerts had a New Orleans theme, and guests were served jambalaya, steak, ribs, lots of vegetables and corn pudding - decidedly different fare for the group. Devlin said Taste Your Music has already made an impact, and people who attend the concerts even report diminished depression symptoms.
?The case managers were blown away,? he added.
Devlin gets excited when he talks about growing these initiatives in the future. When he looks back, though, his feeling is one of gratitude due to the support and inspiration he?s received from others, particularly during his time at the University of Maryland.
[btn-post-package]He credits his teacher of seven years, Orchestral Studies Director James Ross, with motivating him to follow his dream of exploring different types of concert presentation. (Ross heads up the UMD Symphony Orchestra?s New Lights Initiative, which also aims to make concerts more engaging and grow audiences.)
?Jim?s ideas and New Lights really inspired me,? Devlin said. ?He supported my belief in different types of concert presentation, and I owe so much to him.?
By Meg Sullivan