Tom Dienhart, BTN.com Senior Writer,

September 16, 2015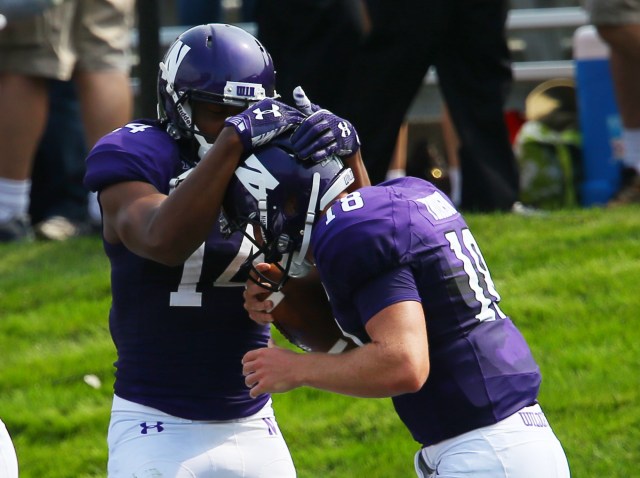 It was just a season ? but it felt like an eternity for Northwestern wideout Christian Jones.
[ MORE: Week 3 schedule | Week 3 previews | Power Rankings | Bowl Projections | Player Rankings | Latest polls | Big Ten Mailbag | Like GIFs? Click here! | Check out these Nebraska cleats | Leonte Carroo arrested | Get all of our Week 3 coverage ]

The 6-3, 225-pound senior missed 2014 while recovering from a left knee injury-his second to the same knee in less than a year. It was a big blow to a Wildcat offense that needed his big-play ability in what was a dreary 5-7 season-the second in succession.
Now, Jones-a true No. 1 option and legit NFL prospect–is back, better than ever and primed to go out with a bang. He has six catches for 64 yards through two games. In 2013, his last full season, Jones nabbed 54 passes for 668 yards with four TDs. He had 35 receptions for 412 yards and two scores in 2012.
The Northwestern offense has shown promise in wins vs. Stanford and Eastern Illinois, averaging a Big Ten-best 284.5 yards rushing and 128.5 yards passing as redshirt freshman quarterback Clayton Thorson gets broken in.
I caught up with Jones-who also had a right knee injury while in high school in Houston that caused him to miss most of his senior season–as he prepped to play at Duke this Saturday in hopes of pushing the surprising Wildcats to 3-0.
Q: How is the knee holding up?
A: It is holding up very well. Probably better than I even expected, to be honest with you. The strength staff came up with a great plan. I feel great.
Q: Has there been any time since coming back to the field where you had doubt about the knee?
A: I have had a couple of instances. As soon as it happens, I have another play that makes me feel more confident in the knee. You have times when you have doubts, but other times when you are confident and feel good about it.
Q: Was there a low point while sitting out last season and rehabbing?
A: The entire season was a low point. You miss being out there with your friends and teammates. It?s not easy. The whole season wasn?t fun, but you have to put it behind you.
Q: Was there anything you used as inspiration to get you through the tough spots?
A: A lot of people helped keep me up. A lot of guys go through a lot of stuff. So, going through surgery, I can?t complain too much about it. There have been other guys who have gone through so much more.
Q: How is the receiving corps looking?
A: Awesome. We have been doing well. The receiving corps has been doing well. Guys like Stephen Buckley, Cam Dickerson, Mike McHugh, Austin Carr, Flynn Nagel ? there are so many people I can name. We all have grown and gotten better. To say I am impressed is an understatement.
Q: What is your favorite pass pattern to run?
A: If you asked me before my knee surgery, I probably would have said a crossing route. Now that I have had knee surgery, probably something that doesn?t require a lot of pounding.
Q: What is your role?
A: To play as hard as I can, and do what I can to help the team win.
Q: Has redshirt freshman quarterback Clayton Thorson impressed you?
A: He throws a really good pass. He can be as special as he wants to be. He is just a freshman, and he is doing things no one outside of us expected him to do. He has the potential to be a really good quarterback.
Q: Are you surprised Northwestern is 2-0?
A: Am I surprised? No, sir. We expected it. We expect to go 1-0 every week.
Q: Can the Wildcats win the Big Ten West?
A: Yes. We expect to win the Big Ten championship. We aim to win the Big Ten West and the Big Ten championship. Those are our expectations of ourselves every year. It never changes from year to year.
***
| | |
| --- | --- |
| About Tom Dienhart | BTN.com senior writer Tom Dienhart is a veteran sports journalist who covers Big Ten football and men's basketball for BTN.com and BTN TV. Find him on Twitter and Facebook, read all of his work at btn.com/tomdienhart, and subscribe to his posts via RSS. Also, send questions to his weekly mailbag using the form below and read all of his previous answers in his reader mailbag section. |
And if you want to leave a comment on this post, use the box below. All comments need to be approved by a moderator.