BTN.com LiveBIG Staff,

September 12, 2015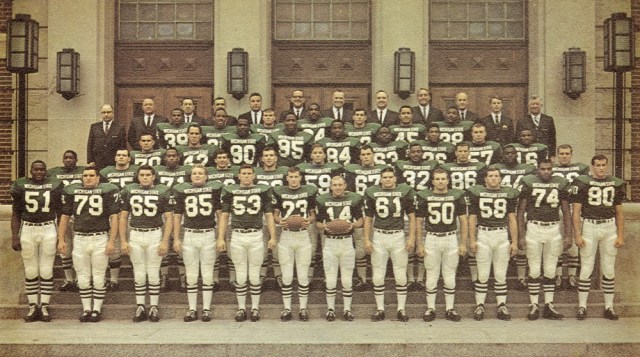 In the mid-1960s, Michigan State was a college football juggernaut. Coached by the legendary Duffy Daugherty, they won two national championships in a row and put more All-Americans on the field in a single season than many other prominent programs did during the whole decade. And in the 1967 NFL Draft, an astounding four of the first eight players picked were from MSU.
But just as significant as all that was the Spartans? revolutionary recruiting strategy at the time, which helped sound the death knell of segregation in sports. During the early 1960s, Coach Daugherty combed the southern United States in search of star African-American athletes to bring back to East Lansing. (His approach, unheard of among his peers, was half-jokingly nicknamed the ?Underground Railroad.?) Consequently, the elite Michigan State teams he built were also among the most racially integrated in the country.
Now, that story will be told through the eyes of the players who lived through it - in a soon-to-be-released documentary from filmmaker Maya Washington called ?Through the Banks of the Red Cedar? (a slight twist on the title of the school?s fight song).
Though she?s the daughter of former Spartan All-American wide receiver Gene Washington, if you?d told her just five years ago that she?d make a movie about those renowned teams her father played for, she would?ve been more than a little surprised. Maya wasn?t all that interested in sports while growing up, and her father?s career as an athlete predated her childhood. (Gene was the eighth pick in the ?67 NFL Draft, played for both the Minnesota Vikings and Denver Broncos, and went to two Pro Bowls.)

Moreover, she didn?t attend many football games while a theatre major at the University of Southern California, despite the fact that the Trojans had some outstanding seasons during her time there.
?I was disinterested in football,? she said. ?I was an artist. I was dancing, acting, writing.?
After graduating, Maya continued to focus on the arts - making films, writing poetry, starring in productions on stage and screen - and remained blissfully unaware of sports and her father?s football accomplishments. But that all changed with two important developments in 2011.
The first was that Gene was inducted into the College Football Hall of Fame. The second was that Bubba Smith, another Michigan State sports legend and a longtime friend of Gene?s, passed away. (Most people under 45 probably know Smith, who played the gigantic yet soft-spoken Moses Hightower in the Police Academy movies, more as an actor than an athlete.)
At the memorial service for Smith, Maya saw a different side of her father as he reminisced with old friends and teammates.
?It was the first time I got the sense that he was an 18-year-old once,? she said. ?This was not the dad I knew. I knew my dad as a businessman who wore a suit and went to work in an office.?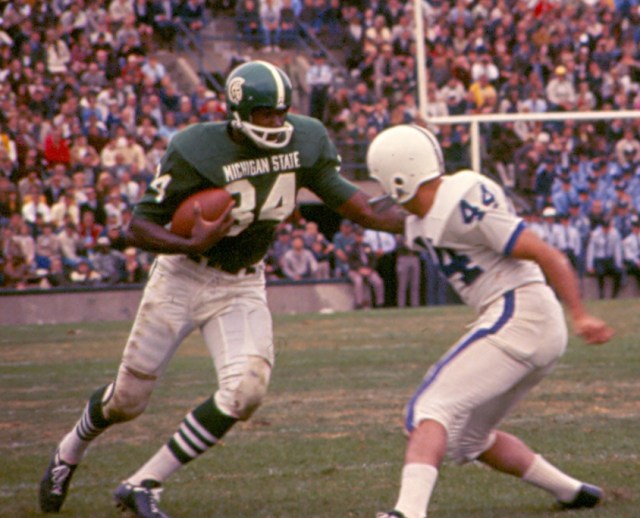 The night after that, she wrote in her notes that she wanted to make a movie about her father?s early life, and how Michigan State offered a chance to escape an environment rife with poverty and hopelessness. That meant studying the game, as well as delving into biographical details that surprised her at times.
For instance, she learned just how segregated Gene?s hometown of La Porte, Texas, had been when he was growing up. Even after the Supreme Court?s Brown vs. Board of Education ruling, schools there were divided primarily along racial lines, and black and white athletes did not compete against each other. Moreover, no major college football program recruited any African-American high school players in the area - except one.
Interestingly, Maya discovered that Smith and her father played for rival teams in high school. Yet when Coach Daugherty was in Beaumont, Texas, talking with Smith about coming to Michigan State, he was told about another talented player named Gene Washington in nearby La Porte. He scooped both of them up, and the Spartans were suddenly loaded. (As athletically gifted as they were, however, the pair probably would?ve played for one of the Historically Black Colleges and Universities if Daugherty hadn?t found them.)
As she's gotten further into the film project, Maya has encountered one ?serendipitous? experience after another. For example, she?s actually been in East Lansing throughout the past week promoting the documentary, which hasn?t been released but is in the final stages of post-production. And, as it happens, Michigan State is playing a huge game this weekend - as you may have heard - against the University of Oregon, so interest in Spartan football has been at a fever pitch all week.
?It?s pretty electric,? Maya said of the atmosphere on campus. ?The tickets are hard to come by. A lot of people who aren?t here are coming back for this game. We?re all excited and kind of holding our breath.?
Moreover, one of Gene and Bubba?s old teammates, former Michigan State running back Clinton Jones, will be recognized as a new member of the Spartan Stadium Ring of Fame at today?s game following his induction into the College Football Hall of Fame earlier this year. So, Gene and Maya will be there to support both the 1965 and 2015 Spartans - the latter of which hope to make a big statement against the Ducks.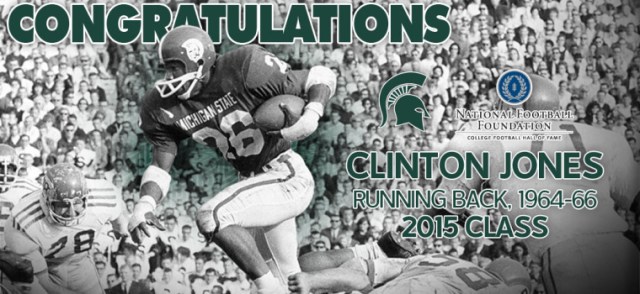 ?It was incidental, but that?s kind of the magic that?s happened in the making of this film,? Maya said.
Her main promotion of the movie took place on Thursday evening, when MSU?s Conrad Hall hosted an event featuring a couple of ?sneak preview? clips and an audience Q&A session with a panel that included her father and Jones. Maya said she hoped those in attendance came away with a sense of how much MSU and Spartan football means to her family.
[btn-post-package]?Michigan State not only changed my life through the opportunities it gave my dad, but also allowed my dad and I to bond over football,? she said.
By Brian Summerfield