Brent Yarina, BTN.com Senior Editor,

September 7, 2015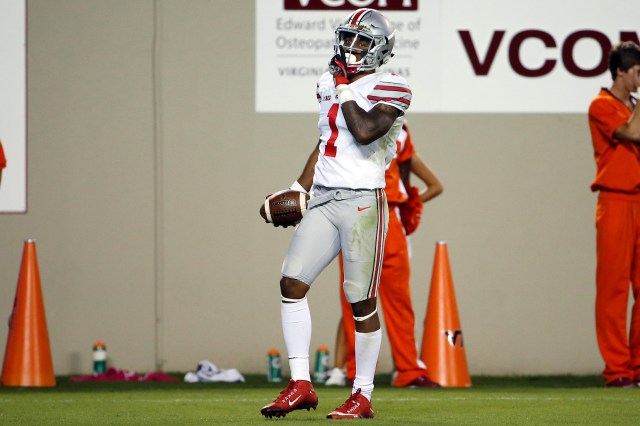 Braxton Miller looks like a natural at this whole wide receiver thing.
[ MORE: Watch Braxton Miller's first touchdown reception ]
The Ohio State quarterback-turned-receiver and two-time Big Ten Offensive Player of the Year made a highlight-reel diving grab (watch it!) for his first career reception and added an athletic go-ahead 54-yard touchdown reception (watch it!) to open the third quarter Monday night at Virginia Tech.
Miller looked like a receiver on both catches, too, rotating his body to land on his back to protect the ball on the diving grab, and avoiding would-be tacklers on his race to the end zone. The two catches went for 78 yards.
Not bad for a guy who just began the transition to receiver a little more than a month ago.
Oh, and Miller, out of the Wildcat, also exploded for a pretty 53-yard touchdown run (watch it!), which included this ridiculous spin move.
Forget schemes. Just give the ball to @BraxtonMiller5 as often as possible. How many times will we see that highlight from now until Jan.?

— Tom Dienhart (@TomDienhart1) September 8, 2015
Quite the X-factor addition Urban Meyer has in this offense now in Braxton Miller: 7 touches, 137 yards, 2 TDs tonight. Wow.

— Bruce Feldman (@BruceFeldmanCFB) September 8, 2015
Not ... fair.

— Stewart Mandel (@slmandel) September 8, 2015
The fact Braxton at WR is so dope!! Well u can play him anywhere on offense. #GoBucks

— LeBron James (@KingJames) September 8, 2015