BTN.com staff, BTN.com staff,

September 3, 2015

In 1970, Minneapolis was the ?site? of a landmark occurrence that changed the attitudes on women in the workplace. The event in question wasn?t a grandiloquent speech from a women?s lib leader or a massive protest, but rather the debut of The Mary Tyler Moore Show.

Set in the Twin Cities (but primarily filmed in Los Angeles), it was groundbreaking at the time in that it centered on the professional and personal successes and struggles of Mary Richards (portrayed by Moore), an unwed, upwardly mobile female who produced local TV news. The show?s impact was profound, as it gave young women across the country a sense of the independence and opportunities they had in front of them.

Now, young women from a new generation are finding inspiration in Minneapolis, thanks to the University of Minnesota?s Women Mean Business program. This summer, 38 female high school students spent a week at its Twin Cities campus to take part in this inaugural session, which teaches them about how to attain leadership roles in the business world after college.

The program was developed by the university?s Carlson School of Management to boost the comparatively low rates of women who aspire to get into the boardroom or launch the next hot start-up.

?There is not much encouragement for women to go into business and a huge drop-off in females pursuing an MBA degree,? said Christiane Bartels, associate director of the Carlson School?s undergraduate programs and head of Women Mean Business.

?The idea is maybe if we do a little bit more in female undergraduate studies, we won?t see a 30 percent drop-off at some schools in the women?s MBA programs,? added Mary Kosir, assistant dean at the Carlson School and co-founder and CEO of WholeMe, a grain-free foods company. ?UM is in the mid-20s [percentage] of that drop-off, which is the national average.?

Women Mean Business sought high school junior and senior students with strong math and science skills. However, participants didn?t have to be from Minnesota, and the program managed to attract young women from Chicago to California in its first year.

?We sent out letters to math and science teachers across the country indicating we had an opportunity to promote business education with hands-on training,? Bartels said.

It helps that a number of large corporations have a major Minnesota presence - and are eager to support the aims of the program.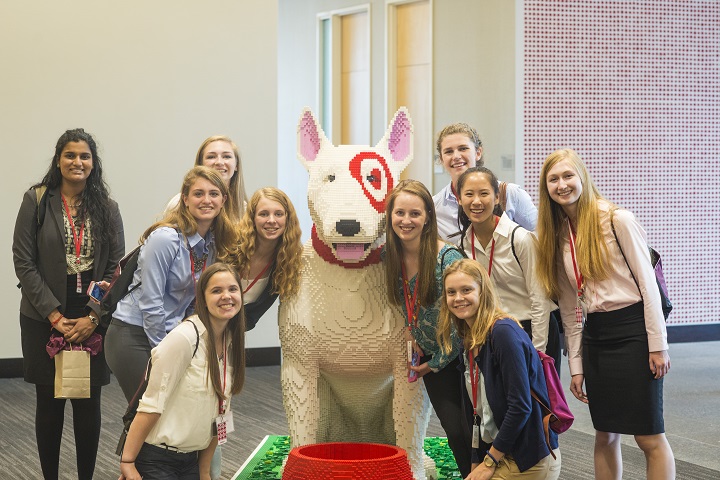 ?We have the corporate headquarters of Target here, and the students were invited to visit,? Bartels said. ?We have 3M in St. Paul. We have Buffalo Wild Wings. So many companies want to mentor young women. This means that Women Mean Business is a nice combination of hands-on training along with work in the classroom.?
Participants also received valuable real-world exposure to entrepreneurship, Bartels said.
?The girls were given a chance to spend a week exploring a new concept fitness studio called Alchemy Fitness,? she explained. ?It?s CrossFit mixed with yoga. They?re trying to figure out their demographic and looking into social media strategies. Our 38 girls split into small groups and presented their ideas to a panel of judges.?
Additionally, the young women got a sense of what college life would be like.
?They sleep in the dorms,? Kosir said. ?Business students counsel them. It?s ? also spending time with faculty members who might introduce them to marketing or the economics of starting a business combined with real-world business experience.?
The first session of Women Mean Business was such a success that these same young women were asked back to participate in a lecture series last month.
[btn-post-package]And there?s even more to come. Bartels said they?ll attend a technology conference at some point in the future, and she plans to put together a list of professional contacts that they can leverage for years to come.
?We hope to continue with an alumni network for them,? she said. ?Hopefully, they will make connections now with the other women that they can use later.?
Through the resources provided by Women Mean Business, Bartels, Kosir and the University of Minnesota are hoping future female business leaders get the message: You?re gonna make it after all.
By Cindy Pearlman