BTN.com staff, BTN.com staff,

August 31, 2015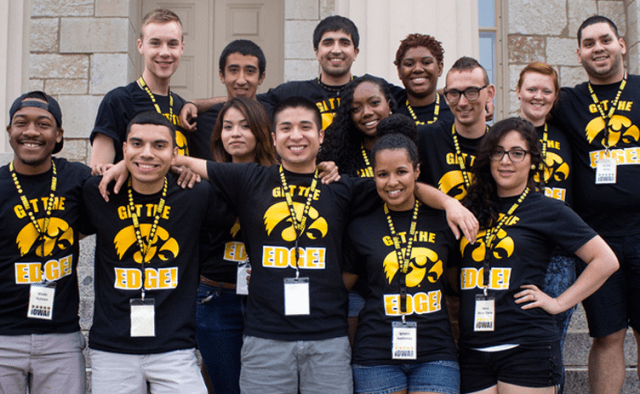 When Dumayi Gutierrez thinks back to her arrival at the University of Iowa prior to her freshman year, she smiles and recalls an extremely hot and humid day.
Participating in the Iowa Edge program, Gutierrez and other new students were taking part in various team-building exercises and a tour on and around campus as the temperature approached triple digits.
?At the end of the day, we were all stinky and sweaty, but we had bonded so much,? Gutierrez said. ?We held on to each other, and we connected on a deeper level. I?ll always remember that.?
Gutierrez had been apprehensive about making the transition to college life, but the Iowa Edge program helped her build friendships and get comfortable with her new surroundings before classes had started. Now, eight years later, she?s back at Iowa to pursue her doctorate.
Established in 2006, Iowa Edge aims to ease the transition for future Hawkeyes. The participants are first-generation college students, ethnic and racial minorities, and young people who are coming a long way from home to attend the university. Over a period of four days, they take part in a variety of activities that focus on orientation, programming, community-building and counseling support.
?The community-building aspect is very important,? explained Gabriela Rivera, director of the Iowa Edge program and multicultural specialist for the university?s Center for Diversity & Enrichment. ?To begin that process right before school starts is key for the first-generation students from various backgrounds. They probably have that community at home, but they need to have it here as soon as possible so they don?t feel lost at a big university.?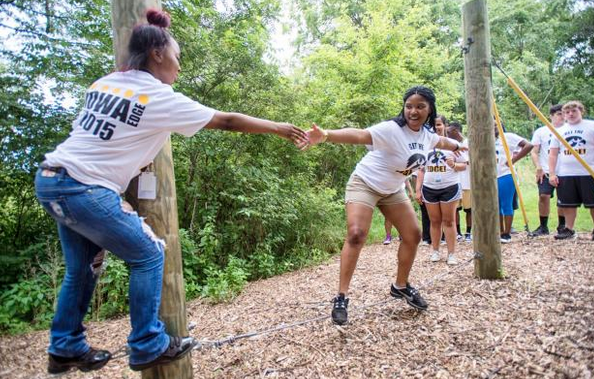 This year?s group consisted of 99 students, two-thirds of whom are first-generation students. In terms of ethnicity, 45 members of this year?s group are African-American and 32 are Hispanic-American.
Iowa Edge is underwritten by Kevin Gruneich, a 1980 graduate of the school and a first-generation student himself. According to Rivera, Gruneich has stayed involved with the program and visits the university every semester while serving on the board of directors for the University of Iowa Foundation.
?He?s essentially returning the investment that the university made in him,? Rivera said. ?He really believes in giving back.
?We have so many people [from Iowa Edge] who graduated and been successful after they left the university, and that is so rewarding for me,? she added. ?The connection they still have to the school, its students and our staff speaks to the relationships that were built while they were here.?
Gutierrez may be as qualified as anyone to discuss the impact of the program. After attending high school in Colorado Springs, roughly 850 miles from Iowa City, she experienced what she called a ?culture shock? when she arrived as a freshman in 2007.
?I was intimated and overwhelmed,? she said. ?I came to Iowa City and I was one of 30,000 students. It was a completely different atmosphere from what I had experienced in high school. I didn?t have any family around in the Midwest, and Iowa Edge immediately made me feel better. I felt at ease and I was calm.
?I was also surprised, because here were these students, who were my age, and they were from different parts of the country too. We all had similar experiences, though, in that we didn?t know anyone but we were together at a great university. We connected right away because we realized we were not alone.?
She enjoyed the program so much that she became a peer leader. In addition, two of her younger siblings, Ignasis and Pedro, followed her footsteps by coming to the university and participating in Iowa Edge.
[btn-post-package]Gutierrez received a bachelor of arts in health studies in 2011, and went on to earn her master?s degree at a nearby college. She recently returned to the University of Iowa to start a doctoral program for couples and family therapy.
Today, she considers Iowa City to be her second home, and she traces her love of the place back to her experience in Iowa Edge. It?s not uncommon for participants to come away with similar sentiments.
?The program reaffirms their choice to attend the University of Iowa,? Gutierrez said. ?It is our hope they get a sense that our staff really cares about their success and transition into college.?
By Adam Fluck