BTN.com staff,

August 29, 2015

When Max Lynch and Ben Sperry met in Kindergarten more than two decades ago, the Internet was still largely a novelty, and mobile phones were only used to make calls.

Lynch and Sperry formed a friendship there that has lasted to this day. Both of them went to the University of Wisconsin and, after graduating, they started a company in Madison that helped facilitate a technology revolution that few would have foreseen when they were learning their ABCs and 123s.

Now 27 years old, Lynch and Sperry founded Ionic (then called Drifty) in 2012 with the aim of making development of mobile applications, or apps, easier. As Lynch explained, when Apple and Google first opened their respective iOS and Android app stores, only a relative few very skilled programmers were able to build them. Thus, selection for consumers was limited.

?I think it was too hard of a problem to solve at the time,? he said. ?In the development world, there?s a lot of people who do know how to build basic websites - a lot more of them than those who can also build mobile apps.?

Ionic is an open-source technology (yes, that means it?s free) that enables Web developers - many of whom may not know much about mobile development - to easily build apps. A few other companies sprouted up around the same time Lynch and Sperry got their business off the ground with similar goals around app development, but none of them are in widespread use today.

?We were really the first to unlock and empower that huge group of people,? Lynch explained. ?We've quickly become the dominant way that group builds mobile apps. We're not necessarily the tooling layer that lets you build apps without knowing how to code, and we're not at the bottom layer where you have to be a really great developer. We bridge that gap.?

As of last week, the young company hit an impressive milestone: More than 1 million apps have been built with Ionic since February 2014. Lynch cited Sworkit, a workout-customization app, as an example of one of the most popular consumer offerings created with Ionic. Sworkit has been downloaded by 4 million users from the Apple, Google and Amazon app stores and carries an impressive number of positive user reviews.

So what?s next for this company of 16 employees (five of whom are Wisconsin alumni) that produces a free product? With more than $3 million in capital coming their way, Lynch and Sperry are looking to their newest venture, the Ionic Market.

?The Ionic community is now large enough and active enough that people are making a living building Ionic apps and selling Ionic-related accessories and templates,? Lynch said.

The Ionic Market will help facilitate interactions and transactions between developers and app builders using Ionic plugins, themes and other add-ons.

?It?s surreal,? Lynch added. ?People are building a living off something that I helped make. That's what's closest to my heart right now.?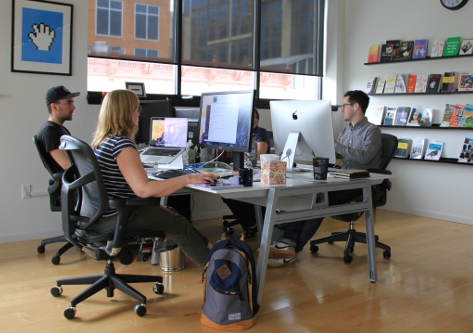 Lynch credits much of his success to his time at UW Madison, and specifically to his experiences in a variety of computer science classes. A dash of good timing helped, too.
?The whole startup world was exploding as I was graduating,? he said. "Looking back, I think, ?Wow, I built some really crazy things.? I built smaller versions of things that people are selling right now and making millions of dollars.
[btn-post-package]Lynch wouldn?t be surprised if the next ?Ionic? was created by Wisconsin students, especially as programs pop up in Madison to help facilitate entrepreneurship, such as the CS NEST Contest organized by computer science faculty.
?There are so many amazingly smart kids at that school,? he said. ?They just need a little help getting entrepreneurial-minded and thinking about making things that people will actually use.?
By Betsy Piland