BTN.com staff, BTN.com staff,

August 28, 2015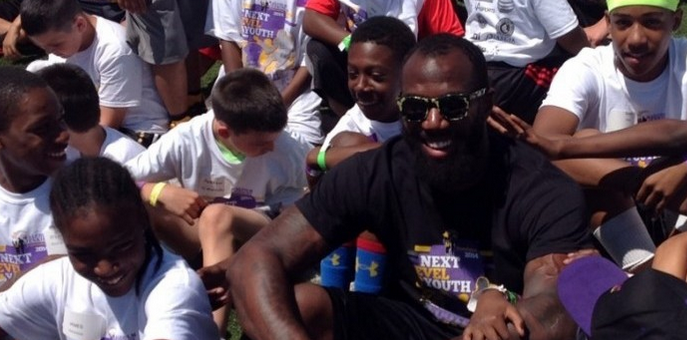 Life as a professional athlete can be transitory, a blur of different uniforms, cities and faces, which makes it difficult to get attached to any particular place. But Philadelphia Eagles free safety and former Buckeyes football star Malcolm Jenkins manages to make real, lasting connections no matter where he goes.
That?s due in large part to the Malcolm Jenkins Foundation, which he started with his mother, Gwendolyn, to give back and help youth in communities he?s been part of throughout his life. The organization sponsors scholarships and hosts events in Piscataway, N.J., Columbus, New Orleans and Philadelphia.
Jenkins is quick to emphasize his personal, hands-on involvement in the foundation.
?We didn?t want to just throw money at a problem, because that usually doesn?t fix things,? Jenkins said, ?especially when you?re talking about impacting our youth in different communities. I can?t have a long-lasting impact on a person or community if I?m never present in that community or in front of those people.?
A first-round selection of the New Orleans Saints in 2009, Jenkins received the Jim Thorpe Award as the best defensive back in college football and was named a consensus All-American as a senior at Ohio State. He went on to earn All-Pro Second Team honors in 2010 and win a Super Bowl with the Saints before signing with the Eagles in 2014.
?Malcolm was doing a lot of community service work when he was in Ohio at school, and then he continued that work when he got to New Orleans,? his mother said. ?I thought he could make a bigger difference and have a longer reach if he took those efforts and focused them in a way where he could get support to do more.?
Gwendolyn, who has an extensive business background and spent many years working in New Jersey?s judiciary system, serves as the foundation?s president and handles much of the day-to-day operations, while her son is the chairman.
?Unfortunately, there?s a negative stigma attached to athletes having charities that involve their families,? she explained. ?I?m making sure we don?t fall into that. I?m very conscious of us doing this the right way. It?s [Malcolm?s] name and his reputation, and I certainly would not want to see that messed up in any way.?
According to her son, Gwendolyn?s one of the main reasons the organization has been so successful.
?She?s one of those people who I can give an idea to or tell her what I want to do, and that?s all I need to do,? he said. ?She?ll take care of the rest. With my limited amount of time due to my schedule, that?s what I need to really make it happen, and I think my mom has been huge in that role.?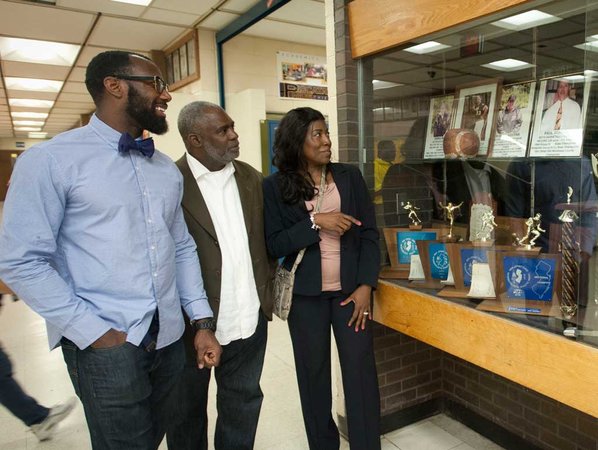 Already this summer, the Malcolm Jenkins Foundation has hosted their fourth-annual Next Level Youth Football Camp in Piscataway for 400 students and organized the Get Ready Fest in Philadelphia, a signature event where thousands of people come out to receive essentials like school supplies and valuable information on safety in sports, as well as educational and career opportunities.
Jenkins said the camp goes far beyond teaching kids football fundamentals. Next Level underscores personal safety, offers free information sessions for parents of camp participants, and imparts more general messages on leadership, health and perseverance.
?All those lessons that I?ve learned from football are still very relevant in everyday life,? he added. ?They start to see what hard work looks like, what the rewards for hard work are.?
Jenkins? mission has been felt across the NFL, as stars from all over the league have reached out to help with his mission. This year?s Next Level attendees included Mark Sanchez, Jordan Matthews and Vinny Curry of the Eagles, as well as former New Orleans teammates Jahri Evans and linebacker Jonathan Casillas, who is currently with the Giants.
Fellow pro football players have even contacted Jenkins about starting their own foundations, but he cautions them that it isn?t something to be undertaken lightly.
?You have to leverage every relationship that you have, leverage your status and your stage, and get people who are like-minded,? Jenkins said. ?You have to be passionate about whatever your cause is, and you have to really be willing to sacrifice for it.?
But for the Jenkins?, the payoff for their hard work has been tremendous, especially in the form of the scholarships they offer through Project REWARDS. An initiative that targets high school students and works with College Track New Orleans, Project REWARDS offers a wealth of educational activities for underprivileged students.
One particularly remarkable case was that of Troy Simon, a New Orleans boy who couldn?t read until he was 14 years old. Simon was part of the inaugural Project REWARDS class, and after receiving a scholarship from the foundation, he was accepted to Bard College, where he studies American literature. Following his freshman year, he had the opportunity to introduce Michelle Obama at the White House College Opportunity Summit in 2014.
Even with everything the foundation has accomplished so far, the Jenkins family is hardly slowing down. They have the annual Taste of New Orleans fundraiser on Oct. 26, and Blitz, Bowties & Bourbon in Philadelphia on Nov. 2 on the horizon.
?We?re at a point right now where we need to build capacity and infrastructure so we can continue the great programs that we established in the first five years, and so they can be sustainable,? Gwendolyn explained. ?We?re getting ready to hit it hard, and get funding to support the work that we?re doing.?
[btn-post-package]Malcolm added that it means so much to him to give back to the communities that have supported him throughout his career, be they Buckeye red or Eagles green.
?For me, it?s just pouring [support] back into the communities that adore you and have given to [you],? he said. ?With the stage and influence that I have, it?s just a responsibility ? for me to give back in the way that I can. I might not be able to change the world per se, but I can definitely give what I can and play my role.?
By Grant Rindner