BTN.com staff,

August 27, 2015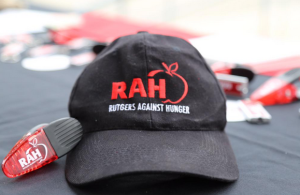 For Rutgers University, New Brunswick, N.J., is more than just the site of the flagship campus. It?s the school?s hometown, and the community it serves.
Incoming RU freshman learned that lesson this summer before even setting foot in a lab or lecture hall for a course. Thanks to a new partnership between Rutgers Against Hunger (RAH) and Rutgers New Student Orientation, roughly 6,000 future students worked to help provide food to about 1,700 underprivileged children in New Brunswick.
Over the course of two months, groups of future Scarlet Knights packed 24,000 packages of food for kids ages 6-12 taking part in Play S.A.F.E., a free local summer program that provides them with constructive activities while they?re out of school, ranging from arts and crafts to drug-prevention lessons.
?There are so many different community service activities that you can do, but packing meals keeps them active and engaged,? RAH Coordinator Julia Crimi said.
Founded in the wake of the economic recession, RAH was the product of university officials seeking to counteract the dip in food donations by companies and families. For the past seven years, it?s not only helped the food insecure in New Brunswick, but also strengthened the bond between the community and the university?s tens of thousands of undergrads.
To further strengthen that bond, those behind the orientation project, including Rutgers Director of Major Events and Programs Carey Loch, wanted to ensure that the incoming students did more than just make the snack packs.
?We didn?t just do this and put the food in a closet somewhere,? Loch said. ?The next day, students would also be included in the delivery process ? so they could truly see the circle close.?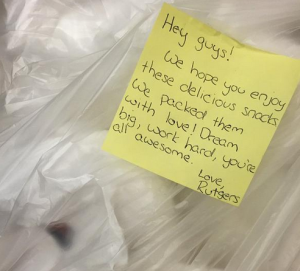 They also felt good seeing the joy on Play S.A.F.E. participants? faces as they saw the trucks loaded up with snacks approaching.
?They would see the vehicle pulling up, they?d be coming in from the playground and yell ?Today?s snack day!?? Loch said. ?They?d be all excited about it. I think that feels particularly good, too.?
To ensure community service is a continued part of the Rutgers experience, an undergrad branch of RAH, called Student-Organized Rutgers Against Hunger (SORAH), began back in 2011.
The group is affiliated with RAH, but they also facilitate and organize their own events. The group hosts monthly meetings, and provides regular volunteering opportunities for interested students. Today, it has 20 general members and roughly 100 participants in their major events.
?The students are so interested and passionate and motivated,? Crimi said. ?A lot of them really genuinely want to help and are interested in hunger. They can make a difference, and they do make a difference.?
[btn-post-package]This emphasis on volunteering and community outreach for both RAH and SORAH stems from a belief that students should understand their new surroundings extend beyond campus grounds.
?Rutgers has been a part of New Brunswick for 250 years now,? Crimi said, ?so it?s really important for the community to know that we?re here to help them. The university is a part of the city ? we want to let [new students] know that New Brunswick is their home now.?
By Grant Rindner