BTN.com staff, BTN.com staff,

August 23, 2015

For people who don?t live there, ?diversity? might not be the first word that comes to mind when you think of Nebraska. But the Cornhusker State?s population is changing so rapidly that its flagship university has started a movement to tackle minority health concerns.

University of Nebraska sociology professor Kirk Dombrowski is at the center of that movement. As the head of the school?s Minority Health Disparities Initiative (MHDI), he isn?t afraid to immerse himself in the communities he?s serving - or, on occasion, in a dunk tank.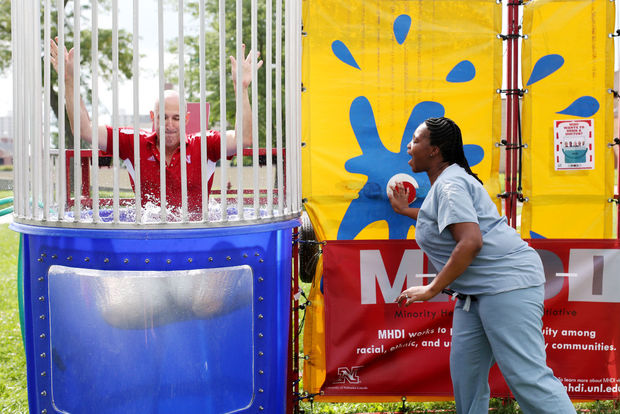 Dombrowski found himself in that unique situation because he was taking part in the Back to School Jam event on Aug. 9. Held at the Malone Community Center in Lincoln, Neb., it included the ?Dunk a Doctor? outreach event, which offered about 500 elementary school children and their families the chance to soak a variety of Nebraska professors and researchers.
Dunk a Doctor proved a rousing success, according to Dombrowski.
?The kids were able to ask questions about health and health literacy, meet UNL research faculty, and they could dunk a doctor,? he said.
Classic festival attractions are just one of the creative ways in which MHDI is attempting to heighten public awareness of key health issues and built trust with the communities they?re serving.
?We are trying to create lasting relationships with underserved communities,? Dombrowski said. ?In the past, the university didn?t devote as much attention to them.?
MHDI was created in 2012 to bolster faculty research in minority health disparities while connecting researchers to people facing healthcare concerns. The Nebraska Department of Health and Human Services reported in May of 2015 that minorities represented 17.9 percent of Nebraska?s total population 1.8 million as of 2010.
Healthcare disparities in Nebraska cut across a wide range of socio-economic groups and present concerns on state and national levels, Dombrowski said.
?A lot depends on the disease or health issue,? he said. ?Some disparities have gotten better, like chronic hypertension in African-American males, due to attention in the community. But Hispanic health hasn?t gotten better.?
According to the Nebraska Department of Health and Human Services, Hispanics accounted for 51 percent of the state?s total 326,588 minority population in 2010.
[btn-post-package]Currently, the initiative has established a core research group of 10 faculty from a broad spectrum of departments across the Lincoln campus, including sociology, nutrition and health services, communications, and child, youth and family studies. To help them extend their reach into minority communities in Nebraska, MHDI is planning to conduct focus groups, and have a presence at community fairs and festivals throughout the state, Dombrowski said.
However, it may be awhile before he steps into a dunk tank again.
?I was dunked at least 50 times,? he said. ?I still have water coming out of my ears.?
By Tony Moton