BTN.com staff, BTN.com staff,

August 20, 2015

Design was always a part of Brice Aarrestad?s life. Even as a kid, when he considered a career as a policeman or marine biologist, he would sketch out his dream houses for those professions. But today, this Minnesota alumnus is applying his design skills to a different kind of dream - raising the fortunes of the central African nation of Uganda with artisanal furniture.

It all began when Aarrestad, then a graduate student in the University of Minnesota?s School of Architecture, went to that country to build an orphanage as part of the non-profit Engineering Ministries International (EMI). All told, he spent nearly two years working with EMI, helping with a variety of projects and forming an intense bond with the nation and its people.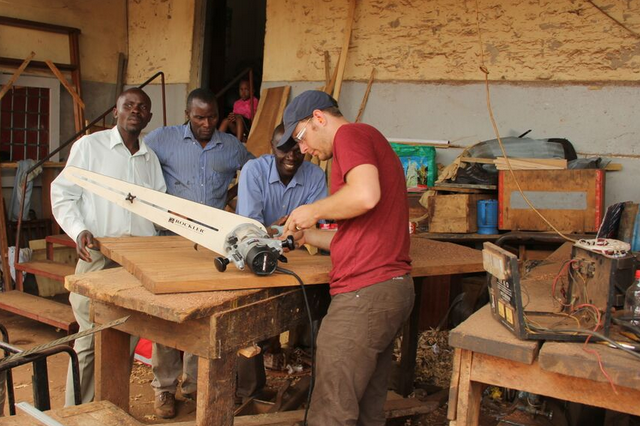 ?I had a really strong sense of community,? Aarrestad said. ?I?d started to build connections, and I wanted to continue those connections with our staff and the organizations we were working with. I really believed in their vision and wanted to contribute as best I could.?
While there, he spent a great deal of time in dilapidated schools with more students than desks. He also met many local craftsmen, and found most of them used outdated tools and techniques that limited their output. Still, he was impressed by the quality of their finished products.
Those experiences inspired him to establish Help Desk Furniture Co. This start-up makes handmade furniture in Uganda for export in the United States. The profits from the company are used to create jobs, fix schools and provide a stable infrastructure in Uganda.
The main selling point for Help Desk?s products is the individual talent that goes into them. As much of the furniture?s parts are made by hand, the company highlights the slight imperfections and quirks that make for a truly unique item.
?We?re also selling the craftsmen, and not just the product,? Aarrestad explained. ?We?re selling that idea that your product was made by somebody. That?s why you?d buy this compared to other furniture, because of that visible connection and the story that comes along with it.?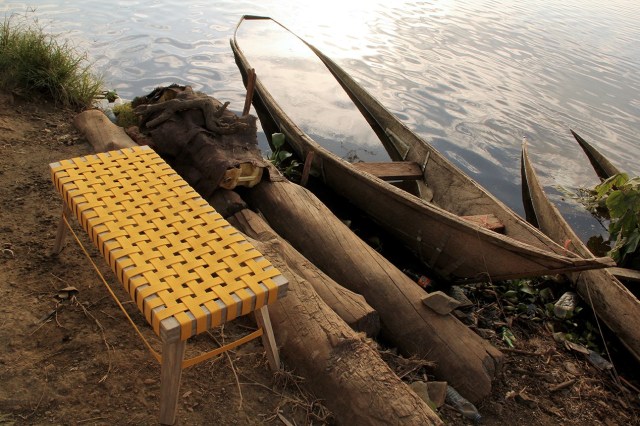 Once Aarrestad came up with the Help Desk concept, he needed something to help him flesh out the business particulars and turn his idea into a sustainable company. Fortunately, he didn?t have to look too far, as he found Fred Rose and the Acara program at Minnesota, which aids in the creation of businesses addressing social and environmental issues.
Rose, who founded Acara in 2008, was impressed by Aarrestad?s proposal. But as with any new idea, there were kinks to be ironed out.
?He had a lot of credibility in the sense that he?d been on the ground [in Uganda] for a year-and-a-half and had been building structures in terms of leading design and hiring people,? Rose said. ?He had a lot more credibility than your average student or even your average graduate student.?
The challenges Rose helped Aarrestad overcome included figuring out how to market the furniture, identifying potential clients and finding the right employees for his business model. Aarrestad entered Help Desk in Acara?s annual pitch challenge, winning bronze.
Aarrestad admitted that balancing Help Desk and finishing up his master?s degree wasn?t easy. Oh, and he was also preparing for marriage.
[btn-post-package]?My second year in the program, I was trying to get pilot funding,? he said. ?I was in school full-time doing teaching assistant jobs and planning a wedding all at the same time. But ? the resources that the University of Minnesota had were critical for the launch of [Help Desk].?
In addition to getting help from Acara and Minnesota?s College of Design, Aarrestad made the design for Help Desk?s production facility his architecture thesis project. Now that he?s graduated, Aarrestad says Help Desk?s next step is to bring some of his early furniture designs to life and get them in retail showrooms in the U.S.
?I think people, especially nowadays in our digital culture, are looking for authenticity,? he added. ?The things we buy can give us more of a semblance authenticity and [a] place in the world.?
By Grant Rindner