Brent Yarina, BTN.com Senior Editor,

August 20, 2015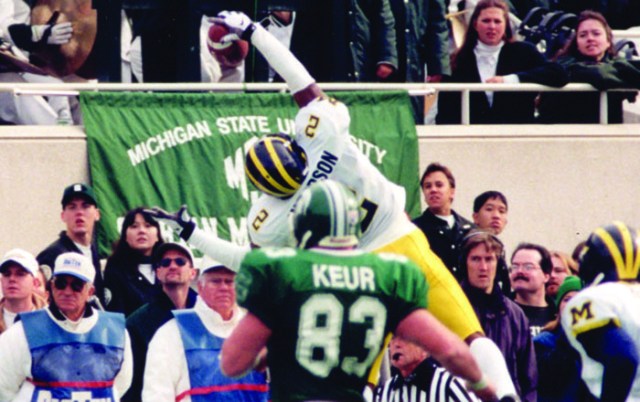 The Football Writers Association of America released its 75th Anniversary All-America Team on Thursday, and Big Ten fans will enjoy the results.
The Big Ten placed a leading 19 players on the list, four more than ACC, however eight of the conference's representatives played before their schools (Nebraska, 6; Maryland, 1; Penn State, 1) entered the Big Ten.
On the topic of the Cornhuskers, no program had more than their six representatives, four of which garnered first-team honors, also tops on the FWAA list.
The team with the second-most players? That would be Ohio State, with five.
Michigan (3), Illinois (1), Iowa (1), Michigan State (1) and Penn State (1) accounted for the remaining Big Ten selections.
Here's all of the Big Ten representatives:
FIRST TEAM
RB: Archie Griffin, Ohio State
OL: Orlando Pace, Ohio State
OL: Will Shields, Nebraska*
OL: Dave Rimington, Nebraska*
DT: Ndamukong Suh, Nebraska*
DB: Jack Tatum, Ohio State
DB: Charles Woodson, Michigan
RS: Johnny Rodgers, Nebraska*
SECOND TEAM
OL: John Hicks, Ohio State
OL: Calvin Jones, Iowa
DT: Randy White, Maryland*
LB: Dick Butkus, Illinois
THIRD TEAM
QB: Tommie Frazier, Nebraska*
WR: Anthony Carter, Michigan
OL: Dean Steinkuhler, Nebraska*
DE: Bubba Smith, Michigan State
LB: Jack Ham, Penn State*
LB: Chris Spielman, Ohio State
DB: Dave Brown, Michigan
* — Indicates a player who played at school before it entered Big Ten.
See the full FWAA teams below: