Sean Merriman, BTN.com web editor,

August 18, 2015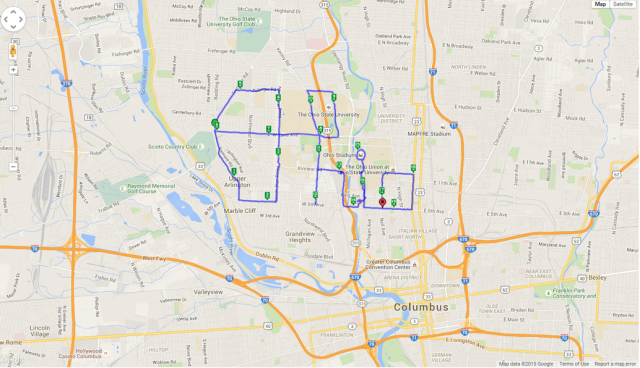 There are dedicated college football fans… And then there is this.
[ MORE: Like this post? View our full Gone Viral section! ]
According to Reddit user @orweezy, a group of Ohio State football fans mapped out a path and walked 19 miles to spell out ?Script Ohio? on Google Maps.
The best part about the whole journey? The fans made sure to 'Dot The I' at Ohio Stadium.
Check out the graphic at the top of this post.
Now, that's dedication!
H/T: Ari Wasserman
Speaking of the defending national champs, don't forget about the premiere of "Scarlet & Gray Days," our behind-the-scenes look at Ohio State practice, at 7 p.m. ET Wednesday night on BTN/BTN2Go. Learn more about the show.
Here's a sampling of what to expect:
We're fired up! Are you, @OhioStAthletics fans? Catch "Scarlet & Gray Days" at 7 ET Wednesday on BTN. #InsideOSU http://t.co/VtBL0giunn

— Big Ten Network (@BigTenNetwork) August 18, 2015
Like what you see, @OhioStAthletics fans? Don't miss "Scarlet & Gray Days" at 7 p.m. ET Wednesday. #InsideOSU http://t.co/CYarPB7qKE

— Big Ten Network (@BigTenNetwork) August 18, 2015