BTN.com staff,

August 17, 2015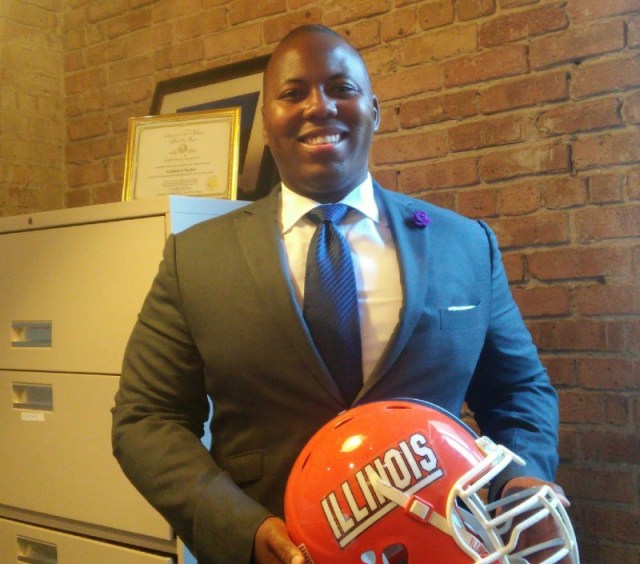 As a defensive lineman for the Fighting Illini, Kambium ?Kam? Buckner had plenty of memorable moments. Upsetting then-No. 1 Ohio State in Columbus in November 2007. Playing in the Rose Bowl on New Year?s Day of 2008.
But the game that sticks out most in his mind came two seasons prior, at Illinois? home opener against a Rutgers team that was stacked with talented players - Jason McCourty and Ray Rice, to name a couple. Despite the fact that the Scarlet Knights were favored, Buckner and his teammates fought hard and pulled out a 33-30 overtime win in Memorial Stadium.
?That was the first time I had seen that group of guys play through adversity together,? he said. ?We gave ?em hell. We kept pushing through every single situation and refused to lose.?
Another aspect of that game that made it so memorable was that it was the first one for incoming Illinois head football coach Ron Zook. Coming to the Big Ten from the SEC, the Fighting Illini players were initially wary of many of the new ideas that he and his staff brought from that conference.
Even though Illinois went 2-9 that season, after that game Buckner and the rest of the team understood what they were capable of under Zook?s leadership. Their willingness to learn and buy into his system set the stage for a Top-20 finish and Rose Bowl berth two years later.
The Fighting Illini kick off their 2015 season in just a couple of weeks, but Buckner currently has his mind on a different sporting event: the fifth-annual Valor Games Midwest, which takes place Aug. 18-20 in Chicago.
What is the Valor Games Midwest, you ask? It?s an event that honors U.S. military veterans with physical and mental disabilities by bringing them together to compete in Olympic events such as discus, shot put, cycling, indoor rowing and archery. Though it doesn?t garner as much attention as, say, Big Ten football, it?s just as significant in its own way.
?It?s really important to us because it gives these people who have given us so much a chance to get together,? Buckner said. ?There?s camaraderie, there?s fun - and it?s just really special to watch them compete. Sometimes the hardest thing when you get back from deployment is getting back to a sense of normalcy, especially if you?ve lost a limb or you?ve been injured. Valor Games gives them a chance to get back to normalcy and to be around folks with shared experience.?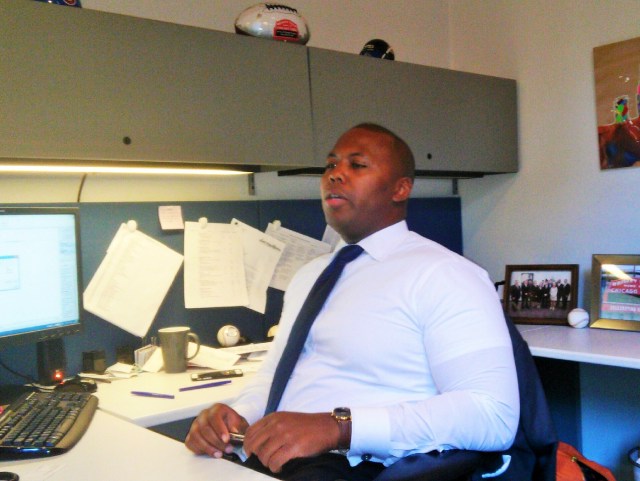 As executive director of World Sport Chicago, which produces Valor Games Midwest in partnership with the U.S. Department of Veterans Affairs and the Chicago Park District, Buckner leads a team that uses sustainable sports programs to serve various groups in need in Chicagoland and beyond.
Since graduating from Illinois in 2008, he?s spent most of his career making the world a better place in a variety of ways. From working as a staffer for Senator Dick Durbin (D-IL) in Washington, D.C., to helping lower violent crime and raise quality of life in post-Katrina New Orleans as an employee with the mayor?s office, Buckner has gravitated toward serving communities of all kinds.
However, this true-blue Chicagoan couldn?t stay away from home for long. After working in New Orleans for a couple of years, he returned to take a job as manager of government and neighborhood relations for the Chicago Cubs. He served in that role until his appointment as executive director of World Sport Chicago at the beginning of this year.
In a sense, he?s continuing a family tradition, but putting his own spin on it: Buckner?s mother was a Chicago Public School teacher and his father was a Chicago police officer, and they each stayed in those jobs for more than three decades. Their son also serves and loves his city, but he's ventured a bit further afield in his career.
Though Buckner had great role models like his parents throughout his life, he also saw plenty of examples of what not to do while growing up on the far South Side of Chicago. One particularly tragic case was a kid Buckner went to school with who was ?an amazing athlete and amazing intellect - one of the smartest guys I?ve ever been around.? However, boredom with school and frustration with seemingly stultifying rules led him to act out in increasingly reckless ways.
?One thing led to another, and he?s serving a life sentence right now,? Buckner said. ?People often talk about wasted talent, and he was one of the biggest examples of that in my life. It wasn?t just because he was one of the best athletes I?ve ever seen. At that point, he was a great person ? [but] his character started to deteriorate, and he turned into a person who ruined his life and other people?s lives.?
That?s why Buckner takes the mission of World Sport Chicago so seriously. With the motto ?Dreams play here,? the organization is particularly focused on engaging underserved youth throughout the city.
?I?m passionate about the work that we do here because sports was a huge factor in my life and [I want to] give other folks that opportunity,? Buckner said. ?Young kids in this city get caught up in the wrong thing because they don?t have outlets. World Sport Chicago engages these kids in really impactful way.?
[btn-post-package]Sports is the draw for young people, but Buckner said the main objective is to imbue them with important life lessons and a variety of non-athletic skills. Buckner knows firsthand how effective sports are in this respect, and he cites perseverance and equanimity as the two main character traits he gained during his time playing football at the University of Illinois.
?I learned a lot about chipping away until you get it,? Buckner said. ?Things won?t always be going your way and to find a way to get through that with grace and class ? that?s a really important trait, and I think that really carries through life.?
By Maggie Hays