BTN.com staff,

August 14, 2015

You say ?tomatoes.? I say ? ?Rutgers??

No, those aren?t the lyrics to the classic Gershwin brothers tune. But Tom Orton, a professor in the university?s Department of Plant Biology and Pathology, thinks the relationship between the school and fruit - both of which are characterized by bright red coloring - should be tied together in the public consciousness. And he?s doing work to both raise awareness of and continue the school?s legacy in tomato development.

He makes a good case: Not only was there a ?Rutgers tomato? variety, but it was ubiquitous in food production for several years. The original tomato was the product of a true ?Garden State? partnership between the university in New Brunswick, N.J., and the Campbell Soup Company, based in Camden, N.J.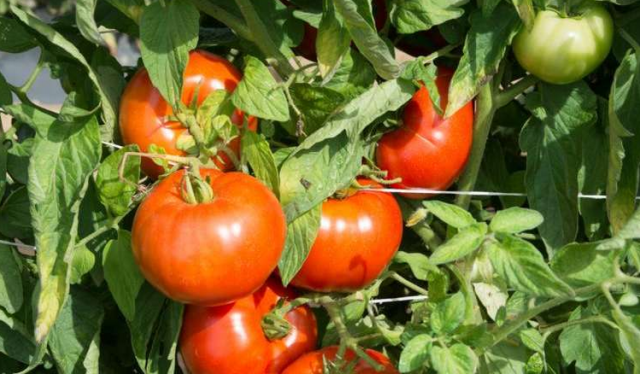 ?The Rutgers variety of the tomato was released in 1934 and was the most popular in the world,? Orton said. ?It occupied 60 percent of the world?s tomato acreage in the 1950s.?
The product, according to the school, was described as having pleasing flavor, a uniform sparkling-red internal coloring and soft texture. Moreover, it was a ?general use? fruit that could be used in a number of different dishes and cuisines.
But in recent decades, its popularity as both a commercial and homegrown product dwindled. It was displaced over time by a wide variety of new hybrid seed varieties that produced firmer and more specialized tomatoes, and eventually the Rutgers tomato was ?left for dead.?
That changed in 2010, when plant scientists on the New Brunswick campus started efforts to revive the Rutgers variety and put a more contemporary spin on it. Orton said the researchers discovered early on that the Campbell Soup Company had kept derivatives of the original Rutgers parent seeds.
?We thought we could retrace the steps and develop something new,? Orton said. ?It all depends on the genes you have in hand.
?I think our expectations are exceeded,? he added. ?What we did was went through the original parents and used a modified breeding program. It?s firmer with better color and better flavor. We did (tasting) panels in 2014 and got quite favorable results. That's why we?re so aggressively moving forward in 2015.?
A trio of tasting events have been scheduled through this month to demonstrate whether the ?Rutgers tomato 2.0? could live up to the reputation of its predecessor. Orton said the tasting events involve pitting three different selections of the new Rutgers tomato against two control varieties in blind taste tests to find out how it stacks up against today?s better-known varieties.
Perhaps none of these dates is more anticipated than Aug. 27, when the Snyder Farm Open House and Great Tomato Tasting will take place at the Rutgers NJAES Snyder Research and Extension Farm in Pittstown, N.J.
The ultimate goal for the new Rutgers tomato, according to Orton, is releasing in seed packets as a garden-variety product in January of 2016. Hybrid varieties of the tomato also are being developed from the same original parent seeds and could be available for commercial growers in 2018, he added.
[btn-post-package]Additionally, the university plans to exercise more control over this product than it had with the original Rutgers tomato. And as it?s scheduled for widespread release in 2016, the year of Rutgers? 250th anniversary, the name of the new tomato will be chosen to honor this momentous milestone for the university.
?We?re extremely proud of it,? Orton said of the new Rutgers tomato. ?I?m confident it?s going to have a lot of impact.?
By Tony Moton