BTN.com staff,

August 13, 2015

Carolyn McDonald doesn?t have what you?d call a typical commute.

Most days, McDonald wakes up at 6 a.m., hops on a motorcycle and rides it over patchy roads and streets to her office in Port-au-Prince, Haiti. It isn?t for everyone, but this recent Penn State graduate would tell you she?s living the dream.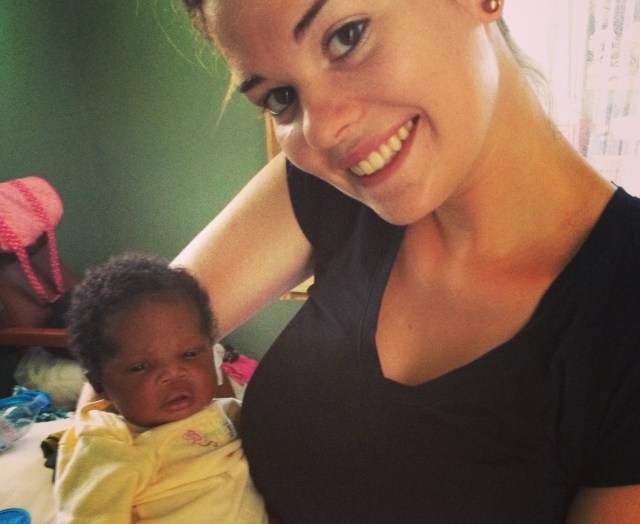 That dream started before she ever arrived in Happy Valley. McDonald traveled to Haiti (and on an airplane) for the first time in 2008 to do service work. She found her calling there, along with shocking levels of poverty.
?I was so impacted by what I had witnessed - hunger, orphans, people begging - that I wanted so badly to help in any way,? she said.
Still, after spending more time in the country in several subsequent visits, McDonald discovered more than human misery. Much more.
?Haiti is beautiful, but people only see poverty,? she said. ?I hope that people can see Haiti as more than poor people and poverty, but as a country of hard workers, smart people and friendly citizens who are always willing to help a friend out.?
For her extensive service in Haiti, McDonald was recently awarded Penn State?s 2015 Rock Ethics Award, which honors students who have demonstrated ethical leadership in taking a stand for a person, cause or belief.
However, McDonald nearly didn?t go to Penn State at all. She initially wanted to move to Haiti right after high school to begin her missionary work and to possibly open an orphanage, but was persuaded to attend college first.
?I was encouraged by Haitian friends to not give up the opportunity I had to attend a U.S. university,? she said, ?especially when so many of my friends in Haiti would give everything to get a degree.
?I feel this was the best decision I have ever made,? she added. ?I now have the training I need to help people effectively.?
Through her studies in community, environment and development at Penn State?s College of Agricultural Sciences, McDonald learned best practices in sustainable international development, and also that sometimes ideas to improve living conditions can actually be destructive when implemented.
?The example I always use is this: Even though someone feels passionate about helping sick people, they can?t just go into the hospital and start performing surgeries,? she said. ?Doctors have to go to many years of school to learn how to be effective in their job of helping the sick and injured. Humanitarians and aid workers also need to be educated and trained to be truly effective.?
Her education has pushed her toward a career in international development, and she now interns in Haiti with the Pan American Development Foundation (PADF), a non-profit organization that brings together many stakeholders to improve communities and environments in Latin America and the Caribbean.
Beyond her adventurous commute, she spends much of her time writing reports, meeting with PADF?s Haitian staff to see what they need help with, participating in training sessions at the office and going on field visits to community-development projects.
And in her free time, McDonald volunteers on the weekends with an organization called Poverty Resolutions.
[btn-post-package]?I am a part of their Haitian board,? she said. ?My responsibilities include advising them on Haitian culture and how to be effective in Haiti. I have helped them develop programs and actively participate by translating and helping where I can when they have volunteer mission teams come.?
McDonald also enjoys going to the beach and visiting the kids in the orphanage where she taught English. She also likes much of the local cuisine with one exception: ?I don?t like aransol [dried fish jerky].?
She had some advice for incoming Penn State freshman trying to figure out how to achieve their dreams the same way she did.
?Focus on learning about how to be a better person ? in the end you will find that being kind and loving others gets you further in life than knowing how to get a good grade.?
By Meg Sullivan