Sean Merriman, BTN.com web editor,

August 3, 2015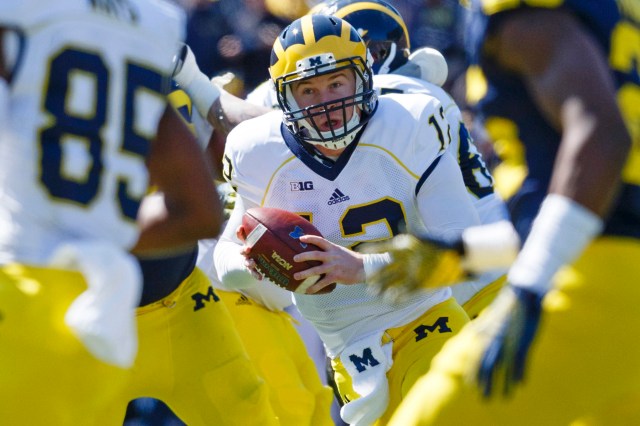 Late last week, I asked seven Big Ten players to give me a true freshman who has stood out to them thus far, and who could potentially make an impact in the upcoming 2015 season.
Here is part two of the piece, featuring the picks for Michigan, Minnesota, Nebraska, Northwestern, Penn State, Purdue and Rutgers.
Jehu Chesson, Michigan: Alex Malzone, QB. He?s a cool kid. When he first came on campus, he already possessed a lot of things I personally look for in a freshman, especially when it?s a guy who?s going to be throwing me the ball. I look at how he handles himself and how does he choose his friends around school and who he surrounds himself with. You can really tell how mature a freshman is by how he chooses his friends and who he hangs out with, and Alex has done a great job of surrounding himself with good people. He?s really done a good job in terms of really trying to excel and be the best player he can be. He's going to compete for the starting position. Alex has a very strong arm and if he?s able to make good decisions with the ball, good things are going to come early for him.
Theiren Cockran, Minnesota. They?ve all come in and have worked hard. We have two defensive ends that have stood out to me in Sam (Renner) and Winston (DeLattiboudere). At defensive tackle, Mose (Hall). These guys came right in and they?ve been working and picking up on things at a faster pace than I first did when I came in. I?m proud of these guys because it?s challenging. They are asking a lot of questions when we watch film together. They challenge me.
Nate Gerry, Nebraska: Aaron Williams (S), Antonio Reed (S), Dedrick Young (LB) and Tyrin Ferguson (LB). I think the two safeties are two different style bodies. Aaron (Williams) is a smaller body guy who can move well with his hips. (Antonio) Reed is a bigger body and more my style. He?s more of a run-fit guy, but he can also move well. We do 7-on-7 stuff, so I?ve seen them run around.
Christian Jones, Northwestern: Flynn Nagel, WR. Me and Flynn (Nagel) have been working a lot outside of workouts. We watch a lot of film, and he?s coming along. He?s learning the offense extremely quickly, and I think it?s going to really pay off. Cameron Green and Charlie Fessler have been doing a lot of work as well, and I think it?s really going to show up during camp.
Jordan Lucas, Penn State: John Reid and Saquon Barkely. I?ve worked out with those guys. Saquon, the way he's built is crazy. His numbers in the weight room are ridiculous. He's a very mature freshman. I?m impressed with him, and the same goes for John Reid, who is also very mature. If they keep their heads on straight and are able to get over that freshman wall, I think they can both have successful years.
Robert Kugler, Purdue: Tario Fuller, RB. He?s a running back. He came in and he looked the part like he?s ready to play. I think he has a chance to get into the running back mix. Markell Jones is a guy who I got to see play in the spring. He impressed me a lot.
Leonte Carroo, Rutgers: Jawuan Harris, WR. He looks really, really good. I?m saying it now, he?s going to play for us this year. He?s very shifty and very fast. He?s a kid that can play right away. He?s been making all of his times in conditioning, which I?m really proud of. Any time were doing 7-on-7, we save the last five reps for the freshmen, and he says ?just show me the routes?, so I kind of like that about him.
***
Here's a look back at what players told me last week:
Mason Monheim, Illinois: Gabe Megginson, OL. He's a guy that sticks out and can have an impact. He's tall, he's lengthy and he's a really good guy. He's fun to be around. It's too bad I'm old and I'm on my way out, so I won't be able to see him and some of the other guys flourish. They are all working hard. It's up to us older guys to kind of put them under our wing and show them the ropes and what it takes to be successful. Hopefully they can help us out.
Jason Spriggs, Indiana: Brandon Knight, OL. He's doing a great job. He's coming a long way very fast and it's impressive to watch. He's a left tackle for us and has been someone who I have been working with. It's impressive to see the way he's improved himself.
Austin Blythe, Iowa: James Daniels, OL. I'd have to go with him since I've been around him. Just his athletic ability and what he's done in practice after coming in as a 17 year old is just impressive. It's amazing to see what he can do as a high school kid.
William Likely, Maryland: Darnell Savage, DB. He's on the defensive back side. He's very hungry. I'm really excited to see what he's going to do in camp.
Jack Allen, Michigan State: Tyriq Thompson, LB. I don't even consider Tyriq Thompson a freshman since he's been there. He's just a guy on the team now. He's a worker and he's been kind of leading that freshman class. He's been helping them out and getting them ready for when the veterans come back so it can be a smooth transition.
Adolphus Washington, Ohio State: Jashon Cornell, DL. He's been looking really good. He's strong and once he is able to understand the game a little bit more, I think he's going to be a really good player.
Corey Clement, Wisconsin: Jon Dietzen, OL. He throws up tremendous numbers and he doesn't look like a freshman. Just the size of him, it makes you want to have him on the line blocking for you right now. Another guy is Bradrick Shaw. He's a new incoming running back who is really good.