BTN.com staff,

August 2, 2015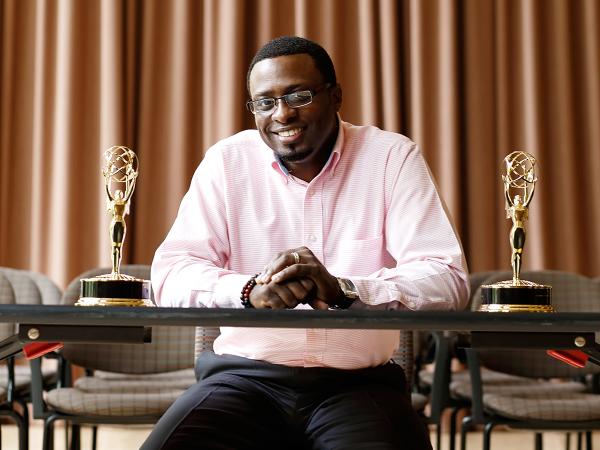 Tyron Cooper wears several hats at Indiana University. As an assistant professor in the Department of African-American and African Diaspora Studies, Cooper is tasked with academic responsibilities in the classroom. But on top of that, he connects the school?s - and the state?s - rich musical heritage with African-American styles as director of the IU Soul Revue.
A collegiate ensemble steeped in the traditions of Black musical performance, Soul Revue is a throwback to classic R&B, soul and funk genres. The group has opened for a number of top headliners, including James Brown, The Temptations, The Emotions, Con Funk Shun and Booker T. Jones.
Soul Revue includes a number of aspiring singers and musicians, all of whom have to audition for parts before taking their show on the road to schools, nightclubs, concerts and special events. According to the school, IU Soul Revue alumni include musicians who have worked with the likes of Michael Jackson, Stevie Wonder, Bruce Springsteen, John Mellencamp, Billy Joel, Mary J. Blige, Jill Scott, Mariah Carey, LL Cool J and After Seven.
?The Soul Revue is so powerful on so many levels,? Cooper said. ?If you come to a Soul Revue performance, you?re going to see college students performing on a professional level. It would be an experience you would expect from a national artist, and I say that in all humility.?
Cooper himself is well-aware of the high standard for musical accomplishment at Indiana. He can rattle off the names and backgrounds of Hoosier music greats like Cole Porter, J.J. Johnson, Wes Montgomery, Lionel Hampton, David Baker and Leonard Bernstein the way regular people recite their ABCs.
?There have been so many people on the cutting edge of art linked to the state of Indiana and Indiana University for decades,? he said. ?So much has come out of the state that has profoundly impacted the national terrain of arts.?
In the classroom and on the stage, Cooper motivates his students to make their marks in both artistic and commercial terms.
?My teaching derives from my experience in the industry, and I bring the real-world experiences into the classroom,? Cooper said. ?It?s one thing to be a performer, who is ? a person centered in the community and someone we definitely need. [But] how do they position themselves in an industry context??

Cooper can answer that question in part by pointing to his own experience. Born into a family of singers and musicians in Lakewood, Fla., Cooper said his musical upbringing has shaped his career to this day. One of six children, he was part of the gospel-influenced Cooper Singers, an eight-member group led by his parents.
Because of that background, Cooper started playing the guitar when he was 5 years old. He later followed his musical aspirations to Bethune-Cookman University (formerly College), the Historically Black school in Daytona Beach, Fla., where he earned a bachelor?s degree in music education with an emphasis in jazz and classical guitar.
Cooper first became acquainted with IU in 1995, when Dr. James Mumford, then director of the school?s African-American Choral Ensemble, visited Bethune-Cookman to serve as a keynote speaker for a Humanities Conference on campus. Cooper was invited to play the jazz standard ?Body and Soul? on guitar at event. Mumford was one of many who were moved by the performance.
?People in the audience were crying,? Cooper recalled.
Following the event, Mumford suggested Cooper attend graduate school at IU, and he went on to earn his master?s degree in jazz studies and doctorate in ethnomusicology at Bloomington.
Today, Cooper is an award-winning composer, mentor and ethnomusicologist who collaborates with national artists such as Dionne Warwick, A Taste of Honey, Marietta Simpson, Angela Brown and Donnie McClurkin.
This summer, Cooper earned a pair of regional Emmy Awards from the National Academy of Television Arts & Sciences, Lower Great Lakes Chapter. The first honor was in the Musical Composition/Arrangement category for his original score for the documentary ?Bobby ?Slick? Leonard: Heart of a Hoosier,? produced by WFYI Public Media in Indianapolis.
Leonard, a native of Terre Haute, Ind., is an iconic radio analyst for the Indiana Pacers. He also was a coach at the professional level and a player on the IU basketball team that won the 1953 NCAA national championship.
Cooper?s second Emmy Award was in the Historical/Cultural Program or Special category for ?Strange Fruit.? The composition, recorded in honor of the 75th anniversary of a Billie Holliday tune, appeared during a segment of a PBS program produced by WFYI and the SALT Project, a nonprofit project that promotes a Christian lifestyle.
[btn-post-package]But Cooper said his crowning achievement might be leading Soul Revue, which he?s done since 2012. He takes no small amount of pride in influencing not only the students? careers, but their view of their art and their own place in musical heritage.
?A lot of students are moving beyond the music conservatory model (learning) and beyond the Western European canon,? Cooper said. ?They need to know about music from South America or grooves from the African or Asian expression. They still need to know Western European, but they need to be diverse and how that translates into dollars and cents.?
By Tony Moton