Sean Merriman, BTN.com web editor,

July 31, 2015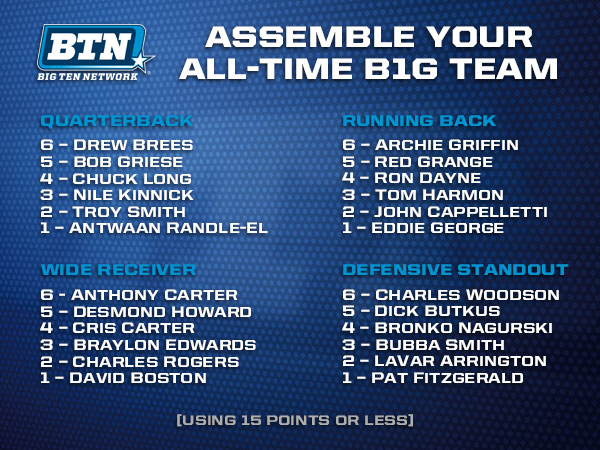 If you could assemble an all-time Big Ten football team, who would you pick?
Now, imagine if that team consisted of four players (QB, RB, WR, DEF), and every player had a point total, 1-6, in which you could only use up to 15 points to assemble that team.
That was the situation I presented to 12 different Big Ten players during this year's Big Ten Media Days.
The graphic can be seen at the top of this post.
Who did the players select on their "Big Ten Dream Team?"
See here:
Connor Cook, QB, Michigan State
QB – Drew Brees (6 points)
RB – Ron Dayne (3 points)
WR – Charles Rodgers (2 points)
DEF – Bubba Smith (3 points)
Nate Sudfeld, QB, Indiana
QB – Antwaan Randle-El (1 point)
RB – Ron Dayne (3 points)
WR – Cris Carter (3 points)
DEF – Charles Woodson (6 points)
Josh Ferguson, RB, Illinois
QB – Bob Griese (5 points)
RB – Red Grange (5 points)
WR – Braylon Edwards (3 points)
DEF – LaVar Arrington (2 points)
Will Likley, DB, Maryland
QB – Drew Brees (6 points)
RB – Eddie George (1 point)
WR – Charles Rodgers (2 points)
DEF – Charles Woodson (6 points)
Austin Blythe, OL, Iowa
QB – Bob Griese (5 points)
RB – Tom Harmon (3 points)
WR – Braylon Edwards (3 points)
DEF – Bronko Nagurski (4 points)
James Ross, LB, Michigan
QB – Antwaan Randle-El (1 point)
RB – Tom Harmon (3 points)
WR – Braylon Edwards (3 points)
DEF – Charles Woodson (6 points)
Jordan Westerkamp, WR, Nebraska
QB – Drew Brees (6 points)
RB – Eddie George (1 point)
WR – Desmond Howard (5 points)
DEF – Pat Fitzgerald (1 point)
Jordan Lucas, CB, Penn State
QB – Troy Smith (2 points)
RB – John Cappelletti (2 points)
WR – Braylon Edwards (3 points)
DEF – Charles Woodson (6 points)
Danny Anthrop, WR, Purdue
QB – Drew Brees (6 points)
RB – Eddie George (1 point)
WR – David Boston (1 point)
DEF – Dick Butkus (5 points)
Christian Jones, WR, Northwestern
QB – Drew Brees (6 points)
RB – Ron Dayne (4 points)
WR – Braylon Edwards (3 points)
DEF – Pat Fitzgerald (1 point)
Theiren Cockran, DE, Minnesota
QB – Drew Brees (6 points)
RB – Eddie George (1 point)
WR – Cris Carter (4 points)
DEF – Bronko Nagurski (4 points)
Leonte Carroo, WR, Rutgers
QB – Drew Brees (6 points)
RB – Eddie George (1 point)
WR – Cris Carter (4 points)
DEF – LaVar Arrington (2 points)