BTN.com staff,

July 31, 2015

It seems too good to be true: Spend one day a week taking a college class that?s held right next to the beach. But that?s exactly what Rutgers did with its inaugural RU at the Shore program this summer.

Far from being a surf-and-sun session with a little learning mixed in, it offered students intensive, intimate courses driven by practical considerations, said Liz Beasley, director of the summer session and special projects at Rutgers-New Brunswick.

?We?re always looking for new ways to get courses to the students,? she explained. ?A lot of them work part-time or full-time. If they?re working, they have to cut back on the credits they take. The summer and winter courses are important to them for graduating in a timely manner.?

RU at the Shore lasted four weeks. The one day of classroom time each week was supplemented by online work and discussion. Most of the live classes were held at an elementary school in Point Pleasant (though students in the oceanography class got to spend a lot of their time learning at the beach).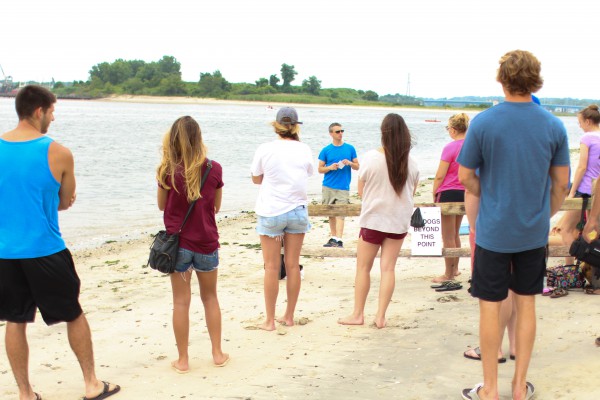 Beasley acknowledged that the program, which attracted 57 students to a handful of classes in Point Pleasant, N.J., is something of a work in progress. But feedback from this first session was mostly positive. Stephen Zuckerman, who?s majoring in supply-chain management, was among the students who found RU at the Shore to be a great experience.
?It was a much smaller class than usual,? said Zuckerman, who took a class in writing for business and the professions. ?There were only nine students. It led to more discussion and in-depth group work and peer review. It also was an accelerated course. I liked the pace of the class, [and] it was nice to have it be completed in four weeks.?
Norman Markowitz, a history professor at Rutgers, agreed that the setting and format of the courses led to very robust student discussions.
?My favorite part of the course was to moderate the students? [online] threaded discussion on their first responses to the 9/11 attacks and how their understanding changed as they matured,? he said.
[btn-post-package]Rutgers professor Audrey McGowan was impressed by the level of engagement she found in teaching her course, which included Zuckerman among its students.
?Although there was a lot of work to cover in four weeks, the students were great and put 100 percent effort into this class,? she said. ?The group was ready to work both online and in class, which made it a positive experience. I had a wonderful experience teaching at the Shore this summer.?
By Brian Summerfield