BTN.com staff, BTN.com staff,

July 26, 2015

Wisconsin?s ?cheeseheads? might someday have a wealth of local options to pair with the state?s most popular food. And they may have Nick Smith to thank for it.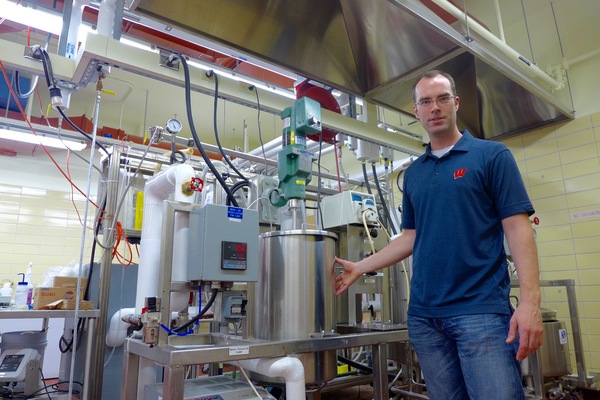 The University of Wisconsin named Smith its first enologist back in March. As such, he has the enviable task of positioning the school as a leader in the state?s burgeoning wine and ?fermented beverages? industry.
?The industry is hoping to ? get someone who can provide a resource to help people make better wine, essentially,? Smith said of his role. ?The goal is to help improve the image and quality of wine in Wisconsin. There are different impressions of what Wisconsin wine is. Some people think it?s great, and others think that it?s low-quality sweet wine. I?m trying to get everyone on the same page.?
With the official title of wine and cider outreach specialist within Wisconsin?s College of Agricultural and Life Sciences, Smith is on a mission to raise awareness of how the state can brand itself as a wine-lover?s paradise, thereby boosting tourism and job creation.
He said his position has been funded by state and industry grants from organizations such as the Wisconsin Vintners Association, the Wisconsin Winery Association and the Wisconsin Grape Growers Association.
?Wisconsin has about 110 wineries and cideries, and there might be more wineries than breweries in the state of Wisconsin,? said Smith, and also noted that Wisconsin has one of the largest wineries east of the Colorado Rockies - Wollersheim Winery in Sauk City.
While few would make a straight-faced prediction that Central Wisconsin is the next Napa Valley, Smith said he hopes to have the state?s wine taken seriously. However, the biggest obstacle is one that he can?t exactly change.
?There?s the agricultural aspect with the relatively frigid winters and the humidity in the summer,? he explained. ?It?s a challenging environment to grow fruit, and I?m trying to get people to research fruit. There?s a lot of catching up to do with understanding how to make wine out of the varieties that grow here.?
Another challenge, Smith added, might be getting the Wisconsin wine industry to understand his new role in the industry. Since his appointment, he's traveled across the state - virtually door-to-door - to introduce himself to the state?s wine and cider producers.
?Right now, I?m trying to put a face and name with the university, and [tell them about] what types of programs we?re going to have and how they?re going to access them,? Smith said. ?We?re starting to develop research and educational programs to meet their needs and interests.?
[btn-post-package]Fortunately, Smith, who formerly did research in winemaking at the University of Minnesota and also worked as a commercial winemaker in Rochester, Minn., relates well to this group.
?While you need industry experience and research experience, you have to go out and meet people and find out where their interests and challenges are,? he said. ?There is a certain element of sales to it.?
Smith recently hosted a workshop on sparkling wines and new grape varieties with positive responses. And he plans to offer plenty more winemaking educational sessions to get people in Wisconsin fired up about this industry.
?There are lots of fruit wines, like cranberry and cherry wine,? Smith said, ?but it?s known more and more for grape-based wines. I look forward to producing high-quality wines, and we?ve already got some people doing it. But I want to get everybody on board to do that and understand how that all works.?
By Tony Moton