Tom Dienhart, BTN.com Senior Writer,

July 24, 2015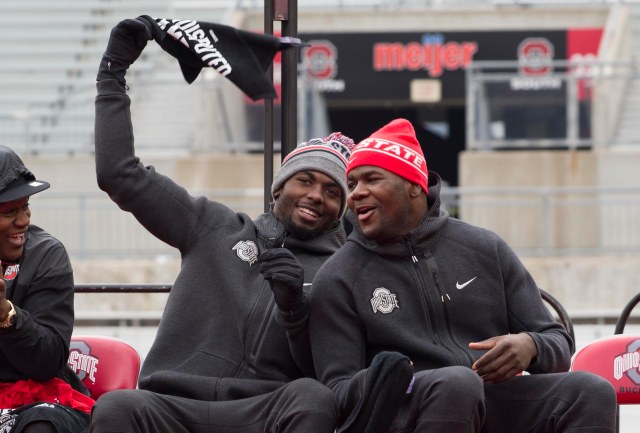 Turns out, Urban Meyer isn't ready to call Braxton Miller a receiver.
?I haven?t made those decisions yet,? Meyer told the Columbus Dispatch. ?It seems like it?s a little bit jumping the gun. Braxton came to see me. … He?s been talking to me about it. We?ve been working at it. But I?m not ready to say exactly how we?re going to use him yet.?
Thursday night, SI's Pete Thamel had an exclusive interview with Miller, who said he will be approaching this season as primarily a receiver/H-Back.
It would make sense. After all, Miller is recovering from a surgically repaired right shoulder, which cost him all of the 2014 season, and the Buckeyes have two standout options under center, in J.T. Barrett and Cardale Jones.
Taking Miller at his word, that he plans to spend 80 percent of time during training camp at receiver, let's consider Ohio State's most likely options at quarterback.
1. Cardale Jones. What Jones did last year in the glare of a white-hot spotlight was nothing short of spectacular. With Miller (shoulder) and J.T. Barrett (ankle) out with injury, Jones was thrown into the starting lineup and excelled in leading the Buckeyes to wins in the Big Ten title game, Sugar Bowl and national championship tilt. Not bad for a guy?s first three starts. Jones? talent is apparent, especially his cannon arm. And perhaps most impressive of all, the 6-5, 250-pounder didn?t make big mistakes-while also making plays-en route to hitting 46-of-75 passes (61 percent) for 742 yards with five touchdowns and two picks, to go along with 90 yards rushing during the three-game championship run. Remember, he did this against, at the time, No. 13 Wisconsin, No. 1 Alabama and No. 2 Oregon. Jones is confident heading into 2015 and has a better understanding of the Ohio State offense. You have to think the best is yet to come for a signal-caller who is just scratching the surface.
Pros: Strong arm, confident, potential just being tapped, huge, difficult to tackle
Cons: Minimal experience, lacks top-end speed/elusiveness, ability to continue to adjust/understand defenses
Yeah, Cardale Jones wasn't nervous at all in his first start, the first of three gigantic @OhioStAthletics wins. http://t.co/t7grvXnogJ

— Ohio State on BTN (@OhioStateOnBTN) July 24, 2015
***
2. J.T. Barrett. He wowed as a redshirt freshman after beating out Cardale Jones for the job following Miller?s season-ending shoulder injury last August. Barrett showed poise, calm and savvy that belied his experience, time and again making smart decisions in the pocket. Don?t overlook that last term: In the pocket. The 6-2, 225-pound sophomore showed an ability to wait for plays to develop, read defenses and deliver the ball. His first instinct when things are breaking down isn?t to take off running-it?s to buy time and find a receiver down field. But if Barrett has to run, he has ample ability-witness his 938 yards rushing and 11 TDs in 2014. He lacks Miller?s elite speed but is faster than Jones. Barrett?s final numbers are difficult to ignore. He racked up a school-record 3,772 total yards, including 2,834 passing yards and 938 rushing yards, and a Big Ten record 45 total touchdowns en route to leading Ohio State to an 11-1 record. That earned Barrett Big Ten Quarterback of the Year honors and helped him finish fifth in the Heisman voting. But Barrett?s season ended on a downer, as he injured an ankle vs. Michigan in the regular-season finale.
Pros: Smart; touch; speedy/elusive; understands the offense; decent arm, patient
Cons: Ankle
Considering time and score and, most importantly, opponent, was this the biggest @OhioStAthletics run of 2014? http://t.co/eZyF2YOZUF

— Ohio State on BTN (@OhioStateOnBTN) July 24, 2015
***
3. Play Jones and Barrett. Urban Meyer played Chris Leak and Tim Tebow during a run to the 2006 national championship with Florida, so he isn?t averse to using two signal-callers. But Leak and Tebow offered a stark contrast in skill sets that complemented each other. And each also possessed an unselfish attitude that made the tandem work. The skills of Jones and Barrett aren?t markedly different. They essentially are the same quarterback, save for size, speed and arm strength-which aren?t that different. So, what schematic edge is there to playing both guys?
Pros: Keep defenses off balance with slightly different skill sets; keeps both QBs happy/engaged
Cons: Offense chemistry disrupted; doesn?t allow one QB to get in a groove/take ownership; would QBs buy into system?
***
In the end, to me, Ohio State?s best option is to start Jones, a big, confident and healthy signal-caller whose best days may be ahead of him.