Tom Dienhart, BTN.com Senior Writer,

July 23, 2015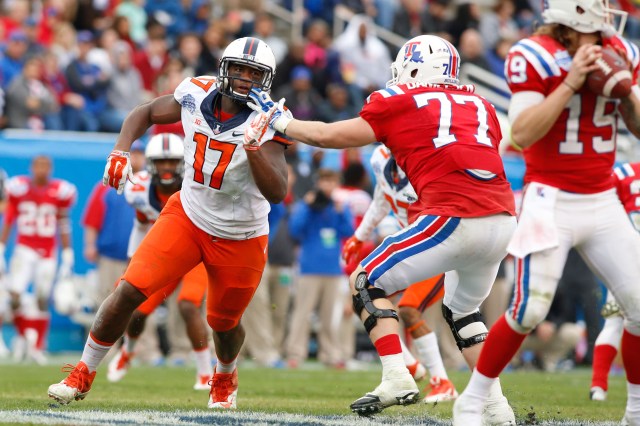 Illinois has made steady progress under Tim Beckman, going from two victories his first season in 2012, to four in 2013 to six wins last season along with a bowl bid. Now, to take the proverbial next step, the Illini need to improve on defense.
That?s why Mike Phair is in town.
Beckman tabbed Phair from the Tampa Bay Buccaneers to coach the defensive line and serve as co-defensive coordinator alongside coordinator Tim Banks.
Phair spent the last 13 seasons in the NFL. He was with the Buccaneers the last three seasons, where he helped coach a front that notched 33 sacks, tied for the fourth-most by any line in the NFL in 2014. The Buccaneers d-line, which included former Illini Akeem Spence, accounted for 91.7 percent of the team's total sacks. That was the second-highest total in the league.
Phair joined the Buccaneers following three seasons with the Chicago Bears (2011-13) as the defensive line coach. While with the Bears, Phair coached Pro Bowlers Julius Peppers (2011, 2012) and Henry Melton (2012).
All of that acumen will be put to the test as Phair works with an Illinois defense that ranked among the worst in the country in 2014. The Illini were 109th in total yards allowed (456.4 yards per game), 107th in points allowed (34.0) and 115th in rushing defense (239.2 yards per game).
That continued a trend of bad defenses under Beckman, especially vs. the run. In 2012, Illinois ranked No. 95 in the nation vs. the run (193.9 ypg). In 2013, the Illini were No. 116 (238.6 ypg).
I caught up with Phair-who last coached in college at Tiffin (Ohio) in 2001–to get his thoughts on his new job and the coming season.
Q: What appealed to you about joining the Illinois staff?
A: I had had an interest to get back into the college game, but I wasn?t searching at the time I was approached for this job. When I got here to interview, it was pretty clear that I liked the vibe and energy. And I liked this group of coaches. It was just a different kind of energy. When I went home, I was jacked and excited for an opportunity to lead a group and coach this age group again. I love the NFL and where I was, but I really like this age group.
Q: Who will call the defense?
A: It is very open. We talk about what we are doing and talking through things. It?s not just one guy calling it. We exchange ideas. It is us (Phair and Beckman) being together and on the same page. In my mind, it?s not about who is calling what. Tim (Banks) has been great. He is very good to work with. Very open to listen.
Q: What do you think of your personnel?
A: I like our guys up front. We have a ways to go, but there is some young talent. I look at Jihad (Ward) as young; he is a senior but this is just his second year here. I like their approach. They are very coachable and want to learn. We have a lot of guys who have played a lot at linebacker and in the secondary. There are some veterans. We have a nice mix of youth and vets.
Q: How would you describe your approach and coaching style along the front?
A: The way I teach our guys, I am more of a get-vertical guy. All the drills I do are with that mentality. That is different-that is what I bring and how I was trained, the Dan Quinns, the Rod Marinellis, the Joe Cullens-d line guys who groomed and trained me. And Lovie Smith always talked about taking the ball away. That is a big part and what we want to do. Take the ball away and score.
Q: You played at Arizona State under the late, great Bruce Snyder. What did you learn from him?
A: I only played for him my senior year, but he had a big impact on me. And I GA?d for him 1999 and 2000. He was very detailed. As a young man, he was good for me to learn from. He made sure you did things right.
Q: Before you became a coach, you scouted for the Seahawks and Buccaneers. How did scouting make you a better coach?
A: I didn?t know it at the time what it would do for me, if I did it for six years-it exposed me to so many things, all of the practices I went to. I went everywhere from LSU, to USC to Montana State ? all the different practices and the different coaches and their styles and how they organized things. I saw things I like and didn?t care for. And I learned how to evaluate all the positions and how to put a team together.
***
| | |
| --- | --- |
| About Tom Dienhart | BTN.com senior writer Tom Dienhart is a veteran sports journalist who covers Big Ten football and men's basketball for BTN.com and BTN TV. Find him on Twitter and Facebook, read all of his work at btn.com/tomdienhart, and subscribe to his posts via RSS. Also, send questions to his weekly mailbag using the form below and read all of his previous answers in his reader mailbag section. |
And if you want to leave a comment on this post, use the box below. All comments need to be approved by a moderator.