BTN.com staff,

July 23, 2015

At 217 years old and still going strong, ?The President?s Own? United States Marine Band is nearly as old as America itself. Its storied history has included countless performances for American leaders and international heads of state, as well as being conducted by the likes of John Philip Sousa.

Consequently, leading ?The President?s Own? is a career highlight for the select few professional conductors who get the opportunity. But Joshua Kearney had the honor of doing that while he was still pursuing his doctorate in wind conducting at Michigan State. (At press time, Kearney had not yet completed his doctoral thesis.)

?It was among the best 11 minutes of my whole life,? Kearney said of the performance, which took place on June 16 in Washington, D.C. ?I wish it was longer so it wouldn?t have ended so quickly.?

Kearney was joined by fellow Spartan Joe Krycia, an undergraduate senior at the time studying music composition. The two were selected to participate in the annual National Band Association?s 2015 Young Composer/Conductor Mentor Project, a one-of-a-kind competition that allows artists under 29 years old to work with mentors in their field and work with the Marine Band.

During the Marine Band performance, Kearney wielded the baton for an Anthony O?Toole piece titled ?Now Is the Time: A Song of Hope,? written in 2013 in honor of the 50th anniversary of the March on Washington, where Dr. Martin Luther King Jr. delivered his famous ?I Have a Dream? speech. Kearney described the piece as ?loaded with emotion,? featuring booming drums and a particularly gorgeous flute section.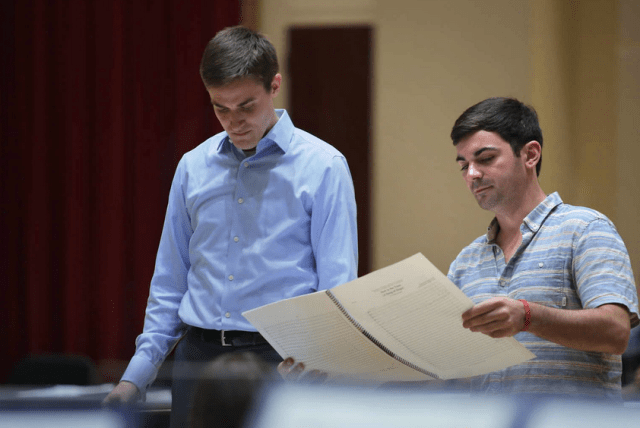 At the end of the performance, the audience and band erupted in applause for the piece?s handful of soloists and Kearney?s impressive direction.
As incredible as that was, Kearney didn?t have a lot of time to bask in the achievement. Soon after the performance, he packed up his belongings in East Lansing, Mich., and shipped off to become the new director of athletic bands at the University of Nebraska Omaha (UNO). At UNO, Kearney will be responsible for all aspects of the program, including teaching courses in music education and conducting the University Band.
The opportunity to head to UNO came suddenly for Kearney, before he had even counted off in Washington.
?To be honest, everything has been happening at the exact same time,? Kearney said by phone while en route to Omaha. ?Three universities made offers while I was in D.C. That?s when I formally accepted the offer [from UNO].?
[btn-post-package]Kearney is proud of having conducted the Marine Band, which he describes as ?one of the best bands on the planet.? And he?s incredibly grateful for the support he received from his alma mater. It was MSU Director of Bands Kevin Sedatole who pushed him to apply for the program in the first place.
In turn, Kearney encouraged his friend Krycia to apply as a composer, as the two had worked together previously at Michigan State on a saxophone and orchestral piece.
?I knew he would be perfect for the Marine competition,? Kearney said. ?When I saw what he had written, I knew he had a large amount of talent for his age ? any age really.
?The fact that two Michigan State people were represented is remarkable,? he added. ?It really speaks to the quality of the [music] program at Michigan State.?
By Tony Moton