Brent Yarina, BTN.com Senior Editor,

July 21, 2015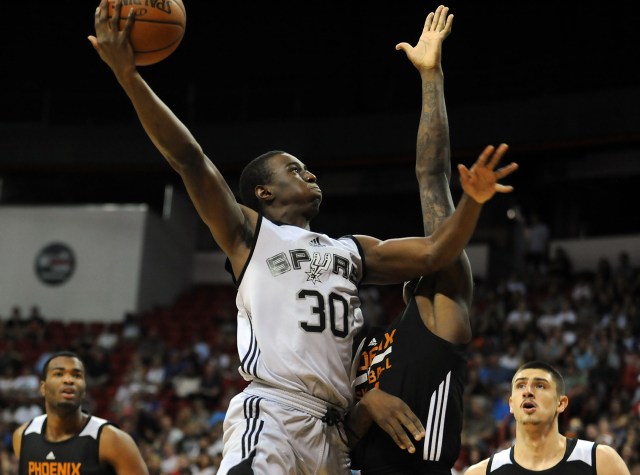 Former Ohio State guard Shannon Scott helped lead the San Antonio Spurs to the Las Vegas Summer League championship on Monday.
[ MORE: Get all of our coverage of Big Ten professionals ]
Scott went for two points, six rebounds, four assists and three steals in the Spurs' 93-90 victory over the Phoenix Suns.
In seven games in Las Vegas with San Antonio, Scott averaged 5.4 points, 4.7 rebounds, 2.6 assists and 2.1 steals.
Scott won the title, but one-and-done Indiana star Noah Vonleh highlighted ex-Big Ten stars in action, averaging 17.3 points and 8.5 rebounds in six games.
Here's how former Big Ten players fared in Las Vegas:
Noah Vonleh (Indiana), POR: 56%, 17.3 ppg, 8.5 rpg (6 games)
Adreian Payne (Michigan State), MIN: 14.2 ppg, 8.4 rpg, 1.8 apg, 1.2 spg (5 games)
Gary Harris (Michigan State), DEN: 12.3 ppg, 3.7 rpg, 1.7 apg, 1.3 spg (3 games)
Glenn Robinson III (Michigan), ATL: 11.8 ppg, 3.2 rpg, 1 apg (6 games)
D'Angelo Russell (Ohio State), LAL: 11.8 ppg, 5.2 rpg, 3.2 apg (5 games)
Terran Petteway (Nebraska), ATL: 10.9 ppg, 4.3 rpg, 2.6 apg, 1 spg, 1 bpg (7 games)
Tim Frazier (Penn State), POR: 9.8 ppg, 4.2 rpg, 7.5 apg (6 games)
Drew Crawford (Northwestern), TOR: 9.6 ppg (5 games)
Duje Dukan (Wisconsin), SAC: 9.2 ppg, 2.4 rpg (5 games)
Gabe Olaseni (Iowa), MIA: 56%, 9.2 ppg, 4.8 rpg (5 games)
John Shurna (Northwestern), CLE: 8.8 ppg, 4 rpg, 0.8 spg, 0.8 bpg (5 games)
D.J. White (Indiana), CLE: 62%, 8.5 ppg, 4 rpg (4 games)
Josh Gasser (Wisconsin), BKN: 57%, 8.3 ppg, 3.7 rpg, 1.7 apg, 1 spg (3 games)
Austin Hollins (Minnesota), BKN: 7.2 ppg, 2.5 rpg (6 games)
Will Sheehey (Indiana), NO: 7 ppg, 1.5 rpg, 1 spg (2 games)
JaJuan Johnson (Purdue), UTAH: 5.6 ppg, 4.2 rpg (5 games)
Travis Trice (Michigan State), MIA: 5.5 ppg, 1 spg (4 games)
Shannon Scott (Ohio State), SAS: 5.4 ppg, 4.7 rpg, 2.6 apg, 2.1 spg
Aaron Craft (Ohio State) GSW: 4.8 ppg, 3.2 rpg, 4.5 apg, 1.5 spg (6 games)
Traevon Jackson (Wisconsin) WAS: 4.3 ppg, 2 rpg, 2.2 apg (6 games)
Aaron White (Iowa), WAS: 3 ppg, 3.7 rpg (6 games)
Jordan Morgan (Michigan), MIN: 2.7 ppg, 3.3 rpg (3 games)
LaQuinton Ross (Ohio State), WAS: 2.3 ppg, 1.7 rpg (3 games)
Ralph Sampson III (Minnesota), BOS: 1.8 ppg, 2.4 rpg (5 games)
Rayvonte Rice (Illinois), CHI: 1.3 ppg, 2.7 rpg (3 games)