Tom Dienhart, BTN.com Senior Writer,

July 20, 2015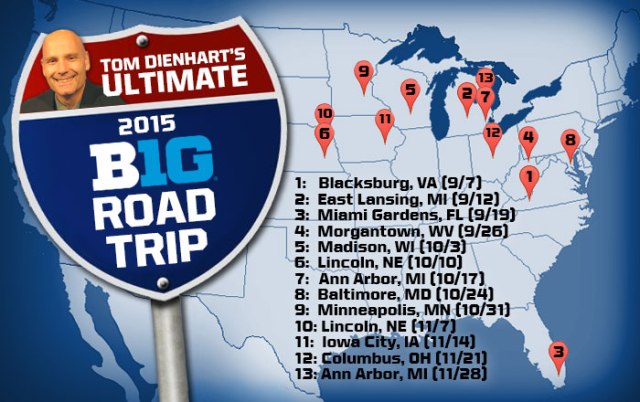 We all have dream vacations. Some of us would like to go to Aruba. Others to Spain, Australia or perhaps Japan. All good choices.
[ MORE: Hungry? Here's your school's top game-day restaurant ]
But no trip could possibly top this dream junket through the 2015 Big Ten schedule that would take you to the prime game each week-at least that?s what I think. And this is my dream.
Check out my 2015 Ultimate Big Ten Football Road Trip:
Week 1: Blacksburg, Virginia (Sept. 7). Ohio State at Virginia Tech. There are so many good matchups in the opening week, including TCU at Minnesota, Michigan at Utah, BYU at Nebraska and Wisconsin vs. Alabama in Arlington, Texas. But let?s go to Blacksburg, Virginia, where the Buckeyes will have one of their stiffest challenges to an unbeaten season. Virginia Tech was the only team to beat Ohio State last season, taking a stunning 35-21 win in Columbus. The Buckeyes haven?t lost since, winning 12 in a row.
[ MORE: Get Tom Dienhart's Best of Week 1 ]
***
Week 2: East Lansing, Michigan (Sept. 12). Oregon at Michigan State. All eyes will be on East Lansing when Oregon visits. The Ducks took a 46-27 decision vs. the Spartans last year in Eugene in a game MSU led 27-18 with 10:55 left in the third quarter. From there, Oregon scored four unanswered touchdowns to run away with the game en route to playing for the national championship. The fact the Ducks are replacing QB Marcus Mariota is a big plus for Michigan State. Last year vs. the Spartans, the Heisman winner hit 17-of-28 passes for 318 yards with three touchdowns and no picks and also ran for 42 yards.
[ MORE: Get Tom Dienhart's Best of Week 2 ]
***
Week 3: Miami Gardens, Florida (Sept. 19). Nebraska at Miami. Too bad it?s not 1983. Oh, well, this still will be fun. The Hurricanes continue to look for consistency under Al Golden after going 6-7 last year. This will be Golden?s fifth season in Coral Gables and he has two consecutive bowl bids. Nebraska beat Miami last year in Lincoln. And the Huskers won their last time in Miami vs. the Canes, taking a 24-17 win in the Orange Bowl after the 1994 season.
[ MORE: Get Tom Dienhart's Best of Week 3 ]
***
Week 4: Morgantown, West Virginia (Sept. 26). Maryland at West Virginia. These old rivals played a barn-burner last year that the Mountaineers won in College Park, 40-37. Dana Holgorsen has WVU trending in the right direction and has 16 starters back. But both lines needs to develop and the QB spot needs to mature. These schools have played 51 times, with the Mountaineers winning eight of the last nine encounters. Maryland hasn?t won in Morgantown since 2002. Lots of hate here.
[ MORE: Get Tom Dienhart's Best of Week 4 ]
***
Week 5: Madison, Wisconsin (Oct. 3). Iowa at Wisconsin. The trip to Wisconsin always is rugged. The Hawkeyes have lost the last three games-and five of the last seven–vs. the Badgers, who are led by new coach Paul Chryst. Interestingly, this will be Iowa?s first trip to Madison since 2008, when it took a 20-10 decision, as the last three meetings have been in Iowa City because of scheduling quirks.
[ MORE: Get Tom Dienhart's Best of Week 5 ]
***
Week 6: Lincoln, Nebraska (Oct. 10). Wisconsin at Nebraska. A monster Big Ten West contest, as Nebraska is 1-3 vs. the Badgers since joining the Big Ten. And the Huskers often have lost in spectacular fashion, falling 48-17 in Madison in 2011; 70-31 in the 2012 Big Ten title game; 59-24 last year in Madison. This will be a clash between first-year coaches in the Huskers? Mike Riley vs. the Badgers? Paul Chryst. The winner will have a huge leg up in the West Division race.
[ MORE: Get Tom Dienhart's Best of Week 6 ]
***
Week 7: Ann Arbor, Michigan (Oct. 17). Michigan State at Michigan. MSU figures to be favored when it treks to Ann Arbor. Yes, the Spartans have more talent and the better team-not to mention loads of momentum. Still, this is a rivalry game. The Wolverines will be jacked out of their mind with Michigan State coming to the Big House. It also will be Jim Harbaugh?s first crack at Sparty. For the record, Michigan State has won the last two games and six of seven in the series. But the last time the Spartans waded into Ann Arbor, they lost, 12-10, in 2012.
[ MORE: Get Tom Dienhart's Best of Week 7 ]
***
Week 8: Baltimore, Maryland (Oct. 24). Penn State at Maryland. Maryland took a hard-fought 20-19 win in State College, Pennsylvania, last season on a last-minute field goal in a clash between burgeoning rivals. The Terrapins' captains refused to shake hands with Penn State's captains during the pregame coin toss, drawing a penalty and negative publicity. Regardless, Maryland notched a first victory at Penn State and its second win of the 38-game series. The teams hadn't played since 1993. This is gonna be fun.
[ MORE: Get Tom Dienhart's Best of Week 8 ]
***
Week 9: Minneapolis, Minnesota (Oct. 31). Michigan at Minnesota. Michigan probably will be the underdog when it visits Minnesota for a prime-time battle for the iconic Little Brown Jug on Halloween. The Golden Gophers won last year in Ann Arbor, 30-14, in a game that may have been the ultimate undoing of Brady Hoke and A.D. Dave Brandon with the inexplicable handling of injured QB Shane Morris. Minnesota will be good-maybe the best team in the West. But if the Wolverines are playing well, especially on offense, they may be able to spring the upset. Minnesota beat Michigan for the Little Brown Jug last season for the first time since 2005 and just the fourth time since 1967. The last time the Gophers won two in a row vs. the Wolverines? It was when Minnesota won four meetings in succession from 1960-63.
[ MORE: Get Tom Dienhart's Best of Week 9 ]
***
Week 10: Lincoln, Nebraska (Nov. 7). Michigan State at Nebraska. The visit from the Spartans will be tough, as they will be one of the top teams in the nation. And they have won the last two meetings in the series, including a 41-28 triumph in Lincoln in 2013. This will be a great test for Mike Riley?s pro-style offense vs. the Spartan Dawg defense.
[ MORE: Get Tom Dienhart's Best of Week 10 ]
***
Week 11: Iowa City, Iowa (Nov. 14). Minnesota at Iowa. It's the battle for Floyd of Rosedale. Enough said. This will be the Golden Gophers? first trip to Iowa City since 2012. Minnesota thumped Iowa last year in the Twin Cities, taking a 51-14 decision. The Gophers haven?t won in Kinnick Stadium since 1999, Kirk Ferentz?s first season in Iowa City. In fact, Iowa is 10-4 vs. Minnesota in the last 14 meetings.
[ MORE: Get Tom Dienhart's Best of Week 11 ]
***
Week 12: Columbus, Ohio (Nov. 21). Michigan State at Ohio State. This figures to be a clash between the two best teams in the Big Ten and possibly could be a playoff elimination bout. It should be epic. Mark Dantonio is 1-2 vs. Urban Meyer, beating the Buckeyes in the 2013 Big Ten title game and falling twice to Meyer and Co., in Spartan Stadium. Michigan State won the last time it invaded the Horseshoe, taking a 10-7 decision in 2011-when Luke Fickell was interim head coach. I can?t wait to watch the Buckeye offense vs. the Spartan defense.
[ MORE: Get Tom Dienhart's Best of Week 12 ]
***
Week 13: Ann Arbor, Michigan (Nov. 28). Simply put, this is ?The Game.? And the famed rivalry could be entering a golden era with Urban Meyer vs. Jim Harbaugh. Michigan is 2-12 vs. the Buckeyes in the last 14 encounters. The Wolverines? last win in the series came in Ann Arbor, 40-34, in 2011; they also won in 2003. You know the Wolverines will be sky high with this game in the Big House and it being Harbaugh?s first crack at the Buckeyes.
[ MORE: Get Tom Dienhart's Best of Week 13 ]
***
| | |
| --- | --- |
| About Tom Dienhart | BTN.com senior writer Tom Dienhart is a veteran sports journalist who covers Big Ten football and men's basketball for BTN.com and BTN TV. Find him on Twitter and Facebook, read all of his work at btn.com/tomdienhart, and subscribe to his posts via RSS. Also, send questions to his weekly mailbag using the form below and read all of his previous answers in his reader mailbag section. |
And if you want to leave a comment on this post, use the box below. All comments need to be approved by a moderator.